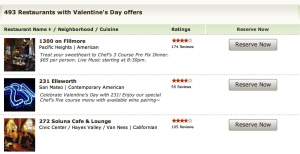 It's Feb. 14th: the most romantic day of the year.
No doubt, there are people who feel nervous about their first date; people who crave a romantic and crazy night; people who count on it to cast some excitement into routine marriages; and people who just like to share an enjoyable moment.
The universal rule: It's different. It's special. It's something to celebrate, possibly, at a restaurant.
For companies like online restaurant reservation giant OpenTable, it's also time to help their users make this day a memorable one.
In a recent email push to their users, the San Francisco-based company wrote: "We love helping you say, "I love you…. Whether it's your first Valentine's or your 20th; whether you're celebrating with your partner, an old friend, a son or a daughter, let us help you share the love this February 14th."
At the end of the email the company includes a link that directs users to the OpenTable website.
On the website, users can choose nearby restaurants, make a reservation and earn 1,000 points, give a gift of a restaurant meal, or join a reward program that allows them to get a discount later.
Businesses doing big promotions are not uncommon in the week leading up to Valentine's Day. However, as an Internet company, OpenTable is actively using the web to tout its stuff. If you search "Valentine's day restaurant" on Google, OpenTable's lists appear at the top.
OpenTable also features lists of restaurants that have special Valentine's Day offers. Such offers include a preset menu, often at a fixed price – a way for restaurants to efficiently handle the expected Friday night rush.
According to the 2013-2014 restaurant operations report published by the National Restaurant Association, OpenTable is simply one among many companies ramping up online marketing.
The association said restaurant-goers can expect to see more campaigns from a range of companies in the online restaurant sector, including OpenTable competitor Yelp.
Yelp is offering local date-night ideas, as well as featuring venues for Valentine's cocktails to users who might be "stressed" about what to do tonight.
"Consumers' interest in technology continues to grow," the association said. "As solutions for using restaurant services online, placing orders on tablet computers and smartphone apps, and mobile and wireless payment options become more commonplace, consumers' expectations of these options will also grow," the report points out.
The report also expects these promotions to be increasingly tailored to reflect changes in consumer behavior. For instance, the report found that 7 out of 10 consumers say they are "likely to visit a restaurant that produces locally produced menu items." Consumers also indicated they are trying to eat healthier when dining out, the report found.
(Homepage image courtesy of Flickr, Nathan Borror via Creative Commons)