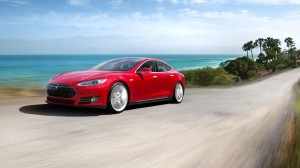 PALO ALTO, Calif. — Tesla Motors, Inc. (NASDAQ: TSLA), the luxury electric automaker, announced financial results Wednesday for both the fourth quarter and fiscal year of 2013.
Tesla shares rose in after-hours trading from $193.64 to $218.09 following Tesla's conference call announcement that an update on its Gigafactory — which could lower battery costs — will be forthcoming. Analysts pointed to the announcement as the driving force behind Tesla's after-market upswing.
In a statement to investors, the company said: "Working in partnership with our suppliers, we plan to integrate precursor material, cell, module and pack production into one facility. With this facility, we feel highly confident of being able to create a compelling and affordable electric car in approximately three years. This will also allow us to address the solar power industry's need for a massive volume of stationary battery packs."
Tesla reported losses that narrowed to $16.3 million, or 13 cents per share, on revenue of $615.2 million for the fourth quarter of 2013, compared to a year ago when it lost $38.5 million, or 79 cents per share, on $306.3 million in revenue.
Non-GAAP earnings per share for the fourth quarter totaled 37 cents compared to a loss of 65 cents per share a year ago. Non-GAAP revenues for the fourth quarter came in at $761.3 million, a year-over-year increase of 40.2 percent that exceeded analysts' expectations.
Analysts expected the company to post earnings of 21 cents per share on $677 million in revenue, according to the consensus estimate from the Thomson Financial Network.
Fiscal year non-GAAP earnings per share were 87 cents, a net year-over-year increase from 2012's loss of $3.20 per share earnings. Fiscal year non-GAAP revenues were $2.5 billion, far exceeding 2012's $413 million.
The GAAP losses per share narrowed to 62 cents compared to $3.69 in 2012, while revenue increased to $2 billion from $413.2 million in 2012.
In the conference call, the company said it expects to deliver 35,000 Model S sedans next year, as it pushes weekly production up to 1,000 cars.
Tesla pre-announced in January that it expected to sell and deliver a record of 6,900 vehicles in the fourth quarter, exceeding earlier projections by 20 percent. The final number came in at 6,892.
Elon Musk has previously said that Tesla plans to begin shipment to China and says that Model S shipments to China could match U.S. sales by 2015. The Model S will be priced at $121,280 in China when deliveries begin. Long-term, Musk plans to build factories in China to avoid tariffs and potentially qualify for Chinese non-pollution incentives.
"We're really in the very early stages of selling cars in China and we're very far by Tesla's time frame from manufacturing in China," Musk said on the conference call. "In the short to median term, there is not an immediate need for a local partner."
Musk also said that he believes there is a strong demand in China and for Model X vehicles, describing it as "fish leaping into the boat."
Last month, Tesla promoted cross-country trips for Tesla owners, using only free Supercharger stations along the way. There are 71 Supercharger stations open in the United States.
Looking ahead to 2014, Tesla executives said the company expects to deliver more than 35,000 Model S vehicles, representing a 55 percent increase from 2013, while increasing production from 600 cars a week, to 1,000 by the end of the year.
In the statement to shareholders, Tesla executives said the company also expects battery cell supply to "constrain production in the first half of the year, but to improve significantly in the second half of 2014."