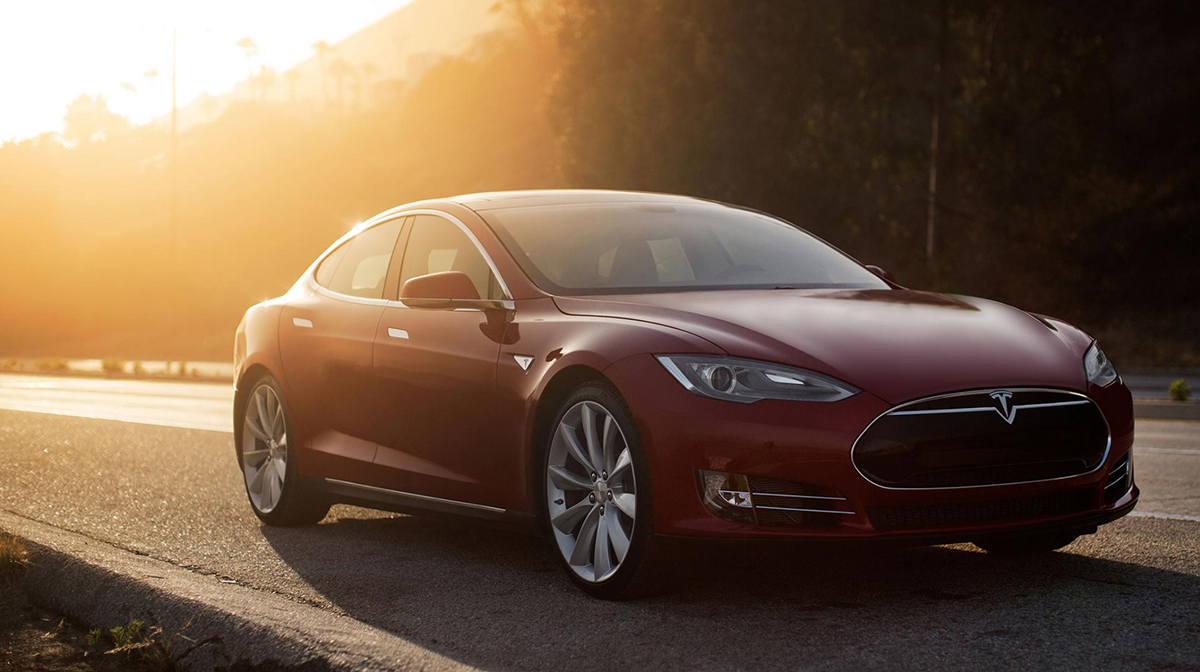 While some southwest states are fighting to house Tesla's new "Gigafactory," back east, New Jersey is sending a different, more aggressive message to the electric automaker: get out.
The New Jersey Motor Vehicle Commission on Tuesday adopted a rule that blocks the company from selling directly to consumers in the state, which Tesla, in a blog post, described as "an affront to the very concept of a free market" while also criticizing the decision on Twitter.
Christie administration & dealers trying to sneak anti-Tesla regulation through while keeping consumers in the dark.

— Tesla Motors (@TeslaMotors) March 11, 2014
Tesla, in its post, said that New Jersey Gov. Chris Christie's administration had "gone back on its word to delay a proposed anti-Tesla regulation so that the matter could be handled through a fair process in the Legislature."
Christie administration spokesman Kevin Roberts defended the decision in a statement:
"Since Tesla first began operating in New Jersey one year ago, it was made clear that the company would need to engage the Legislature on a bill to establish their new direct-sales operations under New Jersey law. This administration does not find it appropriate to unilaterally change the way cars are sold in New Jersey without legislation and Tesla has been aware of this position since the beginning."
Some New Jersey legislatures have spoken out against the decision.
Assemblyman Tim Eustace told Philly.com that Christie was "unilaterally bypassing the legislature and serving as a roadblock as the electric car industry attempts to expand its presence in New Jersey" and urged Christie to consider the "long-term benefits that electric cars pose for consumers and the environment."
Tesla Motors has two gallery stores in New Jersey. The state had more Model S registrations than 44 states from June 2012 to November 2013, according to automotive website Edmunds.
Business Insider reported The New Jersey Coalition of Automotive Retailers and its employees contributed $696,749 to politicians and campaign committees in New Jersey from 2003 through 2009, according to the National Institute of Money In Politics.
But New Jersey isn't the only state to set up roadblocks. In most states, there are long-standing laws that prevent carmakers from selling directly to consumers and some states have added laws limiting the company's ability to operate stores.
In 2008, Tesla began opening automobile retail "Galleries," to bypass state franchise legislation, arguing that no automobile orders are actually fulfilled at the Galleries.
But in the states where Tesla is banned—Texas, Arizona, Colorado and Virginia— there are strict limitations on what Galleries are allowed to offer. In these states, Gallery employees do not take orders, customer payments or make delivery arrangements with customers and usually only one vehicle is on display.
At these Galleries, employees cannot offer test drives or even tell customers how much the cars cost. To buy a Tesla vehicle, customers must order online from Tesla's factory in Fremont, Calif., and the vehicle is then delivered in an unmarked truck.
In some cases, Tesla has been able to maneuver around state dealership laws because the transactions technically occur in California, which some state legislators see as a loophole.
In Arizona, the state legislator tightened its dealership laws last year to forbid Tesla from selling the cars, discussing prices, or even offering test drives at its Arizona Galleries, citing a state law from 2000, which prohibits manufacturers from selling directly to Arizona consumers.
Many car dealers fear that allowing Tesla to bypass these state laws would create a precedent that could allow other domestic—and potentially international—manufacturers to cut out dealers and sell directly to consumers, which would in turn threaten their business model.
In Ohio, Tesla scored a victory last December when Ohio Senate Bill 137 was voted down. The traffic bill carried an amendment, which prevented "a manufacturer or a subsidiary, parent, or affiliated entity of a manufacturer" from selling vehicles. But the battle is far from over after a state senator introduced Senate Bill 260 last month, which aims to accomplish the same ban on direct sales that Senate Bill 137 failed to accomplish.
In Washington, Tesla scored a legislative win after the state modified its existing direct sales law by granting Tesla an exception, stating that the law would not apply to a "manufacturer that held a vehicle dealer license in this state on January 1, 2014."
Tesla has been able to maintain its presence in other states like North Carolina, where state legislatures have struck down anti-Tesla bills. In North Carolina's case, the senate approved the bill, before a House committee scrapped it. A similar bill was also dismissed in Minnesota.
Last January, a Massachusetts superior court judge dismissed a lawsuit brought by the Massachusetts State Automobile Dealers Association, which claimed that Tesla was in violation of Massachusetts' law by conducting sales within the Commonwealth of Massachusetts.
However, for Tesla, the legal battles will likely be ongoing, as long as the National Automobile Dealers Association continues to pursue legal action against Tesla's business model.
The National Automobile Dealers Association has contributed $2.3 million towards this year's elections, on pace for $6.8 million by the end of the 2014 election cycle. In the 2012 election cycle, the PAC contributed $5.3 million, with 72 percent going to Republican candidates and 28 percent to Democrats.
Tesla Chief Executive Elon Musk has opposed the idea of selling his electric cars alongside gas vehicles in dealerships, as he sees the direct sales approach as necessary for informing consumers about the technology.
"This model is not just a matter of selling more cars and providing optimum consumer choice for Americans, but it is also about educating consumers about the benefits of going electric, which is central to our mission to accelerate the shift to sustainable transportation, a new paradigm in the automotive industry," the company wrote in its blog.
Rather than challenge each state's legislation, Musk has previously said he hopes to go a different route.
"If we're seeing nonstop battles at the state level, rather than fight 20 different state battles, I'd rather fight one federal battle," Musk told Automotive News last April.
ReCode reported that Musk is evaluating "judicial remedies" in response to the New Jersey Motor Vehicle Commission's ban on its direct sales in the state, after Musk wrote another blog post Friday.