Less than two weeks after teasing an update on its Gigafactory during its Feb. 19 earnings call, Tesla Motors Inc. (NASDAQ: TSLA) — a luxury electric automaker — this week offered more concrete information, including a proposed opening date: 2017.
Tesla plans to break ground this year and the company hopes its factory will produce lithium-ion batteries for 500,000 vehicles by 2020. That output would be equivalent to the total number of lithium batteries produced worldwide last year.
The factory would address a key issue that has limited the production of Tesla vehicles, as the company has had to rely on partners like Panasonic Corp.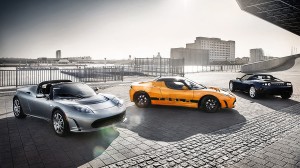 "Packaged, manufactured, ready-to-go lithium cells are not in high abundance right now," said Reilly Brennan, executive director of the Revs Automotive Research Program at Stanford University. "And with lithium-ion battery facilities, there are not that many in the world."
Beyond increasing vehicle supply, the facility could allow Tesla to experiment with other battery sizes and formats.
"The big thing in these batteries is the compromise between how much you can store and how quickly you can release the energy," said Brennan. "Every manufacturer of battery technology — whether it's the actual manufacturer like Panasonic or their client, Tesla — is trying to come up with new ways to make it more efficient; it's almost like computer software, where everyone is trying to write more efficient code to make everything faster."
Tesla also could potentially use its battery technology for other, non-automotive purposes.
"Right now, we think of Tesla as being a car company but there's a distinct possibility that we could think of Tesla as a car company and an energy storage company," Brennan said. "If you have solar or wind power, energy storage is something you're thinking about, because you don't want that energy to go to waste."
Tesla Chief Executive Elon Musk also serves as chairman of SolarCity Inc., a Silicon Valley solar installer that has already begun providing custom Tesla batteries for businesses with the promise of savings on future utility bills.
"In places with high costs of electricity, I think you'll see up to 50 percent of solar systems will have energy storage," Solar City Chief Executive Lyndon Rive told Quartz last December, when the company began rolling out the technology in parts of California, Connecticut and Massachusetts.
Beyond simply storing solar energy, a key component of the technology is the software that controls when a building runs on power from the solar panels versus the battery or the grid. The batteries could provide backup power if the grid goes down in an earthquake or storm.
Tesla declined to comment further on the Gigafactory.
As for the location of the battery factory, Tesla indicated in its press release that it is deciding between Texas, Nevada, Arizona and New Mexico. The facility is projected to total 10 million square feet and could eventually employ around 6,500 workers.
Tesla and its partners will invest between $4 and $5 billion in the Gigafactory through 2020, with Tesla directly investing $2 billion, as per the statement.
Musk has repeatedly stated his intentions to use green energy, and again indicated that it will be powered at least in part by wind and solar energy.
During Tesla's conference call on Feb. 19 to discuss its fourth quarter and year-end earnings, Musk said: "This is going to be a very green factory. There's going to be a lot of solar power. It's going to have essentially zero emissions and there are no toxic elements that are going to come out … and we will build recycling capability right into the factory."
Homepage rendering courtesy of Tesla Motors.