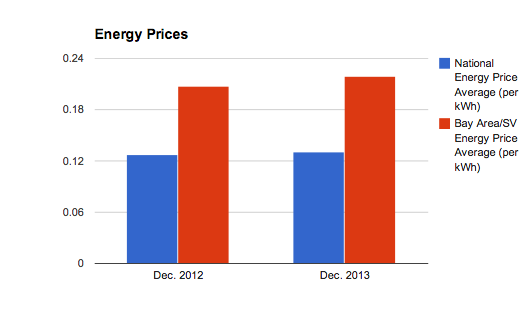 High energy prices in the Bay Area and Silicon Valley are causing many consumers to search for ways to cut their electricity bills.
Prices in the region have been substantially above the national average for some years now (averaging 20 cents per kilowatt hours, versus the national average of 12 cents), according to the Bureau of Labor Statistics.
That, in turn, is the cue for solar companies like San Jose, Calif.-based SunPower Corp. to tap into new consumer markets by offering creative financing options that allow customers to lease solar panel systems for their homes, sometimes with no down payment.
SunPower Vice President Martin DeBono said the demand for their panels has prompted the company to develop creative financing options moving forward.
"To meet a variety of customer needs, we offer an array of tailored financing options," DeBono said. "One size does not fit all, and offering options makes solar more accessible to more families."

Indeed, a mix of financing options may be the next big thing in solar. Or so says SunPower's Chief Executive Officer Tom Werner.
"In the North American residential market, demand for our rooftop solutions remains very strong," said Werner in a statement. "We're offering increasingly broad balanced arrays of tailored financing options in order to meet specific customer requirements, including cash sales, loans and leases."
SunPower was able to expand its leasing market thanks to a recent $220 million partnership — basically a debt loan — with Bank of America. The loan will allow SunPower to significantly expand its leasing program past its current 20,000-customer base, since solar leases have strong long-term payoffs but weak short-term returns for the firm.
"We expect a higher mix of lease versus cash in the coming quarter as we benefit from ample sources of third-party financing for our program," SunPower Chief Financial Officer Chuck Boynton said in a statement that referenced the Bank of America deal. "With the addition of BoA, our strong balance sheet and superior products, we no longer see financing capacity as a significant bottleneck to growing our business."
This financing bottleneck should be averted thanks to the BofA deal, according to SunPower President of Regions Howard Wenger, who said he foresees a year of strong growth in the lease market.
"We're really not facing a constraint in lease capacity going forward," Wenger said in a statement. "We expect a disproportionally strong year for leases, at least 50 percent or higher growth in leases for 2014."
In addition, SunPower has also made inroads in the domestic homeowners market by partnering with homebuilding firms to shore up its foothold in the sector. A recent deal with Meritage Homes is another step SunPower is taking to create a new customer base. Meritage constructs about 7,000 homes per year, and says that roughly 10 percent of its customers choose to install solar.
"Increasingly, homebuyers understand the return on investment that a high-quality, energy-efficient, solar-powered new home delivers," Werner said in a statement. "We're very proud to partner with Meritage Homes."
Meritage, which is the ninth largest public homebuilder in the country, received an award from the Environmental Protection Agency in 2013 — they've been offering solar options for their customers for the past four years. SunPower's three-year agreement with Meritage will allow it to offer solar installation deals to new homeowners across the Bay Area and nationwide as their homes are being built.
Despite a strong year in the international market, North America remains SunPower's most profitable region; cash purchases accounted for 70 percent of all residential sales in the region, leases included.
However, leasing may not be for everyone. Mark Byington, the president of Mountain View-based Cobalt Power Systems, says that his solar panel installation business isn't seeing a spike in demand for leasing options.
"Actually, we're seeing more and more people just buying the system rather than leasing it," Byington said. "In the long run, you save more money by owning the system, rather than by leasing it. A standard lease tends to have a 20-year commitment — people lease systems when they're trying to preserve cash [in the short term]."
SunPower acknowledged that leasing may not always be the most cost-efficient for some customers, but pointed out that short-term energy savings are worth considering.
"Cash purchases can be more cost-effective over the long term," said SunPower representative Ingrid Ekstrom. "But leases allow many customers to start saving on their electricity bills from their first day of operation."
Homepage photo courtesy of Flickr, Oregon Department of Transportation. Infographic by Peninsula Press.