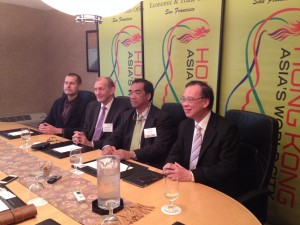 Silicon Valley natives should have no trouble talking about regional symbols like incubators and angel investors; Y Combinator and Marc Andreessen are household names in this area. This is something that Nicholas Brooke, the chairman of the Hong Kong Science and Technology Parks Corporation, understands well.
Located on a raised sandbar on the northern coast of Hong Kong, the Science and Technology Park is a massive business park that serves a similar function to the Valley's incubators. The park allows both fledgling entrepreneurs and established corporations a chance to both work in an environment of their peers and expand their business into the Asia-Pacific region. Currently, over 450 companies and over 10,000 scientists and engineers call the campus home.
"If you're going to enter into a new market such as mainland China, you're going to need to do your homework," Brooke said in an interview. "We offer that opportunity. You can come as our guest, settle in the park for up to six months and find your direction. [You] will be with 10,000 other like-minded scientists and engineers."
But what makes the park different from its Silicon Valley brethren is its government funding: established 11 years ago, the park has served as a collaborative effort between the government of Hong Kong and entrepreneurs from around the world. Currently, the focus of the park has shifted towards the promotion of clean technology, which was partially responsible for Brooke's March 14 visit to Palo Alto.
"We were established in Hong Kong to provide the platform for innovative technology," Brooke said. "Our companies range from large companies like DuPont, to smaller incubatees. We have over 50 clean-tech companies in our park, and we want to build up that cluster."
The cluster terminology is no metaphor; the park is largely comprised of tightly concentrated tech groups that share laboratory space and research areas. This means that all clean-tech startups and firms are located near one another and can easily collaborate. With fields that range from solar to biofuel to wave technology, the cluster's approach to clean tech is diverse, but the former remains a priority for the park.
"In terms of our agenda, [solar energy] is very high," Brooke said. "But we're not a city of houses. We're a city of towers."
Brooke is referencing recent entrant to the park, DuPont, which has focused on thin-film solar technology. This form of solar tech is more suited to coating buildings and has a larger following in parts of Asia, due to the prevalence of high rises and general lack of roof space.
"In Hong Kong, we're making use of the surface area of the building itself in order to reduce energy consumption," said Wai On Leung, managing director of Waste and Environmental Technologies Ltd., and a veteran of the Science Park.
Silicon Valley solar giants SunPower Corp. and SolarCity have traditionally focused more heavily on panel technology, due to the prevalence of domestic ownership in the United States. But they are both attempting to make inroads into the Asia-Pacific market. Brooke met with representatives from both companies at a San Francisco event just prior to his event in Palo Alto.
"Both have ambition and an interest in the China opportunity," Brooke said. "Their concentration is largely in the U.S., but we introduced the Park and presented it as a conduit, and I think that was of interest to both groups."
Solar isn't the only technology that has been prioritized by the Park's inhabitants: Russian-born Sam Timofeev, a proponent of wave technology and a management partner at Finima Innovations Company Ltd., said the Science Park was an ideal location for his company to grow.
"We want to bring clean technology to the market, and this is the market," Timofeev said. "We want to bring it to places where community spirits are high and where people care."
And people clearly do care in Hong Kong, not least because of the climate issues faced by the immediate region. Frank Leung, a consultant at the Greentech and Precision Engineering Cluster in the Science Park, says that prevention is the most immediate goal.
"We want to tackle pollution at the source, rather than try to clean it up afterwards," Leung said.
Brooke himself reiterated this imperative, during a follow-up speech at Palo Alto's Sheraton Hotel. Though the Science Park itself is carbon-neutral — meaning that it completely offsets its own carbon footprint through a variety of measures — Brooke says that won't be enough.
"Even if Hong Kong becomes one of the smartest and most livable cities in the region, if migration from the rural areas to the cities in mainland China continues, and increased emissions become a reality, Hong Kong suffers, as does the rest of the world," Brooke said.
Both Silicon Valley and the Science Park serve as economic microcosms of the greater region. Whether they can serve to meet their respective challenges remains to be seen, but Brooke and his compatriots think that working together is key.
"We're here to engage with companies in California, we're here to learn what they do, and to encourage them to come to Hong Kong," Brooke said. "Just as Hong Kong faces challenges, so do many of the cities in China, and that's a big opportunity for American companies and American business."