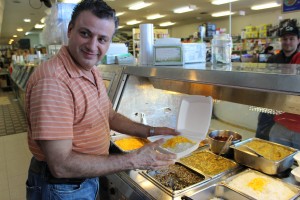 First went plastic bags. Now, California cities are increasingly banning that constant companion to hot lunches and coffee: polystyrene, a type of plastic — better known by its household name Styrofoam.
Mountain View is one of the latest to require the food industry to offer more environmentally friendly alternatives after passing a polystyrene ban in February that will take effect on July 1.
Berkeley, an environmental pioneer, has been restricting Styrofoam food containers for decades. And now dozens of other cities, particularly in the Bay Area, are following. Still, as a nation, the United States lags behind others when it comes to limiting this packaging, which is clogging sewers, polluting rivers and finding its way into the oceans too. A single-use Styrofoam cup could take a million years to decompose, environmentalists say.
California is "pushing the envelope in the U.S., but the U.S. is behind a lot of countries," said Ann Schneider, chair of the Sierra Club's Zero Waste Committee for the Loma Prieta chapter. Countries like China and the Philippines started countrywide pushes to ban the material years ago.
The Mountain View ban was spurred in part by local officials and residents who were tired of seeing discarded Styrofoam packaging clogging Stevens Creek, a stream that feeds into the San Francisco Bay.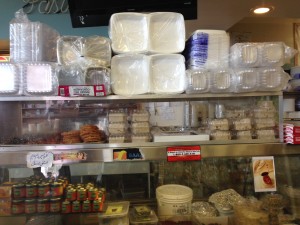 The city's Solid Waste Management division plans to spend $3,000 to educate residents and business owners about the forthcoming ban.
City Council members don't anticipate the ban will result in less litter, but they do hope that trash will be more biodegradable.
"Polystyrene, like plastic bags, has effects beyond litter," said Schneider. "It's like little poison bombs getting out into the ocean, (animals) become mini-collectors of toxins in that environment … and we eat it."
The measure will impact hundreds of Mountain View establishments that serve food and beverages, including restaurants, caterers, grocers and food trucks. Prepackaged produce, raw eggs or meat, noodles or soups that are delivered to establishments are exempt. Otherwise, food providers will have to switch to compostable materials, reusable containers and recyclable clear polystyrene, which is less prone to breaking down into little pieces that are hard to clean up than its foam counterpart.
At a recent afternoon at Rose Market, a Middle Eastern grocery and caterer on Castro Street, piping hot, golden-mint tea flowed freely as customers placed sizzling kebabs, crisp tabouli salad and sweets in Styrofoam containers. But the market's owners acknowledge that with the ban they are looking for alternatives.
Javad Mehranfar, one of the partners in the business, said, "We are happy to change."
For many restaurateurs who have favored the material for being cost effective and functional, there will be some growing pains. The city expects the switch to alternative materials will cost a few cents more per container. Businesses may apply for a hardship exemption that would grant them one year to make the transition.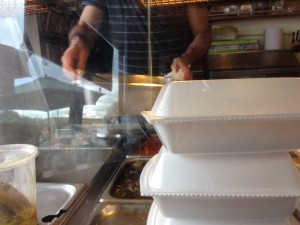 "It will be a little bit of a burden, but we just have to make do," said Jessica Cheung, assistant manager at Sushi 88 & Ramen on Showers Drive.
Ronnie Facciolla at Mario's Italiano said he's on the hunt for a suitable container that will retain the quality of his food. Polystyrene is practical because it retains heat, prevents leaks and can be stacked without getting crushed, he said.
The measure hasn't been popular with everyone. And some city council members said the ban would be unable to address the larger waste problem.
"Bottles, plates, jugs, containers — all kinds of plastic containers are still there," said council member John Inks during a February council meeting where members voted in favor of the ban. "I think (polystyrene containers are) unfairly prosecuted … I don't see the advantage of substituting one form of litter for another."
Bay Area business owner Jim Croft's family has operated Monahan Paper Company since 1902. His company distributes a variety of containers, including polystyrene and alternative options. He's not convinced the ban will be good for local or environmental interests, and that there probably wouldn't be a polystyrene problem if consumers were more responsible with how they use and clean up disposable goods.
"I don't think they've looked at this whole picture," said Croft. "The problem is people — not the product."
Editor's note: This article has been updated on 4/4/14 from an earlier version to clarify that businesses must apply for a hardship exemption to get a one year transition period.