QUESTION: I'm wondering if the food left on plates in restaurants is recycled. If not, why not? I'm imagining a pick-up service like regular waste disposal that takes uneaten food to a place where it's composted and/or distributed to farms, zoos or animal shelters (for feed). Is this already happening in San Francisco, for example? Asked by Beatrice Q. Rector, Springfield, Ore.
ANSWER: In my family, we were always instructed to eat absolutely everything that was on our plates, down to the last grain of rice. However, we never really had a problem with food waste, because my dad is a glutton. If my brother or I left food on our plates, "trash-can daddy" would come to the rescue and eat it for us.
Unfortunately, not everyone is blessed with a "trash-can daddy," and food waste is a problem in developed countries. According to the Municipal Solid Waste Report, the United States generates more than 34 million tons of food waste each year; in 2009, only 1 million tons of that was recycled. Food waste generates methane, a greenhouse gas with an impact on global warming that is 21 times greater than that of carbon dioxide, when it decomposes without oxygen. Restaurants are a part of the problem, as, according to an article from the Associated Press, 40.5 percent of Americans ate out in 2010.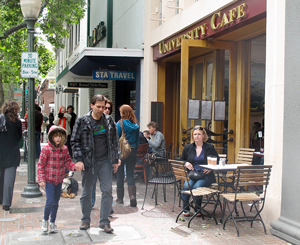 Fortunately, some restaurants employ a "food recycling technique" that is very similar to my father's. For example, at University Café in Palo Alto, "We don't like to throw away cooked food that has never been touched," manager Andrès Sierra says. "If somebody makes [a food order] mistake, we just ask the staff whether anyone wants to go to the back of the Café and eat what has been cooked."
But what happens when you don't have any gluttons in the kitchen? To date, there is no federal law determining how food waste should be recycled. However, some cities have recently started making food recycling compulsory.
In the fall of 2009, San Francisco became the first U.S. city to ban residents from throwing their food in the trash. Restaurants, cafés and households all keep separate compost bins for scraps, peals and unwanted leftovers. The organic waste is then collected by the city and processed into compost, which is later sold to Bay Area vineyards and farms.
Even where composting is not compulsory, many restaurants in the Bay Area believe that recycling food is important. "I think recycling food waste is good," said Jonny Marking, manager of Bistro Maxine in Palo Alto. "It's easy to do, and it helps nourish the land."
In addition to throwing food in special compost bins, some restaurants donate their edible leftovers to nonprofit organizations. At Starbucks, "We are very excited to take any chance to donate the extra food we have," said Chris Patton, manager of the café in Palo Alto. "Until three weeks ago, we donated pastries to a non-profit organization," he explained. Unfortunately, the organization has discontinued this activity. While looking for another opportunity to donate food, Patton's Starbucks throws all its organic waste into a compost bin, and encourages employees to take uneaten sandwiches home.
Food waste can also be used to generate power. In Oakland, for instance, The East Bay Municipal Utility District collects organic waste from restaurants and uses it to create methane, a gas that can be used to power the plant's generators.
If you are curious to know how your favorite restaurant recycles its leftovers, the easiest way is to ask them. During my research for this article, I found that managers are generally very conscious of ways in which they can recycle their food, and eager to share their good practices with you!
READ MORE: The average American family throws away 477 pounds of food from their own homes each year. Learn some greener alternatives in the Nitty Gritty answer to this question.