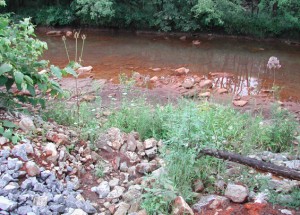 Activists are brandishing new weapons in the fight against poverty and pollution: paintbrushes and palettes.
Critics are buzzing about a new movement known as "ecological art." Rather than passively provoking discussions about sensitive issues, these artists are designing real solutions. "We are really on to something," said Sam Bower, artist and executive director of "greenmuseum.org," a virtual gallery of eco-art.
The artist-initiated projects that physically transform local ecologies, known as "ecoventions," may be the answer to some of the most pressing environmental problems. But, these artists are on the fringes of the mainstream art world. In taking a pragmatic approach to art, they are challenging some of our most entrenched cultural assumptions.
Bower believes that the movement, referred to by insiders as "eco-art," still lacks clear direction. "It is part of my job," he writes on his website, "to try to make sense of [it]."
In 2000, he provoked an outpouring of controversy for the formative sculpture, "For the Birds." The eight-foot tall steel blind containing 32 artificial nesting boxes," was not created for aesthetic purposes. Frankly, the artist is not all that concerned whether people like, or even see, his work.
Bower's sculpture was engineered to protect sea birds on a remote island near San Francisco. "Some of the most exciting art involves creating solutions to problems, not just pointing fingers at them," he said, reflecting on the criticism of his work.
Bower's greatest supporters were scientists from the Point Reyes Bird Observatory. They regularly make the pilgrimage to study the Cassin's auklets, Ashy Storm-petrels, and other rare birds, nesting in the sculptural hideaway on the southeastern stretch of the Farallon Islands.
Eco-artists may not have a rulebook or manifesto, but they are united in their willingness to collaborate. This has resulted in a series of highly successful partnerships with earth scientists and advocacy groups from the litmus art park in rural Pennsylvania that reclaimed a damaged land and water supply, to a new media installation that the San Jose Museum of Art describes as "a method for monitoring human and environmental health."
From her office at Stanford University, esteemed earth scientist Dr. Elizabeth Hadly, rallies in support of the movement. "These are artistic pieces that solve environmental problems as opposed to just using the environment as a backdrop," she explained. The associate professor of biology hopes that artists will come to the aid of her department. "We [scientists] have a missed a beat in communicating our results to the public," she said.
Reflecting on the movement's potential, Bower said the time has come for artists to rise up and "get the community engaged in a compelling way to promote social justice and clean water… and other good things!"
True Colors
Drivers in southwestern Pennsylvania do not notice the rolling hills; they are too busy rolling up their car windows to keep out the putrid smell of sulphur.
It is the early 1990s, and after a century of unregulated mining, malodorous chemicals are seeping and surging from abandoned coal pits.
As sulphuric acid builds up, it leaches from other metals in the landscape. This creates a rust-colored sediment that filters into lakes and streams, and desiccates entire ecosystems.
Ecological art has its roots in small towns, where artists have been at the forefront of a community-driven "green" consciousness. In the Appalachian coal country and the former railroad freight towns in the agricultural west, recent efforts have given distressed communities a second chance to flourish.
A historian at the Department of the Interior's Office of Surface Mining was on a mission to draw attention to the darker side of American industrialism. In-depth research had revealed the extent of the pollution that was blighting the poorest neighborhoods in Pennsylvania.
Today, T. Allen Comp sits in his office in the nation's capital. He frequently flashes back to 1995, the year when he assembled a team of artists and scientists to the aid of a forgotten and maligned region. He hoped that art would restore the damaged landscape, and the prospects of its people.
"We wanted to recognize the reasons why the community should be proud of itself – even if it is in a very degraded place where no one is really proud of it," he explained.
Comp amassed almost a million dollars from state grants, and community foundations. But, it became evident for the team of experienced volunteers, including Bob Deason senior hydrogeologist at Earth Tech, that it was no easy fix. To make matters more complicated, Comp expected more from the team than to simply remove the pollutants and move on.
Chuckling, Comp compared himself to a choreographer whose role was to direct a group of people from "fancy disciplines" to move to the same beat.
Comp hoped that once the layers of grime were removed, the natural beauty of the land would be restored. Within a few months, the team had made major headway. Calling themselves "AMD & Art," they rallied behind their leader's vision for "rust to renewal."
To the residents of Vintondale, art was something to be enjoyed by the wealthy and privileged of this world. It could not put food on the table, or assuage the harsh realities of daily life.
That is, until an award-winning art installation suddenly appeared on thirty-five miles of reclaimed mine land. "Our personal experiment," Comp reflected, would make sure that no one could ignore the effluence in the coal pits.
The artists in the group hit on an idea as they watched the scientific process unfold.  "Acid mine drainage' removes the contaminants in the water, which changes color from bright orange to a healthy blue-green. They created a litmus garden of plants to grow alongside the water treatment system.
Like many towns in the region, Vintondale grew rapidly when the railroad supplied clockwork custom, and mines were a reliable source of jobs. But when the tracks rusted over, populations dispersed and old buildings were left to crumble in the dirt and dust. The town is situated midway along a 36-mile stretch, which locals refer to as "The Ghost Town Trail."
Before the town was splashed across the headlines, residents were unmoved by the soft-spoken outsider and his team of big shots. In the early days, Comp organized a public meeting at the local bingo parlor to address their concerns.
When the men seated at the nearby bar overheard his plans, they turned wide-eyed with disbelief at the prospect of turning an environmental liability into a community asset, and began hooting with laughter. "Nothing good has happened to this town in 50 years," one resident chortled.
In an early essay, 'Art That Works', Comp hit on how flaming color of the sulphur provided a powerful symbol of change: "[it is] the emblematic orange silent signature of dying communities," he wrote.
"Venus de Beaver"
Eco-artists believe that whether they should play a role in preserving the environment is a no brainer – "it's just silly," Bower proclaimed, "to contemplate the idea of separating sustainable human behavior from art." It is not about telling or showing an audience, but doing.
Gail Wight, whose artwork is inspired by science and the natural world, said there is a thin line between artistic expression and civic usefulness. And some of these eco-artists have crossed it.
The associate professor at Stanford feared that "some of this is more like engineering than art." Sighing, she explained that this is a new area of study, and scholars are unsure what to make of it. "It's a really young art form," she said.
Even a decade ago, information about ecological or its modern-day counterpart – "Sustainable Art" was not easy to find. "I kept looking for precedents," Comp recalled, reflecting on his time in Pennsylvania. "But there weren't any anywhere."
Today, the spinoffs of this movement continue to gain momentum in deprived communities on the east coast. In another region of rural Pennsylvania, local curator, Mary Mooney, is busy working to promote one of the nation's first Sustainable Art exhibits. To Mooney, Arts in Education coordinator for the Perry County Council for the Arts, that means art that would "respond to social concerns in progressive or proactive manner."
Mooney explained that it was a struggle for her to define just what is meant by sustainable art. But, she later concluded that it was not just about artists using discarded or recycled materials. It was part of a wider movement to promote responsible living. "[It is] a new emergence in the art world, sprouting up in conjunction with sustainable agriculture, energy, design…"
One of Mooney's favorite pieces in the exhibition was inspired by a gnawed tree bark in the woods that resembled the classical sculpture, Venus de Milo. Hermann Metz's, "Venus by Beaver" is about "communication between man and nature," she said.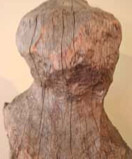 Mooney hopes that the exhibit will inspire people to buy local in an area that depends on it. Whether they're purchasing food, art or anything else, she explained, "sustainable agriculture is a matter of survival for many people."
A Matter of Art or Death?
The terms "environmental art," "sustainable art" and "ecological art" are interchangeably used to describe a myriad of styles and practices. Broadly speaking, they are all art that address the environment in some way.
For Bower, there is one group, the "eco-artists," that represent the wave of the future. "And if they aren't," he told me, visibly shaken. "Then we are all going to die."
If his words seem apocalyptic, then there is more work to be done.
"For the Birds" on the craggy cliffs of the Farralon Islands remains on the nature reserve about twenty miles west of the Golden Gate Bridge.
The sculpture continues to cause confusion among fellow artists. "The birds don't need us, or our art," said professor Wight, who crossed paths with Bower at a 2009 conference on environmental art at Stanford University. Wight explained that art is not just for the animals, and is not only a tool.
Wight's research interests lie in the fields of art and biology, but she is also a practicing artist.  Her work would provoke discussion about the natural world and the spectacle of disappearing landscapes. But, while her friends and associates are aware of her fears about the lack of public interest in the environment, her art is not a quick fix, and does not have an agenda. Wight posed the question: "If our government isn't saving it [the environment], why should artists take it on?"
In San Francisco, government bodies have poured funds into art-inspired conservation efforts. Artists were recently asked to create a habitat for rare species as part of the Presidio Habitats project, sponsored by The Presidio Trust, founded by a 1972 act of Congress when this former military base was converted to parkland.
"Art is a way that we can culturally make shifts and changes," said Amber Hasselbring, a Bay Area artist, who believes that artists should take on conservation efforts. The San Franisco Arts Commission funded her photo-collage mural, "Swallowtails and Sycamores", to protect butterfly populations in San Francisco's Mission District, the sunniest of the city's micro-climates.
Hasselbring has developed a number of civic partnerships to fund art projects that promote sustainable living. She has joined a group known as "Mission Greenbelt," working with the San Francisco Department of Public Works to create wildlife gardens in sidewalk spaces, plant street trees in tiny pocket parks, and create rooftop urban habitats for bees.
Hasselbring concedes that working with municipal governments can be a real challenge — "It takes a lot of pushing and shoving to get changes made!" — but she feels artists can push for policy changes.
"I'm trying to make my presence in the city be known," she said. Similarly to Bower, she feels that eco-art is in its infancy. "I think we need to have a larger audience so you can really feel the urgency of the movement."
Is there a more visible way to make a statement than painting SF MUNI buses?  Hip urbanites are tweeting up a storm about the four buses that are unusually awash with color.
Artist Todd Gilens had four buses to paint against a count of almost three hundred endangered species in the Bay Area. So he narrowed it down to the Marsh harvest mouse, the mission blue butterfly, the brown pelican and the coho salmon.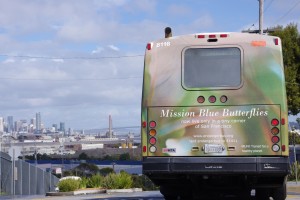 When people drive cars, according to the Bay Area-based artist, community spirit breaks down and there is increased congestion, noise and particulate pollution. "Buses also bring a sense of collective investment, which I think is vital," he said.
For Gilens, the painted vehicles carry double meaning; they promote wildlife conservation, and carry a message about sustainability in transportation. "I realized that public transit is also an endangered species," he explained.
Cockroaches and Elephants
Environmental artists across the country have lent their support to wildlife. Catherine Chalmers and Miranda Loud have supported the animal kingdom – both big and small – through film and photography.
"I respect the cockroach," said Catherine Chalmers, shortly after giving a presentation with film students at USC. While living in the roach capital of the USA, Manhattan, she became intrigued by friends' reactions to infestations: "People's hearts fluttered," she said. She decided to focus on them to make a statement about how cockroaches are central to our ecosystem, but we are always looking for better ways to kill them.
We need to expand the scope of our relationship with the non-human world. "Animals are either pets or pests," she insisted.
For her most recent project, she studied and documented on film the leafcutter ant colonies in Costa Rica. On-site conversations with local conservationists eager to preserve their homes, Chalmers offered to help make people feel more connected to this "charismatic insect."
"One hundred years ago, artists wouldn't be having these discussions about environmental issues," explained the artist. "But we are aware now about the need to conserve all forms of life."
Miranda Loud spends her days touring the country to educate people about animal cruelty and the environment. The former classical pianist embraced visual arts after reading about climate change, and the impact of species lost. Her goal is to promote empathy training to teach respect for nature, and to introduce mandatory art programs in schools.
"Would we have quieter oceans?" she asked, voice faltering. "Would we turn off the lights in skyscrapers so birds wouldn't circle them, dying of exhaustion in their millions? If we had empathy training and an early introduction to art we'd be trained to take other species into account."
Loud's current focus is to preserve Asian elephant populations, and she travels on a shoestring budget presenting her short films. Similarly to Chalmers, her original intent was to de-stigmatize insects, primarily bees, but she changed course after hearing about the atrocities committed in Thailand.
Loud said art prevents people from watching to their comfort level or attention span. They must sit, and take it all in. After screenings of her films, she is often approached by well-wishers saying, "You have lit a fire under my apathy!"
Loud cannot quantify the effect of her work in helping elephants, but said she remains optimistic. "It's hard to know what impact you've had as an artist, but half the people who watch my presentations are usually in tears," she said. "And that's got to count for something."
The Most Unlikely Art Mecca
It is high noon in the desert, and white sunlight drenches a tiny ranch town in west Texas. Marfa is located in a desolate strip over three hours from the nearest commercial airport, and cattle outnumber the some 2,000 permanent residents.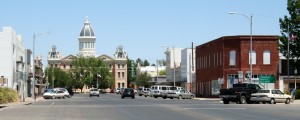 But in recent years, the railroad town has attracted destination tourism, and become a favorite of filmmakers and bohemian types – it is the greatest living example of the movement, and is undoubtedly America's most unlikely "art mecca."
In the town's northwest corner, tumbleweed drifts past the only remaining monument of decay. An empty Prada storefront is filled with a white stucco display of real shoes and handbags. Tourists huddle outside, flashing cameras and heavy-laden wallets. There is no front door.
This is not a high-end fashion franchise. It is a large-scale art installation inspired by Donald Judd, and the artists of the minimalist movement.
The town owes its revitalization to Judd, a New Yorker who relocated in the 1970s. Residents enjoy recounting the tale of the artist's search for a quiet haven. The story goes that one look at Marfa's light-soaked plains, and prairie homes slowly languishing in the desert, and Judd had found his new home.
Judd's legacy is the Chinati Foundation, which funds an artist-in-residency to produce large-scale installations inextricably tied to the land. His vision was to create a kind of anti-museum, where art would embellish and restore the landscape.
Intrigued by the legendary artist's vision for Marfa, there was a "huge influx of creative people," explained Tex Toler, the town's director of tourism. Even the most skeptical residents were swayed when the newcomers began restoring old buildings. The artists saw beauty in the wilting homes, and patched them up to their former glory.
By the mid-80s, tourists were showing up in their droves to pay homage to the former railroad stop town in the Chihuahuan Desert.
Today, four-star restaurants and contemporary art galleries have sprung up to cater to the steady stream of visitors. "We had these creative people show up and do wonderful things," reflected Toler. "It became clear that the town was not only surviving, but thriving because of the influx and the influence of artists."
Toler, who is currently involved in an initiative to restore the old railroad depot, said heritage and cultural tourism displaced ranching to become the biggest generator of revenue. "The town markets itself as an artistic community", he said.
Artistic Visionaries
Comp had some parting thoughts about how to restore damaged landscapes. It has been five years since the AMD&ART team left Vintondale, having successfully turned acid mine drainage into art.
He had big plans for the town, and hoped that visitors would continue to flock to the town, eager to see public art in motion. For a while, schoolchildren and art aficionados did trickle in. But on this particular case, art was not enough to completely rejuvenate the ghost trail of the coal country. Comp does not deny the project's shortcomings. The economy is still depressed, he explained, and "most tourists don't get in the car and think, 'let's go find a really depressing place'!"
There has been a shift in the attitudes of local people. "We restored faith that something positive could happen in that community," said Comp.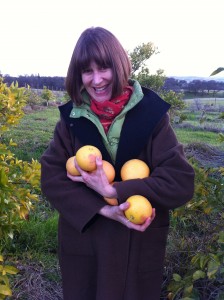 Despite its limitations, members of the art world have spoken out in support of the movement's potential. Jill Coursin believes that art can be more than just a form of expression. Having returned from Clarksdale, Miss., a small town celebrating its heritage with a blues festival, the art curator from Santa Fe said art would inspire people to appreciate our land and heritage.
"Some say that the arts are optional or extra and unnecessary during this time of economic downturn," she reflected. "I say that without human creativity and the arts, there is a very much more limited vision for the future."
Tex Toler has an explanation for the movement's early success. "When you think about it, creative people are appreciative of beauty," said the Texas native in a moment of reflection. "In Marfa, not only do you see the architecture being restored, but the artists that come here do what they can to protect all the beauty that's around them."