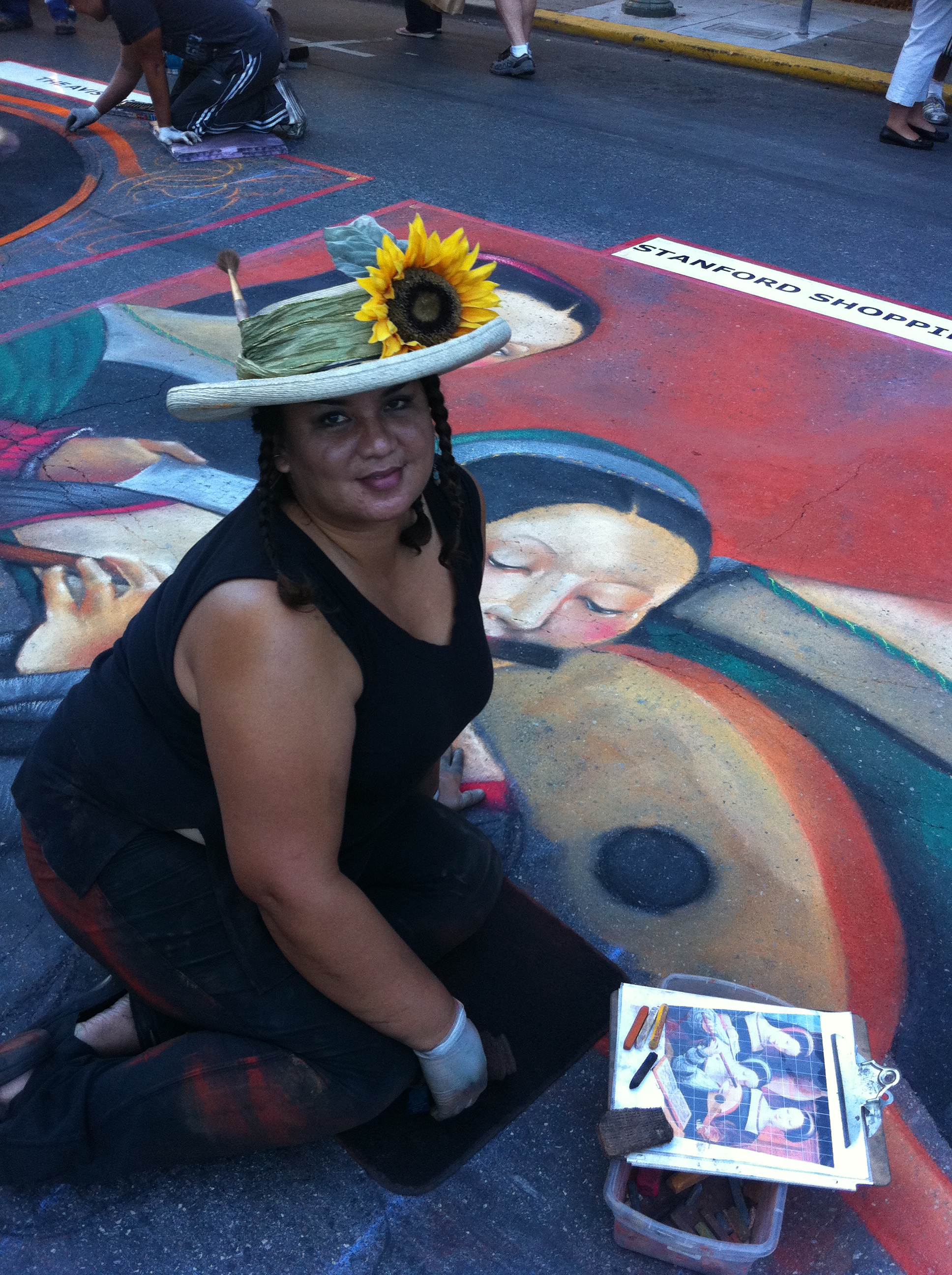 The streets of downtown Palo Alto became a little brighter Saturday and Sunday, as more than 60 sidewalk chalk artists turned Tasso Street into a giant canvas for the 30th annual Palo Alto Festival of the Arts.
The artists recreated famous works of art – from Johannes Vermeer's Girl with a Pearl Earring to Octavio Ocampo's Visions of Quixote – in sections of street that ranged from 4-by-6 feet to 12-by-12 feet. Palo Alto city officials closed Tasso Street between Lytton Street and University Avenue for the chalk showcase, which was part of the larger festival lining University Avenue.
Shirley Lehner-Rhoades, a chalk artist from Scotts Valley, Calif., said she put in 20 hours of work, 10 each weekend day, to finish her piece by 5 p.m. Sunday. And, at 6 p.m. festival organizers washed all the art away so they could reopen the street to cars.
Lehner-Rhoades said she didn't mind seeing her art washed away. "I take pictures," she said. "And I practice in my driveway, and it stays for months before it rains."
Fellow chalk artist Christine Pasadis agreed. She worked on her masterpiece with her two daughters, Michelle Fowler, 19 and Jessica Fowler, 15.
"It's wonderful to let it go," Pasadis said of the murals being washed away. "It's a performance art. It's for spectators to enjoy [while it's being drawn]."
Pasadis's daughters said they look forward to spending the weekend doing chalk art with their mom. "I really enjoy it," Michelle said. "There's never enough time to spend with family, and we get to do it together."
[cincopa A4NAgvaHHdJc]