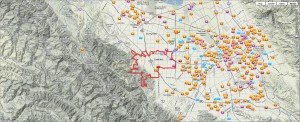 The city of Cupertino is known around the world for being the home to Apple. What it's not known for is violent crime.
The affluent city of 58,000 residents consistently ranks as one of the safest in California and among the safest in Santa Clara County. There were two reported homicides all of last year.
On Wednesday morning, the tranquil community was rocked by a gunman's rampage inside the Lehigh Southwest Cement Permanente plant near Stevens Creek Boulevard. Three people were killed and six injured in the shooting.  A search is underway for the suspect in neighboring Sunnyvale — a law enforcement response that involves hundreds of officers, including some from neighboring cities such as San Jose, Morgan Hill and Gilroy.
Area schools acted quickly to protect their students. Peterson Middle School in Sunnyvale, part of the Santa Clara Unified School District, put the campus on lockdown for a time, keeping students in their first-period classrooms. "Since students were already at school, we didn't want kids outside or parents driving through the neighborhood," said Tabitha Kappeler-Hurley, the school district's public information officer.
Another school in the district, Laurelwood Elementary in Santa Clara, closed before classes started. "We did a phone blast in the morning to let them know school was closed," Kappeler-Hurley said. "If kids came with their parents we said, 'Sorry school is closed today.' If they came in alone we had them call their parents and have them picked up. Ideally we tried to grab the parents before they drove off."
At Cupertino High School, part of the Fremont Union High School District, students were also placed on lockdown until about noon. Then they were allowed to go home with a parent or guardian, who had to sign them out. Principal Kami Tomberlain said "the atmosphere was calm. Obviously it was intense but everyone acted just as I would have expected."
A few public events at Cupertino City Hall have been canceled, including a Block Leader meeting scheduled for Wednesday night and meetings of the city's Environmental Review and Design Review committees scheduled for Thursday.