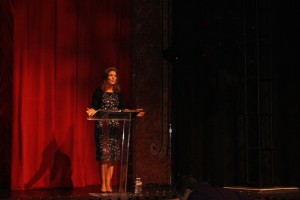 Caroline Kennedy considered editing the tapes of her mother's 1964 interviews with historian Arthur Schlesinger Jr., she told a graying audience in Redwood City's Fox Theatre Tuesday evening. The event marked Kennedy's only west coast appearance on her book tour.
The tapes, after all, contain comments that could be taken out of context as well as awkward views that would later change, Kennedy said.
Nonetheless, "these were formal interviews, not accidentally recorded conversations, and both participants understood they were creating a primary-source document," she conceded.
And so in the end, she resisted a daughter's impulse to alter the historical record.
Jacqueline Kennedy (later Onassis) chose Schlesinger to interview her, Kennedy said, precisely because of her appreciation for historical accuracy.
Just four months after President John F. Kennedy's assassination, Schlesinger and Jackie sat down for seven interviews to document the young president's life according to those who knew him best. Jackie reflects on her husband's years as a U.S. senator, presidential candidate and president, and as well as her own experiences during that time, and her views on many other national and world leaders of the day.
After the eight and a half hours of interviews, the tapes were sealed and put in a safety deposit box in New York, Kennedy said. Few people knew of their existence, and Jackie never gave another interview on the topic, nor did she necessarily expect those tapes to be made public.
But public they became this month, 50 years after President John F. Kennedy's inauguration, when Caroline Kennedy and the Kennedy family decided to release the tapes to "stimulate interest in public service," she said.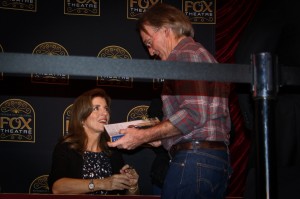 Since the tapes' release, "people have been surprised by [Jackie's] statements and opinions," Kennedy said.
In particular, many point to her anti-feminist statements, as well as less than flattering comments about Rev. Martin Luther King Jr.
"Women should never be in politics, we're just not suited for it," Jackie's breathy, little girl voice says in the recording.
Kennedy defended her mother's statements, saying that "despite some of the hopelessly old-fashioned views she expresses on the tapes, her transformation [into a modern woman] began in the White House."
Regarding Jackie's comments about Dr. King, that included calling him "such a phony," and referring to his alleged sex parties, Kennedy is reported to have said that her mother's remark reflected the influence of FBI chief J. Edgar Hoover's smear campaign of the civil rights leader.
Taken together and in context, the tapes "remind us that [those in the White House] are as imperfect as the rest of us," Kennedy said.