This article is one in a series run in partnership with The Bay Citizen and Decade911.com.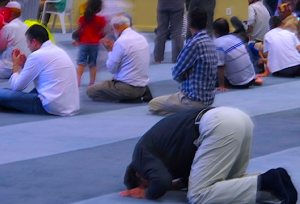 For American Muslims, a new tradition has emerged: sipping tea and sharing stories about life after 9/11. Anecdotes about being detained at airports are among the most common. But where once there was bitterness, after 10 years, the tone is more like dark comedy.
There are about 250,000 Muslims in the Bay Area, and in the decade since 9/11, many have found themselves living by a set of new, unwritten codes, said Zahra Billoo, who leads the Bay Area chapter of the Council on American-Islamic Relations.
We spoke to nearly a dozen Muslim Americans, most of them part of Generation 9/11, and we asked them to share their stories.
Plan on being questioned or detained in airports
Kamal Koraitem takes some consolation from the fact that almost every Muslim he knows has been detained while flying. Koraitem is in his 40s and left his native Lebanon to study engineering at the University of Southern California.
What's Koraitem's worst travel story? His family was detained for hours at New York's LaGuardia Airport when they were returning from Lebanon in 2003. Koraitem says his kids were denied use of the restroom and his family missed their connecting flight.
"Never travel through New York when you're flying overseas," says Koraitem with a laugh.
If you wear a headscarf, your chances of getting patted down multiply, says Ahmad Ibrahim. The Santa Clara resident and recent University of California, Berkeley, graduate talks about the discomfort of watching his mom, who wears a headscarf, being patted down on multiple occasions.
Abdullah Mourad, another young Santa Clara resident, has learned a trick to make the screening process faster: Always wear flip-flops. His father, Tarek Mourad, no longer brings the Quran with him when he travels. Instead, he reads it on his iPhone.
Speak as if 'they' might be listening
Stanford law student Omar Shakir was chatting with friends when the word "jihad" came up. His roommate was quick to exclaim, "For anyone who is listening, that was a joke!"
Shakir said he has heard others Muslims do the same thing, just in case the room is wiretapped.
Always remember people can put words in your mouth and take what you say out of context, 22-year-old UC Berkeley graduate Ahmad Ibrahim said.
For example, the word "jihad" has multiple meanings. Only one of its definitions is associated with terrorism and al-Qaida: the physical fight. In conversation, Muslims use "jihad" to mean a struggle with something inside of you, such as trying to break a habit, Ibrahim said.
 Assume your correspondence is being monitored
"I always speak on the phone as if anything I say could be used against me in a court of law," Shakir said. Also, write as if the authorities are reading every email.
Remember: You are not guilty of the 9/11 attacks
Right after 9/11, many Muslim Americans felt compelled to apologize, as Ibrahim notes in this video.
Despite the diversity of the Bay Area, some Muslims commonly find themselves being asked to speak on behalf of all aspects of the faith. Susan Sultan, a 20-year-old Muslim from San Leandro, said people ask her, "If your religion is so good and holy, what about 9/11?"
"There's a lot of explaining to do," she said.
 'Allah Akbar, Bro.' We live in the Bay Area!
Despite this litany of restrictions, most Muslims interviewed seemed to agree with Koraitem's sentiment: "We're lucky to be in the bubble of the Bay Area."
Billoo of the Council on American-Islamic Relations can recite a long list of indignities Muslims have faced elsewhere around the country.
There were the protesters in Connecticut who yelled, "Jesus hates you" at children entering a mosque. And anti-Muslim activists in Temecula, Calif., said they'd bring their dogs to a mosque as an insult.
"That kind of ridiculousness hasn't happened here" in the Bay Area, Billoo said.
Sultan, who attends college in Santa Cruz, relates her experience of the Bay Area bubble: Once, she stopped to pray outside in Santa Cruz. Some people stared, but others stopped to murmur how great it was. And one man shouted out encouragement in the Santa Cruz version of "God is Great."
"Allah akbar, bro!" he said.