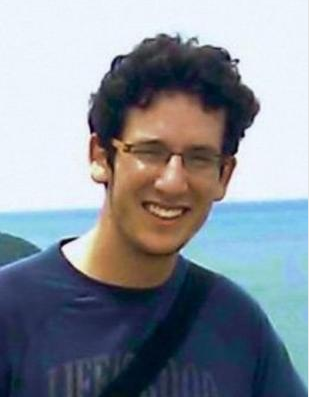 Stanford senior Jacob Boehm, 22, was always well connected to the world through social media. On his summer trip to Japan with the Stanford Chamber Chorale, and then throughout his solo travels through the Asian Pacific, Boehm always kept his friends and family up to date using Google Plus and the photo-sharing program Picasa.
On Aug. 10, Boehm's Google Plus account announced he was in Malaysia. He was traveling on both his U.S. and German passports. But then his communication – online and off – stopped.
His family heard nothing for a week. Panicked, his parents, Bruce and Nancy, filed a missing person report with the U.S. and German consulates Friday morning. They also sent emails to 12 of Boehm's friends asking for any help they could provide.
The friends also turned to social media, and what played out in the next 24-hours is an example of the power these tools can harness. More than 18,000 people around the world had at least one of the two related Facebook pages appear in their Facebook news feeds, and thousands actively posted or tweeted, offering help and support.
There was the Lonely Planet guidebook writer who offered insight about the region, the Stanford dean of students who helped mobilize the university's student and alumni communities, the friends-of-friends who notified officers in the U.S. Navy and people in local Malaysian churches, and ultimately, the Malaysian-born Stanford students who had high-ranking contacts in the region.
The 24-hour tale is, perhaps, best told directly through some of the social media posts themselves. They were obtained from the public Facebook pages and Twitter feeds created during the search,  and they are republished here with permission from the Boehm family and friends who created the Facebook pages.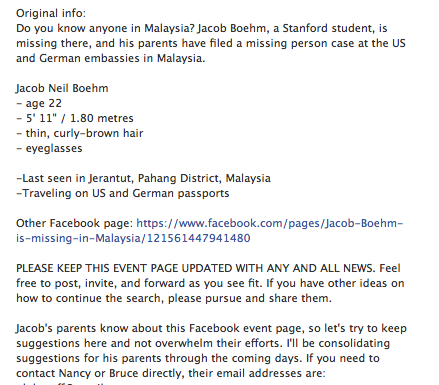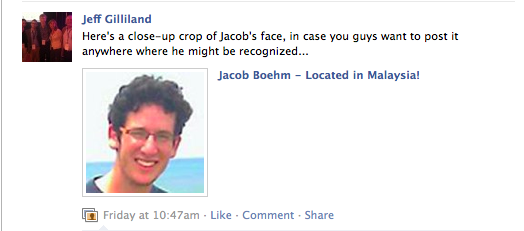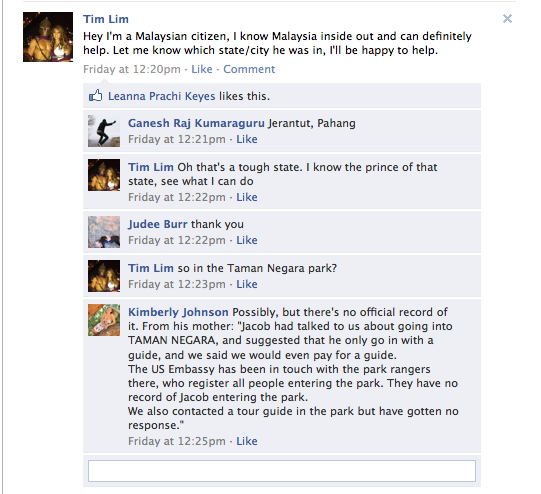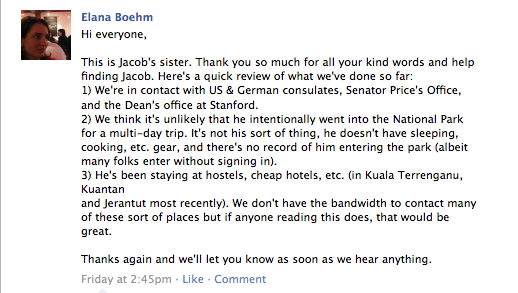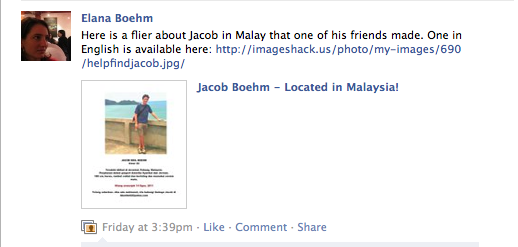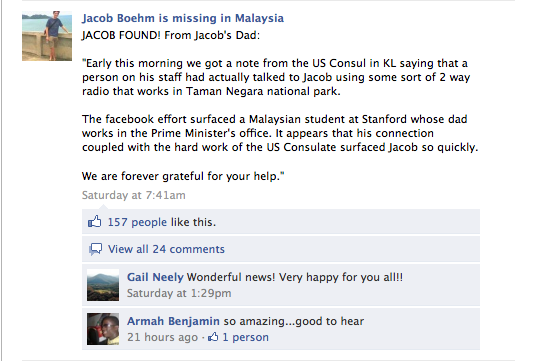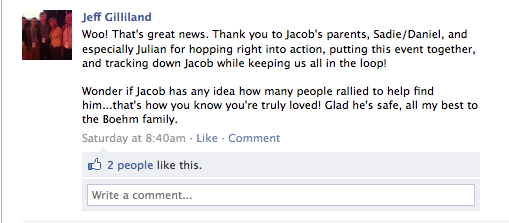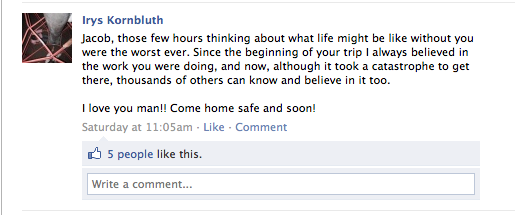 Editor's Note: Boehm was located exploring Malaysia's Taman Negara National Park, where he spent several days. He did not have access to internet or phone service while there, which accounted for his lack of communication. According to his parents, he returned safely to their North Carolina home Wednesday after more than 40 hours in transit.