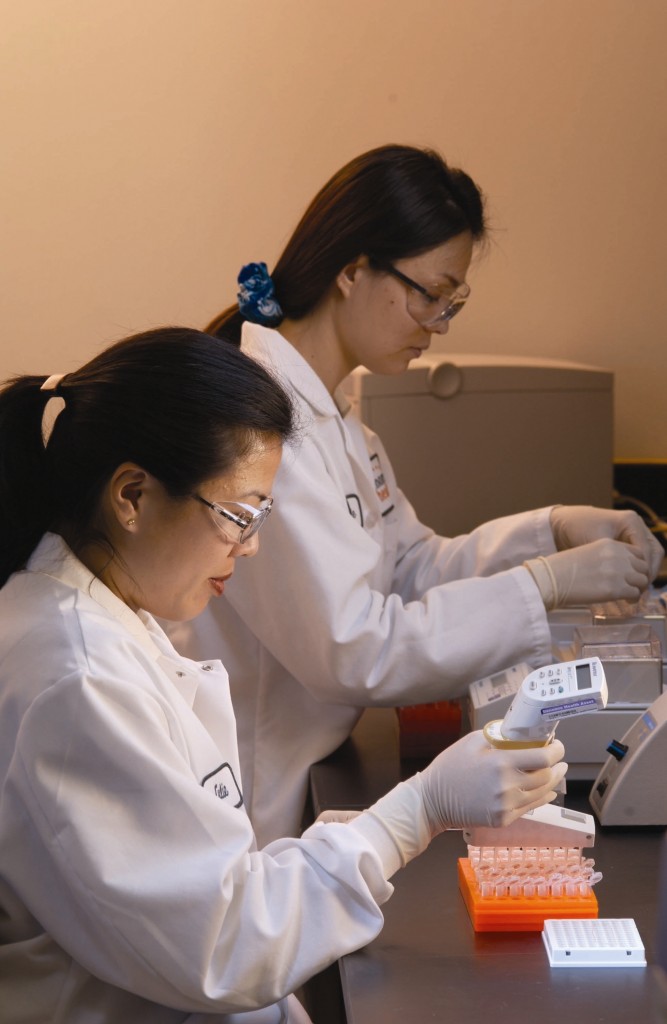 Genomic Health, Inc. (NASDAQ: GHDX) reported fourth quarter and yearlong earnings last week, which came slightly short of analysts' expectations, but executives also announced a new company-owned subsidiary that took analysts and investors by surprise.
Net income increased to $2.6 million, or 8 cents a share for the fourth quarter, compared with $1.7 million, or 6 cents a share for the same period a year ago, the company reported on its Feb. 6 call. Analysts had expected a profit of 9 cents a share.
Revenue for the quarter rose to $53.4 million, compared with $47.1 million in the same period a year ago.
For the year, net income increased to $7.8 million, or 26 cents a share, compared with $4.3 million or 14 cents a share in 2010, according to the Redwood City-based "cancer company." Total revenue for the year was $206.1 million, an increase of 16 percent compared with $178.1 million in 2010. The company joins its biotech competitor Elan Corporation (NYSE: ELN) in narrowly missing Street analysts' expectations for 2011. The company, however, remains at the forefront of competitors such as Myriad Genetics (NASDAQ: MGYN), Clarient, Inc. (NASDAQ: CLRT) and Agendia NV (NYSE: AGDX), which also produce cancer tests that measure recurrence risk, analysts say.
Most of the company's 2011 revenue drew from the sale of Oncotype DX breast cancer test, the company's first commercial product, first sold in 2004. Sales of the Oncotype DX colon cancer test and recent reimbursement arrangements for the tests accounted for the remainder of revenue. Total product revenue saw an increase of 16 percent from 2010. In 2011, the company expanded reimbursement for the breast cancer test for an additional 8 million U.S. residents through Blue Cross and struck a reimbursement deal with Medicaid for the colon cancer test.
"In 2011, we increased our financial strength and generated $7.8 million in profit while making important progress across our commercial and pipeline programs," said Kim Popovits, Genomic Health's president and chief executive officer, on last week's call.
"As we look ahead," she added, "We remain focused on providing solutions that deliver better outcomes for cancer patients worldwide by continuing to expand our Oncotype DXservices to include prostate cancer and by accelerating the development of next generation genomic and genetic services."
Research and development spending increased 20 percent to $39.9 million in 2011 from $33.2 million in 2010. Selling, marketing, general and administrative (SG&A) expenses rose 17 percent to $124.1 million in 2011 from $106.3 million in 2010. Tycho Peterson an analyst with  J.P. Morgan Securities said higher than expected sales and marketing expenses which rose to $22.4 million from $18.5 million for the quarter and $83.6 million from $71.4 million  for the year explain why Genomic Health  fell slightly short of Street analysts' predictions.
Looking ahead, the company said it anticipates net income for 2012 to decrease to $5 million to $8 million, before an incremental loss of up to $8 million for the new subsidiary, which could leave the company breaking even this year, or falling short by $1 million to $3 million. The company estimates total 2012 revenue at $230 million to $240 million, an increase of 11.6 to 16.5 percent over 2011.
For 2012, the company has set its eyes on expanding its sales team by 20 percent to expand the international market for the breast and colon cancer tests. International business increased by 85 percent in 2011, yet sales abroad remain "very underpenetrated," according to Dan Leonard, an analyst at Leerink Swann LLC. The company has already reached 55 to 65 percent of addressable cancer patients in the United States, estimated Alastair Mackay, an analyst at GARP Research & Securities, which makes expansion key in countries such as Canada where reimbursement opportunities are promising. Long term, investors can expect most of the company's revenue to be earned abroad rather than domestically, analysts said.
Genomic Health expects to deliver about 75,000 Oncotype DX breast and colon cancer recurrence tests to patients in 2012, an increase of about 16 percent from 2011. The company's prostate cancer test, currently in clinical trials, is considered to be the company's next big opportunity for revenue. Genomic Health plans to announce the results of the validation study this year and begin selling prostate cancer tests in 2013.
Genomic Health is making a long-term commitment to expanding its scope within personalized medicine through its new subsidiary, which is scheduled to officially form on March 1. The subsidiary will focus largely on how Next Generation Sequencing, a method for sequencing DNA at unprecedented speed, first developed in the 1990s by Lynx Therapeutics (NASDAQ:LYNXD), can be applied to personalized medicine.
Analysts, including Peterson, were surprised by the size of the subsidiary, which will receive incremental investments totaling $20 million over the next two years. Executive Chairman of the Board Randal Scott described 2012 as "an ideal time for Genomic Health to expand into both common and rare genetic conditions," although he insisted that the subsidiary would not divert funding for the company's core cancer focus.
Slight changes in top management will accompany the new subsidiary's formation. Effective March 1, Popovits will continue in her role as president and chief executive officer, but she will also serve as executive chairman of the board. Scott will serve as CEO of the new subsidiary, while independent director Julian Baker will serve as lead director of the subsidiary.
After the Feb. 6 earnings call, GHDX fell 2.3 percent to close at $28.85 per share in New York. GHDX closed today at $28.38 per share. Peterson said the initial drop after the earnings call was caused by shareholders' reaction to a lack of details surrounding news of the subsidiary and the company's failure to address its lower-than-expected profitability before the call.
Genomic Health estimated in its 2010 Annual Report that it could reach 1.2 million patients globally and see $2 billion in profit. Since its founding in 2000, the company has served 200,000 patients. The company closed 2011 with $32.9 million in cash and cash equivalents and $67.6 million in short term investments.