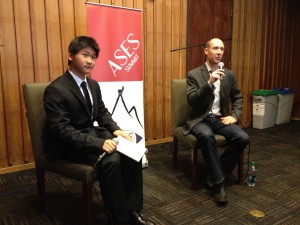 Yelp Chief Operating Officer, Geoff Donaker, is well aware of the competitive landscape and global expansionary challenges for Yelp, Inc., the online review site.
Speaking Tuesday to a group of students as part of the 15th anniversary of the Asia-Pacific Student Entrepreneurship Society (ASES) Summit and Stanford Entrepreneurship Week, Donaker emphasized the scurry required to capture the opportunities that mark the shift from offline local advertising to online platforms.
"Print yellow pages is horrible for consumers, and the industry is ripe for disruption," Donaker said during the hour-long session. "Digital replacing the yellow pages is a lucrative industry… There is lots of money to make and room to make a good consumer product."
Since its IPO in 2011, Yelp has strived to become a global brand. The service, as Donaker spelled it out, is applicable globally: though price points may differ, consumers around the world need basic local businesses offered by doctors, hair stylists and plumbers alike. Reviews from a broader community are equally necessary.
Though growth is a key area of focus for management and shareholders, the company has taken a step-by-step, market-by-market approach. In its startup phase, the company first launched successfully in San Francisco then, 18 months later, stretched to Chicago and Boston, followed by other metropolitan areas such as New York and Seattle.
After building a U.S. presence, Yelp eyed Canada. Its English-speaking roots and similar legal system offered a natural market for opportunity. Next, came the U.K. and France, where Paris' city-oriented nature was an advantage for Yelp.
Yelp recently increased its overseas expansion efforts into Denmark, Poland and Norway. Last fall, the company acquired German social-networking and review company Qype as a move to enhance its European presence. Yelp also has tapped into the Asian market with the launch of Yelp Singapore in September 2012 and Australia in November 2011.
The international frontier, however, is often more complex. International geographic boundaries begin to complicate the technology, especially when currencies, languages, legal structures and consumer behaviors change.
"Market categorization—domestic and abroad—is cost-benefit analysis," Donaker explained. Compare the "upside in the world of advertising to…costs and likelihood of success," while accounting for population size, growth rates and infrastructure differences.
Regarding the domestic front, Donaker answered students' questions about competitive pressures from Google Places and Facebook's Graph Search. He said he sees Yelp as coexisting with the competition. "Local advertising is a valued prize… but Yelp has a big distinguishing feature: local communities write reviews…start[ing] in dozens and becom[ing] thousands to use as lifestyle blogs."
One audience member surfaced the sensitive issue of whether paid advertising influences Yelp's business rankings. Donaker reiterated, "Whether a company pays or not, the reviews are the same." These misinterpretations of Yelp occur, he said, because "when dealing with large numbers of people, there will be people who do not like it."
Many in the audience were receptive to Donaker's response. Brazilian entrepreneur, Felipe Cresciulo, defended Yelp's emphasis on company impartiality and legitimacy: "The strategy of changing rankings based on how much they pay to Yelp does not work. In the short term, Yelp would gain but not in the longer term."
Prior to Yelp, Donaker was a director at eBay. While there, he latched onto the Web 2.0 phenomenon, a term coined in the late '90s to describe the new wave of user-generated social media dialogue and virtual content.
With the rise of Web 2.0, he became more interested in building a company. "I started getting itchy again and was excited to join a small company when the opportunity came along." In fall of 2005, he moved to Yelp and became COO a year later.
Going forward, Donaker believes his biggest worry for the company is bureaucracy. "What keeps me up at night?" he asked. "Getting in our own way." Startups have an easier time remaining focused, but companies that manage to gain momentum and thrive also risk losing motivation, he said.
ASES Director of International Operations, Kevin Chiu, said he was surprised to hear the COO say that Yelp's growth could generate fears of bureaucracy. Chiu remarked, "In a way, being successful is his biggest fear."
Yelp COO's guest appearance at the ASES Summit was one event of many this week designed to showcase Stanford's entrepreneurship resources on campus and encourage collaboration among member organizations. Donaker is a '95 Stanford alumnus who graduated with a B.S. in mechanical engineering.
ASES board member, Larry Win, said he hopes the summit "brings together delegates from across 12 different Asian countries and students form the Stanford community to better understand the entrepreneurial life stories and industries growing in Silicon Valley."
Entrepreneurship Week continues through March 6. For more information, visit http://sen.stanford.edu/e-week/events .