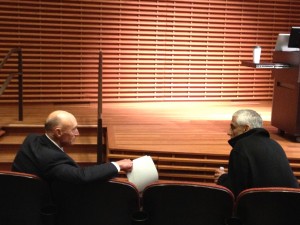 Entrepreneurship is the favorite word in the Silicon Valley. That explains why a name like Vinod Khosla itself is sufficient to attract the pious to convene at the Stanford campus Tuesday night.
Khosla, Stanford MBA '80, who founded the leading venture capital firm Khosla Ventures, told entrepreneurs to break rules, not be afraid of being unreasonable, and embrace failure. Khosla spoke at the Experience Entrepreneurship conference, an event sponsored by the Center for Entrepreneurial Studies of the Stanford Graduate School of Business, and part of the Entrepreneurship Week program at Stanford this year.
Although the discussion seemed philosophical, the 58-year-old Indian-born Silicon Valley legend tried to convince investors and entrepreneurs in the crowd to embrace failure, a word which is sometimes unofficially seen as Silicon Valley's favorite "F" word.
"Every time I fail at something, the press loves to write about it, but you shouldn't let that scare you," Khosla joked amid laughter from the crowd. "Failure does not matter. People don't remember your failures."
Khosla, who, at the age of 20, failed at his first attempt to start a soy milk company to serve people in India who did not have refrigerators. He eventually started Daisy Systems and co-founded Sun Microsystems a few years later.
Although Khosla focused on the entrepreneurship mentality during his talk, he did not hold back his skepticism of Silicon Valley, including experts' opinions that limit innovation and the venture capitalists who seem to be more conservative these days by not being adventurous enough.
In particular, Khosla pointed out that the venture capitalists need to take more risks,
"I've seen the venture business gradually reduced the risk of venture to the point that the consequences of success are inconsequential."
He said he would rather go back to have a higher ability to fail, but to make sure that if  an entrepreneurs succeeds, it is "consequential."
"I don't mind a 90-percent chance of failure … In fact, 90 percent failure sounds pretty bad, but 10 percent of changing the world seems like a pretty good deal," Khosla said.
Khosla was joined by Charles Holloway, professor of management at Stanford's business school and the emeritus director of the Center for Entrepreneurial Studies. The two have known each other for three decades.
The session continued when the crowd broke down into groups of investors and entrepreneurs to discuss entrepreneurial projects in  different fields, from clean energy to social networks.
Professor Holloway said that Khosla's story as an entrepreneur and venture capitalist can be seen as a brief history of the Silicon Valley entrepreneurship and innovation.
"Khosla has been engaged over the last 30 years. He's a strong personality, and he's got a strong vision," said Professor Holloway after the talk.
"He is not unique in the Silicon Valley; a lot of entrepreneurs understand that innovations can come in a variety of ways, but he's certainly one of the best," Holloway said.
Khosla seemed to illustrate this point during his talk, when he pointed to Elon Musk, who made a fortune as a co-founder of PayPal before then almost ran out of all his money when founding his own three companies, Tesla Motors, SpaceX and SolarCity. The 41-year-old entrepreneur was recently embroiled in a controversy with the New York Times over a story about a problem-ridden test drive of its electric car.
"How unreasonable can you get beyond that?" Khosla asked, referring to Musk's risk taking.
In 1986, Khosla switched sides from entrepreneurship to venture capital after he started his first and second company, by joining Kleiner Perkins Caufield & Byers, a top venture capital firm, as a general partner. In 2004, he founded Khosla Ventures.
Khosla currently is investing in the healthcare sector, particularly in companies focused on computer-generated therapies that could  take over some of the work of physicians. Khosla is also passionate about poverty alleviation innovations and other forms of social entrepreneurship.