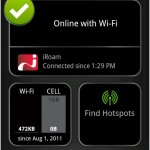 Silicon Valley wireless service provider iPass Inc. (NASDAQ: IPAS) chalked up more losses in the fourth quarter than the third, due to a significant slowdown of active users on its new mobile devices during the holiday season in December.
But executives at the Redwood Shores-based company said they were optimistic about the year ahead, as the number of active clients using its global roaming Wi-Fi services, constituting the bulk of revenues, continue to transfer quickly from PC-based platforms to mobile devices including smartphones and tablets.
Announcing its fourth quarter and annual results on Feb. 13, iPass reported a net loss of $1.5 million, or 2 cents per share, compared to profits of $329,000 or 1 cent per share, for the same quarter a year ago. Its yearly net loss was also higher year-over-year, at $4.4 million, or 7 cents per share, in 2012 compared to $3 million, or 5 cents per share, in 2011.
The company reported adjusted quarterly losses of $143,000 compared to profits of $1.2 million quarter-over quarter. For the year, the company reported adjusted earnings of $960,000 compared to a $196,000 loss in 2011.
Analysts had expected losses per share of 1 cent for the quarter.
Fourth quarter revenues also sank to $29.7 million, down from $34.4 million for the same period a year ago.
Evan Kaplan, president and chief executive officer of iPass, said during a Feb. 13 conference call with analysts that active user growth on its new mobile device interface, Open Mobile, took longer than the company would have liked. But the CEO viewed the crossover of new interface users from PC-based users to be a company milestone.
"For the first time in a very long time, we are looking forward to the near term and see Wi-Fi revenues grow in the forecast as we drive to the tipping point in our transition from legacy (platforms) to Open Mobile," Kaplan told analysts during the call.
Today, at the 4 p.m. close of trading on the NASDAQ stock market, shares of iPass were up 1.59 percent to close at $1.92.
iPass' s Open Mobile interface provides a cloud-based Wi-Fi roaming and budget-aware service for clients. The company previously expected 400,000 active users to adopt the new interface by December, from 270,000 by September, but the number turned out to be 355,000, less than analysts had expected.
However, that growth itself is still significant, analysts said, after a nearly six-fold increase year-over-year from 45,000 by December 2011.
"We are still talking about small numbers here," said Frederick Ziegel, a senior analyst for Security Software & Infrastructure with Topeka Capital Markets. "The trajectory of mobile users looks positive, and if their revenues pick up, I would expect the company to see net profits in the next couple of quarters."
The company's yearly revenue was also down to $126.1 million from $140.8 million in 2011, with significant drops in PC-based Wi-Fi revenues, from $101.9 million in 2011 to $65.6 million in 2012.
Steven Gatoff, iPass's senior vice president and chief financial officer,  attributed the overall Wi-Fi revenue drop to a weaker–than-anticipated December holiday season.
"The Open Mobile Wi-Fi revenues grew for the seventh sequential quarter," Gatoff said on the call. The new interface generated nearly $27 million in revenues in 2012, three times more than 2011.
As part of the company's drive toward the mobile market, its technical team led by its Chief Technology Officer Barbara Nelson has been working with Apple's iOS for the past 18 months to create simple global roaming applications for the iPhone.
The company said its expansion to over 1.2 million hotspot locations in 124 countries and regions to build out iPass' global network is also helping the company see signs of recovery, Several analysts to remain bullish on the company's stock.
The growing popularity of mobile gadgets and the need for more efficient mobile connection is driving iPass. Standard & Poor's analysis has been giving positive ratings for the Internet software and services sector for the next 12 months.
Looking ahead to the first quarter of 2013, the company said it expects its revenues to fall between $28 to $32 million, with an adjusted losses of between $2 million and $500,000.