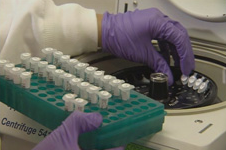 Genomic Health (NASDAQ: GHDX) reported strong year-end revenues and better than expected earnings per share for the fourth quarter, due to higher demand for its Oncotype DX diagnostic cancer test.
Net income for the fourth quarter of 2012 was $2 million, or 6 cents per share, compared to $ 2.5 million, or 8 cents per share, for the same period a year ago. Analysts had expected an income of 3 cents per share.
Revenue for the quarter was a record $60.4 million, compared to $53.4 million for the same quarter a year ago.
Income for the year was $8.3 million, or 26 cents per share, compared to $ 7.8 million, or 26 cents per share, for 2011. Year end revenues reached a new high of $235.2 million up from $206.1 million in 2011.
Genomic Health, based in Redwood City, Calif., offers diagnostic tests for breast and colon cancer enabling patients and their doctors to better treatments responses to various cancers. Genomic decoding for treatment planning is an emerging trend in cancer care.
In a conference call with analysts, Chief Executive Officer Kimberly Popovits said, "We delivered strong full-year 2012 financial results highlighted by 14 percent revenue growth and record revenue in the fourth quarter." She explained that earnings this year, as well as future earnings depend in large part on reimbursement rates for cancer treatments.
Plans for 2013 include increasing product awareness in the U.S. for the two-in-five patients that are eligible for the breast and colon cancer tests Genomic Health spent $24 million this quarter on Sales and Marketing, compared with $22.5 million last quarter. Sales and Marketing budget is up $10 million from last year, at $93.5 million.
The stock market responded well to Genomic Health's better -than -expected earnings. The stock started the day trading at $27.97 per share and ended trading at 28.65. The stock traded today, February 20th, at 28.87 in after hours trading.
The company said results this quarter was partly due to expansion of international sales, which rose 50 percent, constituting 15 percent of overall sales. Genomic Health said it hopes to continue this trend in 2013.
Chief Operating Officer, Bradley Cole explained on a call with analysts that generating clinical evidence showing the effectiveness of the Oncotype DX test will be a major focus of 2013. "We believe the anticipated upcoming publication of our DCIS clinical validation study will support coverage expansion and broader adoption of Oncotype DX", Bradley said on the call.
Studies published in January show that the Oncotype test changed treatment decisions for 45 percent of patients, with 22 percent of patients opting out of chemotherapy treatments. Patients saved an average of $4,200 on treatment costs, while also avoiding the grueling experience of overmedication.
A recent study shows that 75 percent of patients with low risk breast cancer may be treated with surgery alone, not radiation. The market opportunity for this treatment is 50,000 patients in the U.S .alone.
Genomic Health plans to release its third product, the Oncotype DX test for Prostate cancer, this year.
Looking ahead, the company said study generation, marketing and sales costs for products will steer income projections for 2013 to between a loss of $0.12 and a gain of $0.08 per share, in GAAP. Revenue is expected to grow to between $258 million and $266 million.
Genomic Health has a "strong market presence" in the genomic based treatment sector, Popovits said on the call. Response Genetics, Inc. Response Genetics, a chief competitor in genomic cancer diagnostics based in Los Angeles, brought in revenue of $23 million in 2011, roughly 10 percent of Genomic Health's revenue for that year.
Popovits said she is confident in the company's upward trajectory, stating on the call: "[We expect] continued market expansion in the U.S. and significant international growth."