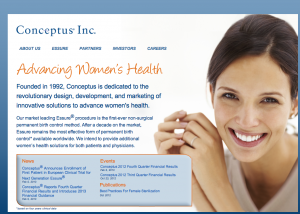 Conceptus Inc. (NASDAQ: CPTS) gets to check "European expansion" off of its to-do list.
Spain recently began offering Conceptus' non-surgical permanent birth control procedure, Essure, one of 15 European countries to do so, pushing up the company's bottom line.
After three steadily positively trending quarters, both international and domestic sales increased last quarter leading the company to report revenues of $40.7 million for the quarter, up from $33.5 million for the same period a year ago. Year-end sales jumped to $140.7 million from $127 million in 2011.
The company reported net income of $5.9 million for the fourth quarter, or 17 cents per share, compared to a loss of $ $2.6 million, or 8 cents per share, for the same period a year ago.
Excluding charges, the company reported net income of $12.9 million, or 17 cents per share, up from $2.7 million, or 8 cents per share, a year ago. A consensus of analysts surveyed by Thompson Reuters expected adjusted earnings of 11 cents per share.
For the year, the company reported net income of $5.3 million, or 16 cents per share, compard to a $7.9 million net loss, or 25 cents a share, reported for 2011. Adjusted earnings for the year were $28.2 million, up from $14.1 reported in 2011.
"They did really well," Matt Dolan, senior research analyst at Roth Capital Partners, said. "They hit their numbers almost exactly and even slightly exceeded what analysts predicted."
The numbers also boosted Conceptus shares. By Tuesday's close they were up 1.19 percent to $21.69.
The results reflect the growing market demand for permanent birth control. OB/GYN patient visits across the country indicate a steady demand for the birth control market. MarketLine Industry's profile of the U.S. Health Care Equipment & Supplies industry expects the $7.3 billion market will grow 4.9 percent between 2011 and 2016.
In the earnings call with analysts, the company's Chief Executive Officer D. Keith Grossman said: "Although this metric is not necessarily directly related to our current sales performance, we do believe it plays some role over time as a leading directional indicator of overall patient demand."
Other factors contributing to the quarter's bottom line included the discontinuation of the company's Gynecare Thermachoice promotion which freed up additional resources for the research, development, and marketing of Essure. In late April of last year, Conceptus also won a lawsuit for patent infringement against competitor Hologic, Inc. This eliminated legal costs and pushed the company's number one competitor out of the permanent birth control market.
"This is an important and significant achievement for our company as we advance our vision of making Essure the standard of care in permanent birth control," Grossman said in a statement.
Conceptus is currently the only company that fills the non-hormonal, non-surgical permanent birth control niche. The company's premium product, Essure, implants soft stent-like inserts into the fallopian tubes, assisting the growth of a natural barrier against sperm.
To sustain its top-of-the-market position the company upped research and development to $2.9 million to produce its next generation Essure procedure.
Due out in the U.S. in 2016, the new product has completed 60 patient trials. Grossman also announced that Conceptus recently launched its first clinical trial in Europe, a pivotal step toward introducing the next generation Essure procedure to Europe in 2014.
Sixty-seven percent of sales come from the U.S. but European countries accounted for double-digit growth in the fourth quarter due to a growing permanent contraceptive market in France, Britain, and the Netherlands. In November, the French national medical insurance agency removed age restrictions on reimbursements for Essure, an indication of renewed interest in the procedure. Sales in France this quarter came in 12 percent higher than last year.
In Europe prices for the procedure were lower last quarter, said Gregory E. Lichtwardt, executive vice president, operations, treasurer and chief financial officer, but pricing increased in the U.S. to counterbalance a new domestic medical device excise tax, effective January 1 of this year.
Piper Jaffray's Senior Analyst Thomas Gunderson raised concerns on the call about buying trends in response to the markup. Grossman did not share the concern.
"I don't think we saw evidence of much buying forward," Grossman said on the conference call.
Looking ahead, he emphasized the importance of client and physician awareness as key to company growth. Last year Conceptus had a tendency to "let some of our numbers get ahead of us," Grossman said. Given that Conceptus is a single-product company, he said, his goal at this point is "to remain somewhat conservative."
The company recently brought in two new members of its executive management team: David Chung will serve as Chief Commercial Officer and Joseph G. Sharpe as Vice President of Operations.
"We are pleased with the progress made in our commercial execution and in the improved profitability of the company during this important transition year Grossman said in a statement.