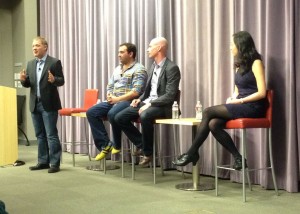 Silicon Valley isn't the first place many engineers would go to build an aerospace company, but four former Stanford students recently took their idea to manufacture smaller, cheaper satellites from a school assignment to successful startup. Now they are on the verge of launching their first "microsatellite" into space later this year.
The co-founders of Mountain View's Skybox Imaging, Inc. shared their unique journey and advice for future entrepreneurs at today's Entrepreneurial Thought Leaders Seminar, which kicked off Stanford's annual Entrepreneurship Week.
Taking the traditional Silicon Valley startup route proved to be a financial challenge for Skybox, which needed far more than the $3 million it initially received in venture capital to create a prototype.
"We were trying to build a satellite on an iPad budget," joked Dan Berkenstock, the company's executive vice president and chief product officer.
Historically, innovations in aerospace technology have been closely associated with the military, which has had a need and the resources to back the industry.
But the Skybox team had a radical new idea to push into the commercial sector: develop a unit of miniaturized satellites equipped with high-resolution video that could circle the planet, capturing any spot on Earth multiple times per day.
The data these images provided could then be used "to improve the profitability of companies operating in a global economy and the welfare of societies around the world," according to the company's website.
"We want to go beyond the image and answer the question behind it," Berkenstock said. "It's not just where the parking lot is but how many cars are in it."
At first, investors couldn't quite grasp the concept. But after Skybox bought a Learjet and attached a camera to its underbelly, simulating the images and information that the satellites would capture from space, they finally got on board.
Skybox Imaging is now a $91-million company, and its first satellite launch is planned for the end of the summer. It will be attached to a former Russian nuclear missile, from which the warhead has been removed.
Since incorporating in 2009, Skybox has grown from four students working out of a living room in Palo Alto to more than 80 employees on "an once-in-a-lifetime journey to revolutionize the way people see the world," according to the company's Director of Business Development Ching-Yu Hu.
She says she sees great possibility for Skybox's technology to enhance humanitarian efforts around the world. Satellite imaging, for example, could facilitate a more efficient deployment of resources after a natural disaster.
Julian Mann, vice president of product development, offered words of encouragement for the aspiring entrepreneurs in the audience. Many of them had taken Management Science and Engineering 273: Technology Venture Formation with Mike Lyons, Audrey McLean and Jack Fuchs, the same class that produced Skybox.
Even if investor after investor turns you down, you have to keep going, Mann said. "You completely ignore them and know that your idea is going to change the world."
But John Fenwick, vice president of flight programs, reminded students that a startup cannot succeed without serious legwork.
"That big, audacious, really hairy goal is necessary, but for getting a business going, it's not sufficient," he said.
Before pitching an idea to venture capitalists, a company has to know how it's going to get customers, make a profit and scale up, he added.
"You put a gazillion dollars in before you get $1 out," Fenwick said of Skybox Imaging. "We're four years in and we still don't have a product" on the market.