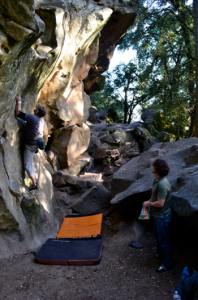 As doomsday approaches for a number of California's State Parks slated for closure, the tight-knit community here is fighting hard to save Castle Rock State Park in the Santa Cruz Mountains in Los Gatos.
One quarter of California's State Parks – 70 of 279 – are at risk of permanent closure on July 1 due to recent budget cuts, according to the California Department of Parks and Recreation. (UPDATE: The day this article published, the list of state parks slated for closure decreased from 70 to 50, according to reports from Peninsula Press partner KQED.)
The closures were decided upon even before California Governor Jerry Brown began pushing a new set of tax hikes and service cuts to help contend with a newly estimated $16 billion deficit.
California State Parks is slated to lose $22 million in funding over the next year. The budget request for 2012-2013 will be roughly $110 million, less than half of what it was at its peak in the 1970s and 80s when the annual budget topped out at $250 million, according to Roy Stearns, the deputy director of communications for California State Parks.
Brown's May revision to the budget projects that parks could face further cuts, including funding for game wardens, rangers and lifeguards, if voters do not pass the proposed tax increase in November.
Castle Rock State Park is a popular destination for a variety of outdoor activities. But for the Bay Area's outdoor rock climbing community, it is an integral part of the sport.
"Castle Rock is this organism that's failing, and it needs people to help it," Scott Javadi, a 34-year old artist from San Francisco, said as he examined a boulder and planned his next move on a recent afternoon climb at the park. "So the climbers come together and they're doing for Castle Rock what Castle Rock does for them. It's a very symbiotic relationship: Castle Rock has helped me, it has helped my friends, it has helped me help my friends, it's an enabler to do good."
And people are helping. The local climbing community held a fundraiser at the climbing hotspot Planet Granite in Sunnyvale on March 21 and raised $20,725 to keep Castle Rock open.
The Sempervirens Fund, a land trust devoted to permanently protecting Santa Cruz's coastal redwoods, has committed $250,000 to support Castle Rock operating costs for one year, according a press release on their website.
Santa Cruz native Chris Sharma, a world-famous rock climber, flew in from Spain to headline three events Friday and Saturday, with all proceeds supporting the Portola and Castle Rock Foundation.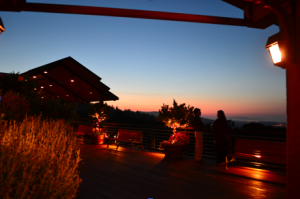 Heralded as one of the most recognizable and influential figures in rock climbing by rockclimbing.com, activists hope that Sharma's celebrity will draw more support to Castle Rock State Park, the place where his career started.
With all of the outside money being raised, Stearns said he was hopeful a budgetary solution could be found to save Castle Rock. "There is obviously a good chance that this park could remain open," Stearns explained. He was unable to provide any estimate as to when the decision will be finalized.
Local activists are hoping for more than a good chance.
Terry Gosliner, dean of science at the California Academy of Sciences, put it this way: "We are facing a crisis here in California. When we start to warehouse our state parks, we warehouse our natural legacy."
Gosliner spoke at a fundraiser held at Thomas Fogarty Winery on May 4 that  drew more than 200 people and raised more than $20,000 according to Andrew Vought, the program director for the Portola and Castle Rock Parks Foundation, an association committed to keeping both Portola Redwoods State Park – also on the closure list – and Castle Rock State Parks open.
The fundraiser illuminated many of the less-obvious reasons to keep these state parks open.
"Know that it extends beyond just you're enjoyment and the enjoyment of your family and friends, but it actually extends in supporting our understanding of a global ecology," said Kip Will, an associate professor of insect systematics at U.C. Berkeley. "That land you're preserving also is preserving incredible biodiversity."
State park rangers say they are uncertain what their fate will be if the parks close. As law enforcers, the rangers may still be employed to patrol the park areas.
"A lot has been left open" by the closure orders, said Matt Stalter, a Castle Park state park ranger.
Carl Revelle, 33, a bartender from San Francisco, says he would prefer that the park remain open. But, he believes an official closure will do little to deter rock climbing enthusiasts.
"Climbers would still come here," he said during a recent outing at Castle Rock. "The climbing community would use this park more than anybody if it was closed." A few friends who joined Revelle at the foot of a popular boulder agreed.