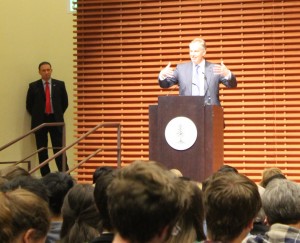 Former British Prime Minister Tony Blair spoke about the need for effective governance in Africa at Stanford University's Graduate School of Business on Thursday evening. The talk, entitled "A New Approach for a New Africa," touched on Blair's work with the Africa Governance Initiative, an organization he founded in 2008 to promote effective governance and political leadership on the continent.
Blair stressed that effective leadership is essential in creating stable public services and promoting a growing private sector, two things he says will foster sustainable development and end aid dependency in Africa.
Sponsored by the Stanford Institute for Innovation in Developing Economies and several other university centers, Blair's talk on recent changes in Africa, such as the fact that the number of democracies in Sub-Saharan Africa has risen from 3 to 23 in two decades, drew a sold-out crowd of nearly 600.
And not all of them were pleased. A group of about 10 protesters from Occupy Stanford and Stanford Says No to War gathered outside the auditorium before the event began. They held signs that read "You Can't Fix Colonialism with Imperialism" and "Blair's Legacy: 4.5 Million Iraqi Refugees." One girl dressed as Darth Vader stood near a poster that read "The Empire Strikes Back."
Peter McDonald, an English major who graduated from Stanford last year and now works as a freelance writer, was protesting Blair's support of former President George W. Bush and the Iraq War. Emma Wilde Botta, a sophomore human biology major at Stanford, was concerned with Blair's involvement in Africa.
"If you look at what Tony Blair has been saying about Africa, the entire approach is incredibly patronizing," she said. "It's essentially saying Tony Blair knows how to run Africa, but the Africans can't run Africa, so we need to set up foundations and offer our advice."
Wilde Botta and the other protesters did not attend the talk, though she says she has watched Blair give a similar speech on YouTube. No protesters were in sight after the event concluded.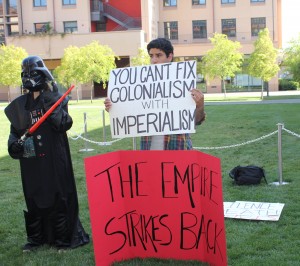 Stacey Wong, a freshman at Stanford who was in the standby line to attend the speech, said the lack of protesters was telling.
"I haven't really decided what my opinion is on the Tony Blair protests, but it's such a controversial topic, this is a very small turnout of protesters and I think this is indicative that Stanford's campus isn't the most politically active," she said. 
"When it comes to taking a stand, it's one element that our university really lacks – the spirit of political activism."
During his speech, Blair called for activism. He called on the United States and European countries to use their "…technical expertise, intellectual capital and experience of what works in government in partnership with African leaders so that African nations can accelerate their development, replace aid with investment and be masters of their own destiny."
Blair outlined five steps for accomplishing this goal, covering everything from working with African leaders to create efficient governments to developing infrastructure. He emphasized that his organization works only with willing countries that want the advice.
He also brought up "new donor" nations like China and India, citing the fact that China's investment in Africa has gone from about six billion dollars in 2000 to over 110 billion dollars in 2011.
"Some see this as a threat," Blair said. "But I see it as a spur. Many African nations welcome the speed of Chinese investment and their 'get it done' attitude. But, they also want to balance their new friendships. They need us to be smarter, faster and more innovative to allow them to do so."
Blair called on wealthy philanthropists like Bill Gates, with whom he had met earlier in the day in Seattle, to invest in Africa.
"And then there are you, the students in the audience," he added. "Young people from all over the world clever enough to get into Stanford, compassionate enough to come and listen to a speech about a continent several thousand miles away."
While most of the speech dealt with the future of Africa, Blair amused the audience with a few anecdotes. One involved sending a text message on his first mobile phone the day after leaving his post as prime minister. Blair did not realize his name would not be transmitted automatically with the message.
"So I sent it and the answer was 'Who is this?' and I thought, 'My God, it's only been 24 hours!'" Blair recalled.
Following the talk, Blair answered questions from the audience posted via Twitter, an experience he found somewhat novel.
"I find this part of the world a fascinating intellectual ecosystem," Blair said, when asked about Facebook and the role of social media in government. "I don't understand it, but I understand its importance."
He then implored Stanford students to "work at how governments might create better systems of delivering basic services," adding that in some ways, they are better suited to utilize technology more effectively since they are not tied down by the bureaucracy and systems of established governments like those in the United States and Europe.
Most had positive things to say after hearing Blair speak.
"He was very thoughtful in his approach and his goals," said Stephanie Claussen, an electrical engineering graduate student at Stanford. "I thought his point about Africa wanting a diversity of friends was smart. I did thi