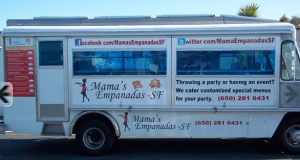 More than a dozen food trucks will converge at the San Mateo County Event Center this Friday, May 4, to kick off the first Moveable Feast of 2012 in San Mateo County. Every first Friday of the month from May to October, a different rotation of food trucks will offer hungry patrons everything from Asian tacos to cupcakes. In addition to the food trucks, there will be a beer garden and live music. Organizers encourage visitors of all ages to bring a blanket and eat on the lawn or at the long banquet tables.
The Peninsula Press recently interviewed Christina Galletti, marketing manager for Moveable Feast and owner of Mama's Empanadas, a food truck that will be serving at Friday's event.
Peninsula Press: Why are you bringing Moveable Feast to San Mateo? Tell us a little about the event.
Christina Galletti: San Mateo is centrally located, so people can get there from a couple of different Caltrain stations whether they are coming from San Francisco or Silicon Valley. This is the second year doing Moveable at the event center. We started last July, and it was a success. This one is scheduled to run from May to October the first Friday of each month, but we might increase that. Right now San Mateo does not have any food truck events, so this will bring them to the city.
PP: There is a $10 fee to park at the San Mateo County Event Center. What will people get from the experience besides food?
CG: There will be music, different bands, and we encourage people to ride their bikes or take public transportation. It's very family friendly, and it's an easy place to meet after work, as a gathering place. It's a good place to go with a group because you can get a bunch of food and share it, as a sort of taste-test buffet. It's affordable, and you can try food you wouldn't be able to otherwise.
PP: You own a food truck called Mama's Empanadas. Walk me through how you make an empanada.
CG: So for our meat empanadas, we start by sauteing beef or chicken, and then we add some chopped onions and other ingredients, and mix everything together. We lay out the dough and put a cup, or quarter pound, of filling onto the dough. Then we fold it in half, into a half-moon shape and press the sides like a calzone. Then they are baked, which is important. Most are fried, but ours are Chilean, where baking them is more typical, so they are healthy.We also have vegetarian empanadas.
PP: Are you interested in opening a restaurant or are you pleased with the food truck?
CG: I'm happy with the food truck. The cost in money and time of a restaurant is too much of an investment, and a food truck is also a lot of work, but the success rate is higher. I do do catering, though. The flexibility of a food truck is nice.
PP: Talk to us a little about the relationship between technology and food trucks.
CG: It's so important. Facebook and Twitter are the most popular tools, and most food trucks use Facebook as their main website. Trucks tweet their locations, which change daily, so it's important. Most trucks also use Square, which lets you pay with a credit card, and have been for about a year now. It's really picked up business a lot.
[cincopa A0IAc4KGnklg]
If You Go: Moveable Feast; San Mateo County Event Center, 1346 Saratoga Drive, San Mateo; first Friday of each month, May to October; 5 p.m. to 9 p.m.; $10 parking fee.
For more information, including a full list of participating trucks, go to www.mvbl.org.