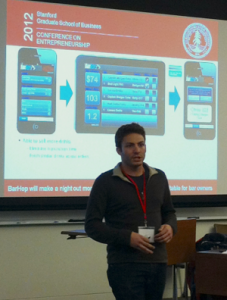 It's dark outside on a Tuesday night, and a classroom at the Stanford Graduate School of Business is overflowing with people. After nearly two hours in their seats, students mill about the room, buzzing about how much they've just learned. One student looks around as he hoists his backpack onto his shoulders and remarks, "This is what makes Stanford so awesome."
But this isn't a class. It's the MBA pitch panel at the annual Conference on Entrepreneurship, part of Stanford's Entrepreneurship Week. Organizers from the Stanford Graduate School of Business—affectionately called the GSB—have given ten teams of student entrepreneurs the opportunity to pitch their startup ideas to a panel of seasoned investors.
"This is the type of opportunity that ordinarily you'd have to hustle for," explained first-year MBA student Nick Adler, who pitched his company BarHop. "It's amazing that it just comes to you through the GSB."
Stanford's business school has long been a fertile breeding ground for the next generation of entrepreneurs. The alumni roll includes a variety of founders from financial services trailblazer Charles Schwab to Nike founder Phil Knight, benefactor of the school's new Knight Management Center where the conference was held on Tuesday.
The sports apparel magnate's legacy is never far from students' minds as they prepare to launch their own companies.
"Phil Knight is obviously an amazing entrepreneur. He changed the entire industry, and that's not easy to do," said Khaled Naim, a first-year MBA who pitched a personalized address sharing platform called tinyaddr. "Stanford is definitely the best place in the world to do entrepreneurship, which is why I came here."
Earlier in the evening, the conference's keynote speaker, co-founder and former CEO of Seventh Generation Jeffrey Hollender, encouraged students to pursue an entrepreneurial career.
"Working for a salary is a tough way to make money," Hollender explained. "I'd encourage you all to look for ways to be a founder and have ownership."
GSB students are already heeding Hollender's advice, and they're taking advantage of the unique opportunities afforded by the entrepreneurial focus of their MBA program.
"Any time you get to present to professionals and get immediate feedback, it's worthwhile," said first-year MBA Julie Papanek, She pitched Empation, a solution for patients seeking jargon-free medical information, to the panel that included Andreessen Horowitz partner Frank Chen (BS '92), Charles River Ventures partner Saar Gur (MBA '03), and Stanford GSB Communication Coach in Residence Linda Capello.
"In some ways, I come here to volunteer," explained Gur, one of the panelists. "The students are the customer, and I hope they got out of it some positive and productive feedback."
The venture capitalists on the panel weren't the only investors in the room. The audience was full of Silicon Valley players stopping in to check out the entrepreneurial pipeline and give back to student entrepreneurs.
Sara Lannin (BA & MA '11) from Accel Partners chimed in to offer her advice to Adler during audience Q&A.  Stanford Alumni Association board member and angel investor Paul Sherer (MBA '90) also weighed in, giving student presenters real-time feedback.
"I love any event where we can interface with the entrepreneurs—we're here to help," exclaimed Sherer with a smile.
When asked if industry chatter about a second tech bubble bursting would scare away potential Stanford entrepreneurs, Sherer scoffed. "A bubble? Totally ridiculous! There are 400 to 600 venture financings a year. I'm in the angel market, and we're 10 times that. If you have the interest in doing something, and you listen to this community, you'll be moved along in the right way."
A dedicated student entrepreneur, Papanek is doing just that. "I came to Stanford because it's an innovative school that produces entrepreneurs who change the world, and I hope to be one of those people one day."
Stanford Entrepreneurship Week 2012 takes place February 27 through March 7. This collection of over 30 events is hosted by the Stanford Entrepreneurship Network (SEN), a federation of programs, student groups and organizations supporting entrepreneurship in the Stanford community. For a complete listing of events check: https://sen.stanford.edu/e-week/calendardu/e-week/calendar