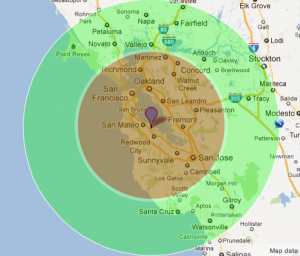 Amid indications that Shutterfly (NSDQ: SFLY) is poised for a 2012 acquisition spree, the Redwood City-based photo-publishing company quietly made potentially revealing changes to its employment agreements with top executives on Feb. 21.
The amendment reduces the relocation distance required to trigger big payouts for executives in the event of a change of control at the company.
In an 8-K filing with the Securities and Exchange Commission (SEC), Shutterfly altered the language regarding so-called "double trigger acceleration," an industry-standard provision for stock compensation packages. The existing agreement provided stock compensation to executives if, after a change in control, the company is relocated more than 50 to 60 miles from its current headquarters in Redwood City. The Feb. 21 amendment decreased the distance to 35 miles.
Why would a company decrease the relocation distance in its double trigger acceleration schedule? A 35-mile relocation trigger is common for the industry according to Daniel Hansen, a corporate and securities lawyer in Silicon Valley. He said Shutterfly could be standardizing all provisions of its employment agreements to remain competitive with industry averages.
But relocation distance is rarely a hotly contested provision in negotiations, and it is unusual to see changes made to the terms.
"I have never seen someone terminated for good reason because of a relocation," said Hansen. "If a company thinks a change to the relocation trigger provision is material enough to file with the SEC, that might imply that someone on the inside thinks the company is going to move."
If that were the case, the amendments may imply that executives suspect a forthcoming change of control involving a relocation of 35 to 50 miles. The company did not respond to repeated requests for comment.
Armed with record for free cash flows of $50.1 million, Shutterfly kicked off the year with a bullish outlook on acquisitions. On the fourth quarter earnings call on Feb. 1, Shutterfly Chief Executive Officer Jeffrey Housenbold refused to name acquisition targets, but said that the company is "in the best position to continue to consolidate [the] industry."
Housenbold made no mention of a possible Shutterfly acquirer, but the company's depressed stock price may make it an attractive target. Shutterfly stock plunged in the second half of 2011, dropping from a high of $63.10 on Jul. 8 to close the year at $22.76. Though the stock has recovered somewhat in 2012, at just $30.50 at Monday's close, the company is still trading lower than most analysts' targets.
Although a number of San Francisco Bay Area cities fall in the newly expanded relocation territory — including San Rafael, Napa, Vallejo, Martinez, Gilroy, and Santa Cruz — none is home to an obvious Shutterfly acquirer. Industry players like photo storage giants Flickr and Facebook are both headquartered less than 35 miles from Shutterfly, and smaller players like photo sharing startups Instagram and Path might be scared off by Shutterfly's current market cap of nearly $1 billion. Without an obvious threat from a corporate acquirer, it may be that private equity firms have their eyes on the photo-publishing industry leader.
Double-trigger acceleration is designed to protect employees' equity compensation in the event of a change of control in the company, like an acquisition or merger. To activate the double trigger acceleration, there must be a change in control of the company and one of the two following must occur: The employee is terminated without cause or the employee resigns for "good reason." The definition of "good reason" varies from company to company, but often includes a relocation of the workplace by a given distance.
Included in the amendment were Housenbold, Senior Vice President of Products and Services Dan McCormick, Senior Vice President of Operations Dwayne Black, Senior Vice President of Human Resources Peter Navin, Chief Marketing Officer Peter Elarde and Chief Technology Officer Neil Day. Ed Han, general manager of Tiny Prints, Shutterfly's most recent acquisition, and outgoing Chief Financial Officer Mark Rubash are the only executive management team members excluded from the revision.
Rubash announced his resignation on Jan. 12 to "pursue a personal passion" with an early stage cardiovascular diagnostic services company. He formally left the company the week of Feb. 27.
On Mar. 2, the company announced its forthcoming acquisition of Emeryville-based Kodak Gallery for $23.8 million. Kodak Gallery's parent company, Eastman Kodak (NASDAQOTH: EKDKQ.PK), filed bankruptcy on Jan. 19 and is divesting assets.