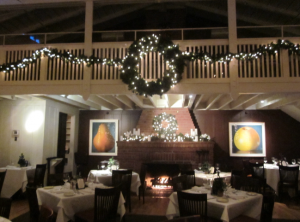 Walking into the MacArthur Park Restaurant on University Ave for the first time this holiday season, one immediately feels at home. The room is decked with wreathes, bows, and sparkling lights. A 20-foot Christmas tree towers in the center of the room, reaching all the way to the ceiling's wooden trusses. The crisp white table cloths appear as a soft blanket of snow, freshly fallen on the dining hall, and the large brick fireplaces on each end of the room are so inviting you can imagine children curled up in front of them waiting for Santa. As holiday music plays softly, you can even smell warm bread coming out of the oven.
MacArthur Park has been a part of the Palo Alto community for over 30 years, but this may be the last holiday season for the restaurant which stands right in the middle of the 27 University Ave area where prominent Silicon Valley Developer, John Arrillaga has proposed a plan to the City of Palo Alto to build a large and controversial office and theater complex.
Because MacArthur Park occupies a historic building, designed in 1918 by Julia Morgan, one of the most celebrated female architects of all time, Arrillaga's plans include moving the building to a new location, but depending on where the building is moved, the MacArthur Park restaurant may or may not continue to operate.
The restaurant, its owners, its employees, and its customers have absolutely no say in the decision. "Zero," Owner Chuck Frank said. "We are a tenant." In fact, the building and the land it stands on are actually owned by Stanford University. "We have no more rights than any other tenants have with any other building."
In terms of Arrillaga's 27 University Ave Project, City Council member Karen Holman said, "It would be the building rather than the restaurant that is of interest and concern." Arrillaga's people agree that the building should be preserved as a historical entity, but they are not concerned about protecting the business of MacArthur Park, which has occupied the space since 1981.
When Arrillaga's plans were first being considered, the Parks Department originally suggested the building be moved to the Palo Alto Municipal Golf Course. The City Council however, is concerned about whether or not this is an appropriate place for it. Now, officials are considering relocating the building to a park that is currently being renovated, across the street from the Stanford Shopping Center on the East side of El Camino.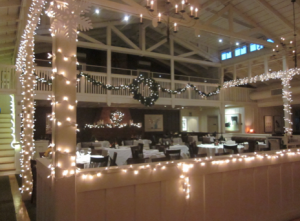 According to Bettina Epp, manager of the restaurant, the location on El Camino would be much more favorable because of better exposure. The restaurant, she said, would likely cease to operate if it were moved to the golf course because business in that area is extremely limited.
Old black and white photographs and newspaper clippings about the building are framed and displayed in the restaurant. Fred Foster, one of MacArthur Park's managers points out the old memorabilia. "There's a lot of history here," he explains.
Julia Morgan, who designed the building, was the first woman to receive a degree in engineering from the University of California in 1894 and is lauded as being the first woman to break into the male dominated field of architecture. Her other well-known works include Hearst Castle in San Simeon, Oakland's Mills College Bell Tower, and the Berkeley City Club among others.
The building was first built in 1918 to be a YMCA Hostess House for visiting families of servicemen at Camp Fremont in Menlo Park during WWI, according to information printed on the back of every menu. After the war, the City of Palo Alto bought the building for one dollar, and it was moved to its current location in Palo Alto where it became the first municipally sponsored community center in the nation.
By 1976, the building had deteriorated significantly and was scheduled to be torn down, but a local contractor stepped in to renovate the building in 1979 and then turned the lease over to MacArthur Park Restaurant. MacArthur Park opened in 1981 and has been a local favorite ever since.
Joan Reid who has lived in Palo Alto since 1979 and who has been to MacArthur Restaurant "many, many times" is particularly perturbed by Arrillaga's proposed plans. "I think it's a terrible idea,'' she said of the potential plan to move the building. "I like it there. It's cute there, it's sweet there, it fits there."
The physical logistics of moving of the building are also a mystery for the people of MacArthur Park. "I guess they will take it apart and put it back together again? I'm not sure, but the whole thing seems ridiculous," Epp said.
Eduardo Martinez, chair of the Palo Alto Planning and Transportation Commission has another idea. "They should try to keep it close or exactly where it is right now. And incorporate it in with the new project," he said.
Arrillaga's plans which originally included four office towers measuring as high as 161 feet, was recently scaled down to 103 feet and lower, due to widespread criticism and controversy because of the 50-foot building height limit in Palo Alto. At a City Council Meeting on Monday, Dec 3, council members voted to hold off on a community vote for the time being, but requested two more alternative plans from Arrillaga's team.
Council member Holman has assured however that "No part of this project is a certainty at this early stage."
Because MacArthur Park specializes in banquets and offers an upscale home-style menu complete with award-winning ribs, weddings, bar mitzvahs, graduation parties and more, are regular events at the restaurant. Frank said the children of people who had weddings at MacArthur Park 30 years ago are now coming back and wanting to celebrate their own weddings there because the place has become part of their family's history and tradition.
For Anne Firth Murray and Barry Z. Rose the restaurant has held a special place in their hearts for over 25 years. On Nov. 29 1987, Anne Firth Murray and Barry Z. Rose had their first date at MacArthur Park. On Nov. 29 2012, they returned to celebrate their anniversary. Nestled in a corner in front of the fireplace at the very same table where they first got to know each other 25 years go, the couple raises a toast.
"Cheers, my love! Happy Anniversary" Their champagne glasses chime as they blow kisses to each other from across the table.
Barry talks about how he made the decision to take Anne to MacArthur Park on their first date. "I thought, where should we go? And all of a sudden MacArthur Park dawned on me." The reason, he says, is because MacArthur Park was and still is, "an unpretentious place."
Anne and Barry are not the only people who have made lifelong memories at MacArthur Park. Indicating the couples' reservation and their request to sit at a particular table, Foster said, "We see that kind of thing all the time."