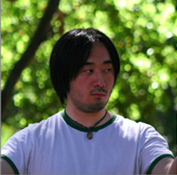 Ge Wang, a Stanford University assistant professor whose musical mobile phone applications have been downloaded by millions of people around the world, has one piece of advice for those hoping to follow in his footsteps: don't start a company.
When Wang co-founded his company, Smule, in 2008, he had an "endless amount" of other things on his to-do list. He was struggling to balance finishing a dissertation in computer science at Princeton, teaching classes at Stanford and directing the newly created Stanford Laptop Orchestra, a group of between 20 and 30 students who use specially designed software to make music with their laptops.
"No one in their sane, right mind should start a company," said Wang, who teaches at Stanford's Center for Computer Research in Music and Acoustics (CCRMA). "I needed a swift kick to the head."
Wang's curiosity eventually outweighed his reluctance to become an entrepreneur, and Smule was born. In its four years of existence, Smule has launched 17 iPhone and iPad apps that have been downloaded over 75 million times. The company, headquartered in Palo Alto, now has 70 employees and acquired another music apps company, Khush, last year.
Smule's apps range from an autotuner called I Am T-Pain that makes each user sound like the rapper T-Pain to Sing!, which allows users to perform a selected karaoke song individually or with others. (Story continues below.)
[youtube]6DvL6oKl9Fk[/youtube]
"A lot of apps feel like just the mobile version of something," Wang said. "We didn't want to just do that. We want to take advantage of the fact that it is on a mobile phone to make it an experience that is actually best on a mobile device."
Trevor Cornwell, CEO of the wholesale apps market AppBackr, said that Smule's apps are some of the most revolutionary on the market. Though no one at Smule would comment on the company's worth, Smule's apps currently have 15 million active users. According to Cornwell, this places their estimated value somewhere between $75 and $300 million.
While the magnitude of Wang's success in the apps market is rare, Cornwell estimated that there are hundreds of thousands of other app developers, a number that increases every day.
App development in the academic community in particular has become increasingly popular in the last few years. Many students and professors have taken advantage of the resources, technology, student talent and research networks provided by universities to produce their own apps.
At Stanford, Professor of Computer Science Marc Levoy launched an app called SynthCam that alters the operation of the iPhone camera. Several professors at the Stanford Medical School's Anesthesia Information and Media Lab collaborated to create StanMed, a learning tool for medical students.
Stanford students have launched apps as well. Sam Purtill, Julianne Lamb and Charlie Guo created ClassOwl, a social and academic organization app, while they were sophomores at Stanford. They took advantage of a Stanford-exclusive startup accelerator called StartX to grow their company, and later signed a contract with the university for use of the app.
Perhaps most famously, Professor of Computer Science B.J. Fogg taught a class in fall 2007 titled CS377W: Creating Engaging Facebook Apps. The apps his students created attracted 16 million users, and several students made hundreds of thousands of dollars in advertising revenue from their apps.
"Universities are great places for apps to develop because so much of the heart of college is collaboration and cooperation," Cornwell said. "If you compare it to what's involved in making a movie or writing a book, an app is something which is faster, smarter and probably more engaging."
Cornwell said that Smule is in the top percentile of apps companies based on number of total downloads. However, this wasn't Wang's original goal. Wang calls himself an "accidental entrepreneur" and said that profit wasn't his primary motivation in creating Smule.
According to Wang, his main goal in co-founding Smule was to change the way people connect with music. This goal was shared by Wang's co-founder Jeff Smith, a Stanford computer music graduate student.
"We both felt that music had lost its way in the past hundred years or so," Smith said. Both he and Wang saw Smule as an opportunity to use their research and ideas to "bring music back as a social, interactive medium," according to Smith.
Seeking social change, not profit, is one of the many ways that Wang doesn't fit the executive stereotype.
While most head executives prefer suits and ties, Wang usually dresses in cargo pants, a graphic t-shirt and sneakers, and when he does wear collared shirts he never tucks them in.
"He's a very unique person," Khush CEO Prerna Gupta said about Wang. "He has a lot of creative energy and that really permeates everything he does."
Wang's campus office, decorated with legos, robots and action figurines, was previously an elevator shaft. A video game poster hangs on his wall, declaring "Snood Rules. Forget Life, Play Snood," and laptop boxes are stacked floor to ceiling in a corner.
Smule was Wang's first foray into the world of business. He met Smith, his co-founder, when Smith enrolled in one of Wang's classes. Smith had already launched several successful startups, and returned to Stanford to reconnect with his musical side.
Though Smith didn't intend to start another company during his time at Stanford, he was intrigued by the audio programming language, ChucK, that Wang developed at Princeton.
He had a suspicion that ChucK could be extremely successful on a commercial platform, and said he "approached, cornered and stalked" Wang, who was initially reluctant but eventually agreed to co-found a startup.
The company launched several less successful apps before their first big hit, an electronic version of the ocarina, a small wind instrument. Wang released a demo video of himself playing the Legend of Zelda theme song on the app, called Ocarina. The video went viral, collecting over a million hits. (Story continues below.)
[youtube]RhCJq7EAJJA[/youtube]
Within four days, Ocarina was the number one product in Apple's App Store, a success that Wang credits for putting Smule on the map.
"It was a great icebreaker at dinners," Wang said. "A lot of people have told me that Ocarina was the first app they downloaded, and that it was the app that got them to download apps."
Though creating a prototype of the instrument only took a weekend, Ocarina required seven weeks to develop. The remaining development time was spent integrating a social interaction component that allows users to play music together, one of Smule's goals for all their apps. Many Smule apps are enabled with GPS and a map that allows users to see each other's approximate locations and create songs together.
"Music creates a chance for people to make connections with each other," Wang said. "It's almost best if the technology can do its job and then stay out of the way."
Employees at Khush, the apps company that Smule acquired last year, share this philosophy. Smule and Khush held the number one and number two spots in the musical apps market, and after several extended meetings the companies decided they could reach more consumers by merging.
As a result of the merger, Gupta and Khush's Chief Technology Officer Parag Chordia moved to Palo Alto. Chordia quit his job as an assistant professor at the Georgia Institute of Technology in order to become Smule's Chief Scientist.
Though Chordia chose Smule over his professorship, Smith believes that Wang will remain in academia in the near future.
Stanford, he said, "remains the priority in his life. His heart is in academia."