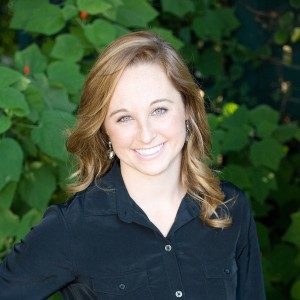 In advance of tonight's women's gymnastics Olympic team final and Thursday's all-around individual competition, Stanford gymnast Jenny Peter offers fans a 'what to watch' guide. This report does not contain any spoilers!
Peter is working toward her master's degree in communication at Stanford and was a member of the Stanford Women's Gymnastics team. She was a three-time Academic All-American who helped her team to a 4th place finish at NCAA Nationals both in 2010 and 2012. Her senior year, the team posted its highest NCAA team score in school history.

When it comes to the sport of gymnastics, anything can happen on the last event. A gymnast can be the steady rock throughout the meet with no major highlight moments and come up from behind to earn a top place in all-around competition. A gymnast can have her weakest event first and her best event last, hiding her deserved spot on the scoreboard until the very end. Sometimes the difference between an Olympic gold medal and a silver one is a toe-point. It's perfection vs. perfection. Expect the unexpected in this sport, because perfection is the name of the game, and it's a fleeting thing to attain.
The U.S. women's gymnastics team and individual qualifier meet on Sunday was a spectacle. Jordyn Wieber was on her way to qualify for all-around finals, in which gymnasts compete for individual medals, when her teammate Aly Raisman gave a clutch performance in the last floor routine of the night to earn the qualifying spot. Gabby Douglas received the other top U.S. score and earned the team's second berth to the all-around individual finals, in which only two gymnasts from each country can compete.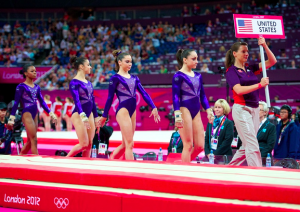 Wieber was bawling after she saw her name drop from the scoreboard. She would take a breather, then cry again. Her Olympic dream has been crushed, and now the only thing left is to focus on pursing the country's Olympic dream of a team gold medal.  Her hardest feat is yet to come when she has to wipe off the tears and compete for the USA in team finals today. Knowing the resilience of Olympic athletes, one can only hope that she will fight to squeeze out deductions and go for perfection, because that's what gymnasts are trained to do under pressure. Let's hope she'll compete for her country with mental poise, because that is what a teammate does. And let's hope she'll be a strong rock and fight for her composure, because that is what Wieber is known for.
At the team finals today, everyone will compete with a blank slate, since nothing is determined by past performances. This means anything can happen. And in the sport of gymnastics, that seems to always be the case. Viewers never know what's up until the very last girl of the meet finishes her last skill and salutes the judges. Raisman's last floor routine during qualifiers is a good example.
Here's what to watch for tonight:
How the Team Finals Will Work
There are four events.The gymnasts compete in the Olympic order of Vault, bars, beam, and floor. Three women from each team will compete on each event, and all three scores on each event will count and be added for the final team score. There are two elements to the scoring: execution, and level of difficulty. Judges add these two numbers together for the individual's final score. High 14's and 15's are generally good; 16's are great.
The Competition
The Russians, Romanians and the Chinese
The U.S. women's biggest rival in these last few years at the World Championships has been Russia, and we can expect a good showdown between the two powerhouses. Team USA has not won the Olympics since the "Magnificent Seven" in the 1996 Olympics and is out for a great chance at winning gold, especially after dominating the team qualifying meet. Romania is also a contender for a medal, as well as China, which won gold in Beijing in 2008. Great Britain, the home country, placed fifth in qualifiers and will bring even more home crowd excitement into the arena. Their men's team won the team bronze yesterday. It was their first team medal in 100 years.
Other Gymnasts to Watch
Beth Tweddle of Great Britain
Tweddle received a 16.1 on the uneven bars Sunday, posting the highest score of the meet. She has broken her ankles six times and has come back at age 27. Watching 16-18 year-olds look like Superman can make the rest of us feel old, so an older gymnast makes the older population watching want to tip our hats to her. On the men's side, 39-year-old Bulgarian Jordan Iovtchev competed with grey hair and a determined heart in the men's qualifiers. He received a standing ovation from some after his last event and he was preparing for it to be his last meet, but then found out he earned the eighth and final spot to advance to the rings final.
Victoria Komova of Russia
Komova placed first at Sunday's qualifying meet in the all-around and will be a contender for an all-around Olympic gold medal. She's good on all four events and was runner-up to Wieber at last year's World Championships.
Aliya Mustafina of Russia 
Mustafina is a former World Champion, was fifth in all-around at Olympic qualifiers, just after Wieber.
Kristina Vaculik of Canada
Vaculik took off a year school after her freshmen year at Stanford University to pursue her Olympic dream.  Vaculik, the Canadian Junior Women's Champion, helped Canada to secure the eighth and final spot in the team finals and will represent her country once again today.
Events to Watch
Vault
All of the Americans do 2 ½ twist vaults with blind landings, and the high-level of difficulty gives that vault a high starting point value. Other teams are often opting to perform easier vaults. This gives the U.S. team an edge.
Floor Exercise
The U.S. team has some of the most difficult routines here as well, and the gymnasts all have very expressive faces, engaging both audience and judges. The United States had the highest team score at the qualifier meet on this event.
Results to Expect
The United States is expected to win gold in team finals, but in this sport, anything can happen. Past results are not always indicative of future success. So what is the country's chance to win the gold? Associate head coach of Stanford women's gymnastics, Chris Swircek, said, "They shouldn't be thinking that it's theirs to lose because that is a lot of pressure. Rather, they should think of it as, 'it's ours to win.'"
To watch the U.S. women's team gymnastics final, tune in to NBC's Olympic Prime Time coverage at 8 p.m EDT/PDT. The individual all-around competition will air Thursday night.
Recap of Sunday Night's Qualifying Round
The U.S. women's gymnastics team came out on top, as expected, during qualifiers, the preliminary round that determines which eight teams advance to team finals today and which 24 gymnasts advance to individual finals on Thursday. The U.S. team will look to reach the top spot on the podium today against Russia, China, Romania, Great Britain, Japan, Italy and Canada. The American men's gymnastics team finished with a disappointed fifth, so now the U.S. gymnastics world is turning to five 16-18 year-old women in hopes of a better outcome. No pressure.
At the qualifying meet, McKayla Maroney began the competition with a huge vault and over-rotated on a 2 ½ twist for a blind landing. Maroney, the World Champion on this event, was so high that one of the judges had her mouth open while she was in mid-air.
On bars, Wieber led the way and stuck her landing, followed by Kyla Ross who looked long and lean in her body-line and also stuck her dismount landing. Douglas was next and looked elegant on one of her strongest events, finishing the event with her signature huge smile.
On beam, the team had the highest team score on the event of the day and only had a few minor wobbles. On floor, Ross was first up for the United States. She was too high on her first pass and bounded out of bounds, but the rest of the routine was solid. Douglas also went out of bounds in her second pass, but made up for it with her dynamic tumbling and dancing to more upbeat music than many other gymnasts, who used classical music for their floor routines.
Raisman's floor routine was the last U.S. routine of the night and was lights out. She had a commanding presence, and her skills were deserving of a chance to contend for an individual all-around gold medal. The drama ensued when judges posted her score, and it was apparent that she had beaten out Wieber. Wieber and Raisman have been both good friends off of the mat and have been gymnastics rivals for years.
Raisman was stunned when she received the news that she made all-around finals. "I did? Where does it say that? Where does it say that?" Her coach responded, "I say that," and pointed her chin up to the scoreboard.
Raisman and Douglas finished second and third place respectively in the all-around and Wieber finished fourth, meaning the all-around world champion won't advance to all-around finals due to the two-gymnasts-per-country rule, which went into effect in 2004.
Wieber finished 0.233 points behind Douglas. Wieber had a slight wobble on beam, stepped sideways out of bounds on the vault and similarly out of bounds on floor, which is only a 0.1 point of deduction, but gymnasts have to save every tenth. She didn't have one bad event, just minor errors here and there and even had a solid bar routine and stuck dismount. But, Douglas and Raisman were better. Some argue that it should be the best vs. the best at finals, regardless of what countries are represented. It may not be fair, but it's the rule.
Gymnasts are told to focus on the things that they can control. They can focus on their pre-performance routines, their mindsets, their physical fitness, their attitudes and their gymnastics skills. But rules of the sport made by a committee, or even judges' scoring are not things that the athlete can control. This situation is not much different. It is a subjective sport after all, which is simply a part of the reality of gymnastics. For any gymnast, that is a tough lesson of the sport to grasp. So why do gymnasts love the sport so much? That's easy. Just look at the beaming smile on Douglas, the proud look on Raisman's face, or the focused eyes on Wieber. The strength of body and heart and their faces tell all of the high-flying sport.
EDITOR'S NOTE: An earlier version of this story incorrectly located the 2008 Summer Olympics in Athens. It was actually in Beijing.