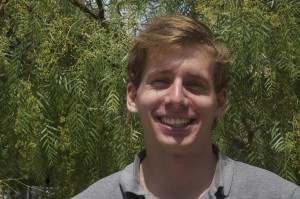 This summer, Stanford University celebrates the works of a renowned American playwright, actor and screenwriter with Stanford Summer Theater's Sam Shepard Festival. The program features a film series, a community symposium, a continuing studies course and a production of Curse of the Starving Class, one of Shepard's dark comedies about an American family's absurd struggle to live the American dream. The production is running now through mid-August.
Max Sosna-Spear, an actor who plays the idealistic Tate family son named Wesley, graduated this June from Stanford's master's program in modern thought and literature. He is an avid improviser, actor and silk aerialist who is heading to Los Angeles to pursue an acting career when the production ends.
Sosna-Spear offers a behind-the-scenes look into Stanford Summer Theater's 2012 production of the American classic.
Peninsula Press: What has been your favorite part of the rehearsal process?
Max Sosna-Spear: The whole play takes place in the kitchen of this family's house, and, unusually for most of these projects [at Stanford], we got to rehearse in the theater for the whole process… We were lucky to have a lot of our props and set pieces for a lot of our run, so we really live in this kitchen, and we really cook bacon, and we really fry eggs, and there's really a refrigerator in which we keep cold food. There's a sink that works. So I really enjoyed the physical 'visceralness' of it… You get to feel like it's really real.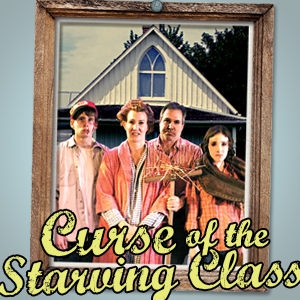 PP: Do you get to eat the real food too?
MSS: Oh yeah. I have a scene in which I eat quite a bit of food.
PP: Have you ever been in a play before where you got to experience such a high level of 'realness'?
MSS: No, I really don't think so. Maybe if I'd been doing more classic American plays… then I would have experienced this. But I've done a lot of period pieces, or Shakespeare, or improv, or farce, or absurdist contemporary stuff. And American realism is really the only kind of theater where you can have that kind of experience of feeling like it's almost your home. You know, I'm playing a 19-year-old kid in his home [in this play], so it's plausible, it's believable. I can sort of forget sometimes.
PP: Rush Rehm, the director of the play and of Stanford Summer Theater as a whole, is a professor in Classics and Drama at Stanford. How has his directing style influenced or shaped that sense of realism?
MSS: Rush is inclined to work with actors. He lets the actors create something or feel something and be moved, and then shapes that… There were a couple moments where he had a thought of how he wanted it to look, or he said, "You're playing this angry, and I think it should be sarcastic, or I think it should be sad."
But what's been nice is that Rush just sort of helps to cultivate what our interpretations have been and to sharpen them and cement them.
PP: What would you recommend to audiences who are coming to watch the play? What themes should they look for or track throughout the play?
MSS: Well, to me, the play is about paying-it-forward, but negative. How one hurt leads to another, and another and another. And this is related to hierarchies of power — that you get hurt by someone who's more powerful than you and you don't have the ability to retaliate because of disparate [statuses]. Instead, you punish someone below you. So, the father is in debt and punishes the wife, who punishes the son, who punishes his little sister, who punishes the lawyer who comes to the door, who punishes the mother, who punishes the father, who punishes the son. Everyone is moving their hurt. Watching that cycle, [we can] think about how our culture creates that, and how maybe we can try to break those cycles.
To purchase tickets for Curse of the Starving Class, visit sst.stanford.edu. Remaining shows are on August 3-5 and 9-12.