Jenny Peter, a Stanford gymnast, offers expert commentary on what to watch for in tonight's Olympic team final in women's gymnastics. (Photo: Dan Sullivan)
Thursday, U.S. gymnast Gabby Douglas became the golden girl of Olympic women's gymnastics, and her U.S. teammate Aly Raisman narrowly missed the bronze medal. Two days earlier, they won gold along with the rest of the U.S. women in the team competition.
Fans may wonder whether gymnasts felt more pressure or drive to win team or individual medals. Stanford gymnast Jenny Peter reflects on this question by interviewing former elite gymnast Natalie Wiesen.
Peter is working toward her master's degree in communication at Stanford and was a member of the Stanford Women's Gymnastics team. She was a three-time Academic All-American who helped her team to a 4th place finish at NCAA Nationals both in 2010 and 2012. Her senior year, the team posted its highest NCAA team score in school history.
Gymnastics has a dual life of its own. Gymnasts compete with a team and for a team, but, at the end of the day, the individual gymnast is the only one propelling herself through the air and performing her routine on the event all alone.
Natalie Wiesen, previous elite gymnast and 2006 gymnastics caption at Stanford University, gives us an inside look at the life of an elite gymnast and the dichotomy between the individual gymnast's mindset and the teammates she is competing for.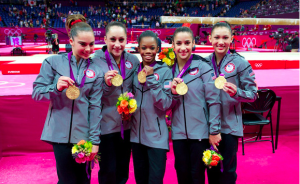 Jenny Peter: What was your background as an elite gymnast?
Natalie Wiesen: I went elite later than most girls and started gymnastics later than most at the age of 9. I went elite when I was 17. I went elite the summer of 2001 and failed to qualify for elite my first try. My second try was successful, only one month before USA Nationals, which was also World Championship Trials. The top six girls would make the World Team, and then they would take two alternates. I just happened to peak at the right time, and I ended up being the first alternate for the USA World Team and the Pan Am team. However, if my grip had not come off during the first day of competition at Nationals/ World Trials, I would have placed fifth and would have made the team. That was a crazy experience.
I missed six weeks of school my senior year for Pan Ams, training camps, Worlds, and college recruiting trips. After Worlds was over in early November, my elite career was effectively over, because in January, I would get surgery on my hand to fix a bone spur and tendonitis, and the healing process took until I went off to college. So it was a really short, but power packed elite career, and after going through it, I am not sure I would have wanted to be at that level and intensity for many years as most elite gymnasts do. Looking back, I feel blessed that I got to experience elite gymnastics for a short stint, but also have a pretty normal childhood and high school experience, and never train more than five hours a day five days a week.
JP: How was your transition from elite to college with its new team mindset?
NW: The transition from elite to college was difficult in some ways, but mostly awesome and refreshing for me. Because I was just coming off the most intense gymnastics season of my life physically and mentally, college seemed more laid back and fun. It was so awesome to have like-minded, fun teammates (who were also my age…my elite teammates were ages 8-13 and I was 18), to only train 20 hours per week, to be able to do slightly easier routines, and to not have all the pressure or focus on me, but on the team. The hard thing was making the mental shift to truly caring more about the team than yourself and managing the guilt of making mistakes when it didn't just affect you. That took some time, but was a very good thing. It was really fun to feel apart of a team and the team truly be the focus, because that is not how it was as much in elite. Although, I feel that the Olympic team right now seems to get the whole team thing and be a pretty tight knit group. Especially seeing Jordyn [Wieber] overcome her personal loss and perform incredibly to win a team gold.
JP: What are your thoughts on how the international level approaches the individual gymnast versus competing for a team?
NW: You know, this is a tough question. I think Coach Marta Karolyi and the national team coordinators are more concerned about the team. But the team is comprised of individuals who have clear individual roles. In a more clearly team sport like soccer, the lines are more fuzzy as to who "failed" and who "succeeded" to lead the team to a win or loss. In gymnastics or swimming, the team component is comprised of individual performances. Each performance only concerns that one person. So I think gymnastics always mostly feels like an individual sport, but with a team component.
On the contrary, soccer feels more like a team sport with individual components. So at the international level, each gymnast is thinking mostly about her own performance, and each coach is thinking mostly about his or her athlete. Because the national team coordinators exist to put together good USA teams, they look at each gymnast as a part of the whole, and select the individuals that will comprise the strongest team on each event. But by virtue of selecting the best team, they will also select the best individual gymnasts who will have the best chance at winning individual medals, and they are probably just as excited about having individual winners as a gold medal team.
JP: What do you think of the individual sport/team sport dichotomy in gymnastics?
NW: I guess like I said before, it all kind of feels the same because whether you are in a team performance, an all around final, or an event final, your routine and job are the exact same, and the pressure feels pretty much the exact same. It is fun to have a team component because that fosters cool team camaraderie and team dynamics, but it is also fun to have an individual component where your strengths and successes are put on display. In college, the team aspect is more emphasized, but the individual aspect of how each girl performs is so obvious that the individual component is still very pronounced even in college. So in short, I like the way gymnastics can have both components so completely…except every time I was really nervous before a competition, I would sometimes jokingly think, 'Man, why didn't I stick with soccer? I would never get this nervous for soccer!'