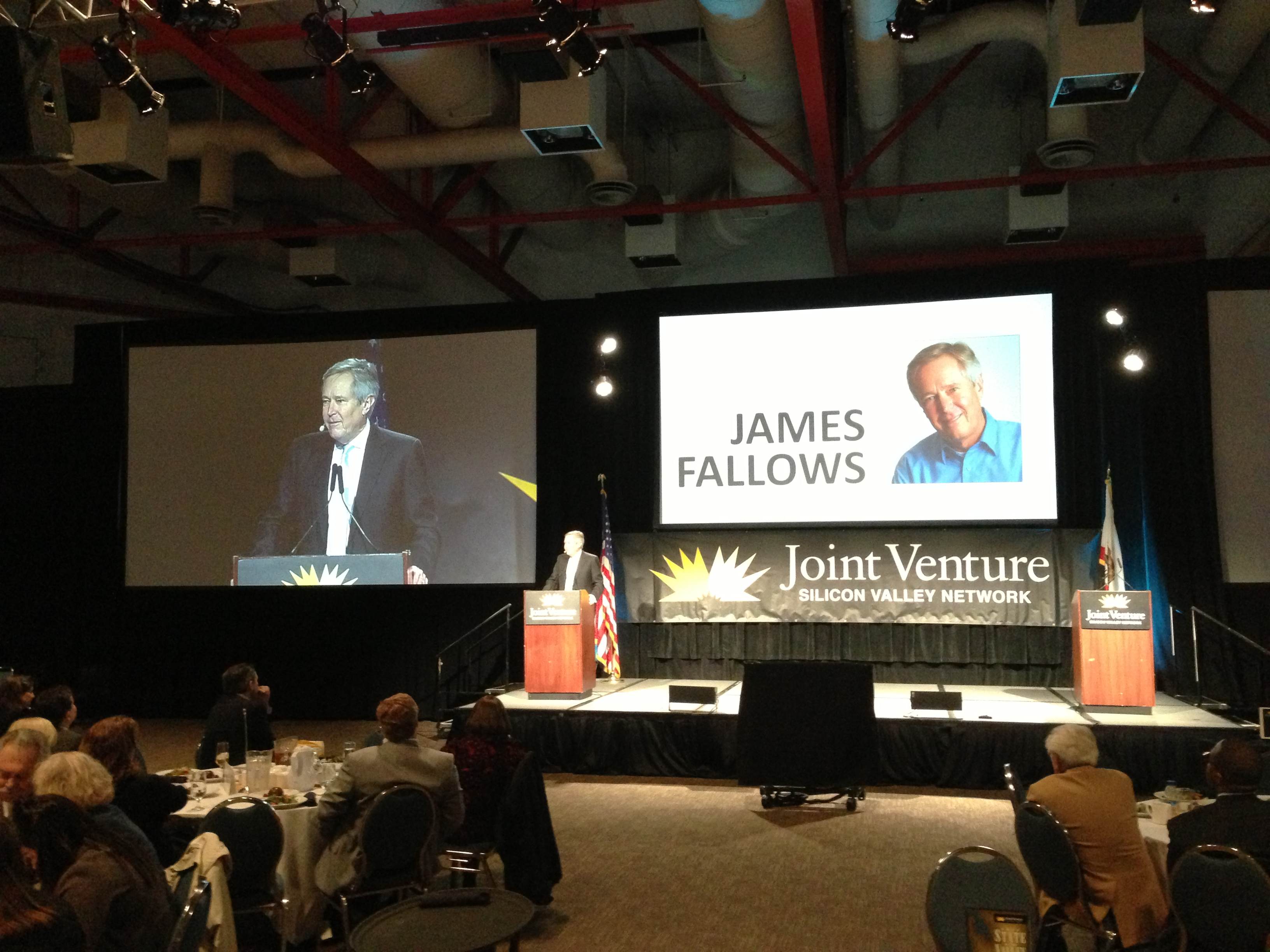 San Jose, Calif. – Venture capital has an important role in shaping Silicon Valley's unique culture of innovation. But, as journalist and author James Fallows explained Friday, forgetting the role played by the United States government in fostering this culture could jeopardize it moving forward.
Fallows, a national correspondent for The Atlantic Monthly, addressed Bay Area industry leaders and discussed the current state of Silicon Valley's position in both the national and global political economy at the 2013 Joint Venture State of the Valley Conference. Fallows cautioned listeners to steer their focus away from the supposed threat of China and refocus resources to address the United States' lingering problems.
"Silicon Valley, like America as a whole, has more to fear from its own failures and blind spots than anything the Chinese can do," said Fallows in an interview prior to his keynote speech.
Fallows explained that the Chinese don't enjoy the unique culture fueling Silicon Valley's impressive success. Nor can they mimic this culture because of the obstacles put in place by China's government.
With recent breaking news of Chinese hacking into United States companies, Fallows said this is further sign of China's weaknesses rather than a demonstration of technological strength. China has not put in place the necessary infrastructure or policies that fosters the openness necessary for innovation. "You're not going to have your own Google, your own Apple, your own Intel if your government is hyper paranoid about closing up all sorts of information flow," added Fallows.
Silicon Valley enjoys three important advantages over regions attempting to model its innovative culture: strong universities, venture capital activity, and the United States' infrastructure and public policy. Stanford University and University of California, Berkeley both supply a constant stream of talent. The region's concentration of venture capital exists to fuel the innovative ideas in, enabling venture capitalists' mantra "fail early, fail often." Prior to the innovation experienced by Silicon Valley, the United States government supported key policies and built the required infrastructure that has spurred such success.
Fallows alluded to the numerous projects started by the government and now exist as fundamental pieces of the industries that have grown out of Silicon Valley: The Department of Defense is responsible for both the global positioning system and, perhaps more importantly, the ARPANET, now formally known as the Internet. Both technologies serve as foundations for the Valley's technological development and economic growth.
Despite important public support behind Silicon Valley's successes, venture capitalists and the United States government don't appear to have a mutual appreciation for their symbiotic relationship, Fallows said.
"My fear during the last election cycle is that many of them [venture capitalists] were thinking only of the cut taking out of their taxes as opposed to the businesses that came into existence because there was a GPS system, because there was a genome project, because there was all of these other fundamental projects," said Fallows. He went on to explain the government's flawed attitude in asserting these industries would not exist without the proper infrastructure that it put in place. Instead, he said, there should be increased cooperation across public and private sectors to address the United States' internal issues.
Silicon Valley is proof that the infrastructure is in place to pursue a collaborative model that foments technological advance. However, Fallows said it remains to be seen if venture capitalists and the government can leverage this infrastructure and work with one another in order to address the civic issues that need to be addressed.
Read related story: Influx of foreign tech talent may give U.S. an edge, Fallows says