QUESTION: My apartment is rented. It has very poor insulation— the walls, the windows, the space around the door are all terribly energy inefficient. What simple steps can I take as a renter to reduce my energy consumption without renovating? How much energy can I save using these steps? Asked by Jim Salvia, Menlo Park, Calif.
ANSWER: The good news is that there are definitely simple, renovation-free steps that you can take to better insulate your apartment and reduce energy consumption. The better news is that it's going to be fun; it's time to redecorate!
Are your walls looking a little bare? Let's liven up the whole room by hanging a stunning tapestry on the wall. If you hang it on an outer wall you'll gain instant insulation—even a nice blanket or secondhand rug can add pizzazz and warmth to your living space. You can further insulate a room by strategically placing a bookcase along an outside wall. Better insulation and a place for all your books? It's an environmentally-friendly Stanford student's (or alum's) dream come true!
Let's also add a large area rug to complement the tapestry. And guess what? Your new rug will help to prevent heat loss through the floor — and dampen your downstairs neighbor's annoying techno music, too. How about some chic drapes as a finishing touch? As you've probably guessed, thick curtains help to keep out cold drafts from the windows.
Make sure to use your new curtains wisely. During winter, open south-facing drapes on sunny days to take advantage of the sun's warmth. Close curtains every night and on cloudy days to prevent heat loss. In summer, close your curtains by day to block out the sun's heat. The drawback here, of course, is that you may want a view of the sunny day outside. But hey, wouldn't you rather go out and bask in the sunshine rather than stare at a beautiful day from the inside?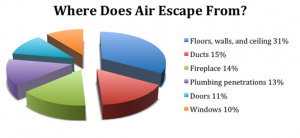 Besides drapes, there are many steps that you can take to better insulate windows. After all, did you know that 10 percent of air escapes through windows, and 11 percent through doors? As the pie chart below shows, after floors, walls and ceilings, windows and doors combined make up the next largest source of air leaks.
As a renter, there is not a whole lot else you can do for floors, walls and ceilings. But there are cheap, easy solutions for windows and doors, such as rope caulk, rubber weather stripping and draft snakes. Rope caulk is a clay-like substance used to plug up gaps in windows. Rubber weather stripping is a long thin piece of rubber that you cut to fit window or door dimensions to mitigate air leaks. Finally, a draft snake is a fabric tube filled with dry rice that you place on window ledges or on the floor next to doors to prevent cold drafts from blowing in. Draft snakes are handy devices that you can make yourself. You can find instructions in the Nitty Gritty Response.
The U.S. Department of Energy estimates that rope caulk, weather stripping and draft snakes can save you 10 percent or more on energy bills, well worth the little time and effort required. And when it's time to move on, you can pack up most of your weatherizing equipment and take it with you to your new place. Sounds like you have some insulating and redecorating to do; have fun!
READ MORE: Get instructions for sealing windows and doors and even electrical outlets >>