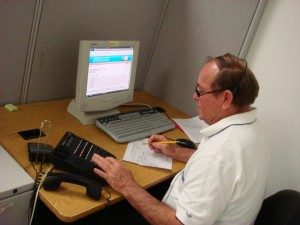 Federico Rodriguez, a Mexican immigrant, takes an empty seat in a small, nearly silent office in San Jose. He stares at the long list of phone numbers in front of him. With his index finger, he starts dialing.
Ahn Mai, a Vietnamese immigrant, joins him a few minutes later, and within an hour the room is packed.
The Services, Immigrant Rights, and Education Network, known as SIREN, held a phone bank on Oct. 16. This one day, however, was not enough for the Latino and Vietnamese volunteers to reach their goal of calling more than 20,000 registered immigrant voters in Santa Clara County.
SIREN, a nonprofit immigrant rights organization in Northern California, has planned a series of phone banks as part of its "Take Back the American Dream" campaign. SIREN is working hand-in-hand with Mobilize the Immigrant Vote California Collaborative, or MIV.
Volunteers at SIREN and other partners of MIV have been speaking directly to immigrant voters in California to ask if they would support a potential initiative on the 2012 ballot to raise taxes on the wealthiest individuals and corporations.
"The American dream for us is being able to come to this country and find opportunities to become successful," said Lucila Ortiz, SIREN's community organizer. "Everybody has this dream of their kids going to a college, finding a good job, and owning a home. We know that this is under attack because we don't have enough funds in the (state) budget. Majority of the taxes are paid by the working class."
The ideas sound similar to the Occupy Wall Street movement, but what distinguishes SIREN's phone bank is the appeal to immigrant voters around broad economic principles rather than social issues tailored to their communities.
In Santa Clara County, immigrants make up nearly half of the labor force, according to the nonpartisan California Immigrant Policy Center. In industries that employ lower- and middle-income workers, they are more prevalent. For example, the policy center found that 58 percent of food preparation and serving jobs in the county are held by immigrants, as are 73 percent of grounds cleaning and maintenance jobs.
Overall, there are more than 630,000 immigrants in Santa Clara County, making up more than one-third of the population.
Leaders of SIREN and MIV said it is too early to know if a measure or set of measures aimed at higher taxes for the wealthy will qualify for the November 2012 ballot. But Aparna Shah, MIV's coordinating director, said they are "more confident than not."
One initiative being discussed, among several ideas, would call for a 1-percent state income tax increase on Californians who earn $1 million or more a year.
"Taxes for the rich in California have actually been lowered, and we are asking them to be raised to the 1991 level of 11 percent," Shah said. "The rich need to help pay for the same services we all enjoy like paved roads, clean water, fire services, and schools for our children."
Shah said the groups will pursue an even more aggressive campaign to mobilize immigrant voters starting next year, particularly once an initiative is certain to be on the ballot.
SIREN and MIV are phoning immigrants now to make them aware of the state's budget crisis and how funding cuts have hurt low- and middle-income citizens. The phone banks began on Sept. 26 and will take place three times a week until Nov. 17.
"We've seen in the last 10 years that social institutions like education, health care, community clinics and public safety are constantly under attack because less and less funding is given to those social institutions," said Cesar Juarez, SIREN's organizing director. "Wealth is concentrated in fewer and fewer people. Opportunities should open up for all. Not just for the few."
[youtube]RvfIm10Mdp8[/youtube]