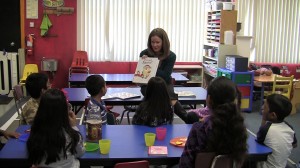 The Families for Literacy program was created by the California Legislature in 1988 with one purpose in mind: to extend adult literacy services to families with preschool children.
"Traditional FFL programs are really based on … story time," said Lauren Meiklejohn, the coordinator in Menlo Park. "Parents would sit with their children, have a story time, and then go home with the books."
When Meiklejohn was hired in November 2010, though, Menlo Park's program was struggling to the point where it had been on hiatus for several months. She and others decided that a more comprehensive approach was needed, particularly as they saw waves of new immigrant parents coming to the area to take manufacturing, gardening and other service jobs.
A number of these parents were literate in Spanish but not in English. Some juggled multiple jobs, working odd hours, and lacked the free time to read with their children at home.
Meiklejohn, who is fluent in Spanish, set out to change the dynamics. She introduced arts and crafts, music, storytelling and snacks. Now, for two hours every month, the family center at Belle Haven Elementary School becomes a multi-ring circus of education and fun.
On a recent Saturday, Hailey Chavez, 7, held up a paper snowman she delicately decorated with glitter and said, "I love the crafts." Nearby, groups of dads, moms and kids danced hand-in-hand as they sang a popular children's song: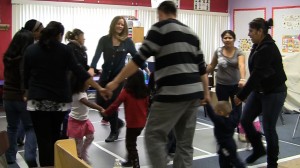 Skip, skip, skip to my Lou.
Skip, skip, skip to my Lou.
Skip, skip, skip to my Lou.
Skip to my Lou, my darlin'.
"We do this through movement and singing out loud because a lot of children who grow up in bilingual households … oftentimes feel very unsure about speaking up," Meiklejohn said. The interactive components help them break through language barriers by increasing physical comfort and confidence, she said.
 "So when we are all participating in groups, it is important that everybody uses their full voice, because that makes the kids comfortable to participate and it helps with their diction and learning how to sing," Meiklejohn instructed the parents. She also encouraged them to apply the lessons at home.
When Meiklejohn arrived in Menlo Park, the Families for Literacy program had nowhere to go but up. She began by getting in touch with parents who had been involved but then stopped participating. She visited local preschools to spread the word and reached out to parents who visited the Belle Haven Community Library.
"For my first FFL, I had one family," she recalled.
In a year, the program based at the Menlo Park Public Library has grown to 20 children and their parents. The families have started to come regularly every month, which allows them to get to know each other better. "We are best friends," Hailey Chavez said of Karla Serrano, also 7, whom she met through the program.
Meiklejohn said she has tried to build personal relationships with the families, taking time to get to know them and listen to their concerns. A parent volunteer, Maura Sanchez, brought up the idea of incorporating music into the program.
"The parents are starting to take a more proactive role, which has been one of my goals from the beginning," Meiklejohn said.
"Everybody in the family has a reason (for participating)," she said. The moms are getting tips on how to read at home. When the crowd is big enough, the kids are divided into two groups. Those younger than 6 are introduced to reading in a playful way while the older kids get to have a more intellectual discussion about the books.
Though designed to serve preschool children and their parents, the program in Menlo Park welcomes older children in the household because it enables a family to participate together.
Arts and crafts is voted as the kids' favorite. The session gives children and parents access to crafting materials that might not be available in some households. "I think I had more fun than the kids," said Victor Jiménez, who helped his 2-year-old daughter, Allison, make her paper snowman.
"I think this is a really great program, and I wish that a lot more people knew about it so they can take advantage of it," said Sanchez, who has accompanied her 3-year-old daughter, Jaliyah, for nearly a year. Sanchez said her daughter loves the crafts and interacting with other kids.
"We made a pact that we should read a few books a night before she goes to sleep, so we read for like an hour every day," Sanchez said.
Karla's father, Juan Serrano, said that every weekend she asks if they are going to FFL. He believes the program has brought the family closer together.
Meiklejohn said, "You can have all the money in the world, but if you are not engaging the community and the parents in the way that is meaningful to them you will never really have a successful program that truly changes people's lives."
[youtube]V3D9Qs453xI[/youtube]