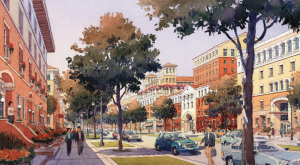 The California Supreme Court today cleared the way for the state to abolish redevelopment agencies, which many cities have used to spur the renewal of rundown neighborhoods.
For months, leaders of the 399 redevelopment agencies in California nervously awaited a ruling on their appeal of Assembly Bill 26. The bill authorized eliminating the agencies and rerouting local property-tax revenues they would have captured. Gov. Jerry Brown's proposed 2011-12 budget directs that money toward local public schools.
Just as the Legislature had the power to create the agencies in 1945, it has the power to close them now, the state's high court determined.
At the same time it ruled that AB26 was legal, the court struck down the related Assembly Bill 27, which would have given redevelopment agencies a chance to stay functioning if they paid the state $400 million a year.
This was not the news local redevelopment agencies wanted to hear.
Redwood City's director of community development, Bill Ekern, said that ongoing renewal projects would be slowed or halted. In recent decades, Redwood City has used more than $50 million in redevelopment funds to jumpstart its downtown revival. Several big projects remain on the drawing board, however, including the creation of an elaborate traffic circle to bridge the Caltrain station to the nearby commercial district.
"The ability to fund events and other means of bringing people downtown will be lost," Ekern said in a written statement.
As soon as next week, he said, Redwood City officials will begin planning the way forward.
"We will evaluate the roles and functions of staff delivering redevelopment services, to see which functions remain essential to the continued success of the city, and continue to look for economic growth and development to fund any gaps created by the loss of agency dollars," Ekern said.
The court decision was also dispiriting to Phillip Kilbridge, executive director of Habitat for Humanity Greater San Francisco. Redevelopment agencies were required to dedicate 20 percent of their funds toward affordable housing initiatives.
That funding source will now be lost, Kilbridge said. "We will be meeting with state legislators to help outline what's next in California, as the need for safe and decent housing has only been exacerbated by the economic downturn," he said in a written statement.
Jim Kennedy, interim executive director of the California Redevelopment Association, showed no signs of surrender.
His organization, which represents 357 of the agencies, plans to work with its partners and with state lawmakers to create legislation to revitalize redevelopment, according to Kennedy, with these goals in mind: job creation, economic stimulus, affordable housing, contaminated site cleanup, infill development and transit-oriented development.
While the court decision was bad news for some, the state sees it as a step forward toward easing persistent budget problems. The deputy director of California's Department of Finance, H.D. Palmer, said the ruling "marks a major victory for K-12 schools" that will benefit from the added funding.