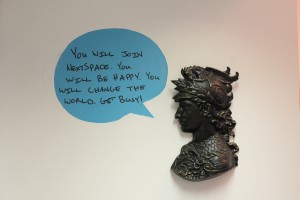 Walking through the front doors of the Bank of Italy building at 1st and Santa Clara streets in downtown San Jose reminds you of a different time. Corinthian columns regulate the facade, while an elegant chandelier hangs above a polite guard, who sits comfortably in a swivel chair behind a heavy, wooden desk. The elevator buttons push in but don't light up.
On the third floor is Citizen Space, a co-working office targeted to individuals who need a more fluid work environment.
Across the block resides NextSpace, another co-working office. The wall paneling is Mahogany and old, leather couches fill up conference rooms. Desks with short partitions occupy part of a currently unused room. "Serious commerce happens in here," joked Gretchen Baisa, NextSpace's community curator. "I want someone to smoke a cigar in here — actually, just kidding, California labor laws."
It's new-world thinking in old-world buildings.
The two "workplace communities" rent office space to people who need it, especially those not suited to a static, 9-to-5 desk. Citizen Space, NextSpace and others like them — there are more than a dozen locations in San Francisco alone — present an alternative model of work. Open to community members, the spaces typically house a multitude of desks, conference rooms and variable office sizes, and come with a sense of character as well.
But who's working here? According to Baisa, a little bit of everyone. "We have lots of tech businesses, obviously, but we have a more robust community than that," she said. Included are bloggers, freelancers for project management, and business consultants. Jaymes Hines, community manager at Citizen Space, sees much of the same variety: game developers, graphic designers, advertisers, and individuals working in information technology.
The users speak highly of the environment.
Phil Mowery, a graphic designer operating out of Citizen Space, said the space is "dynamic not just because of what the people are working on but because the actual occupancy is dynamic." People move in and out frequently, and their disparate backgrounds add to a more comprehensive environment, he said. Before, Mowery wasn't very "tech-savvy." Through simple day-to-day interactions, that has changed.
NextSpace member Julie Kodama, director of operations for DishCrawl, a social network for foodies, can't see herself anywhere else. "I'm here every day," she said. Having worked at Cisco Systems for 16 years, Kodama witnessed an office evolution when the company switched to Cisco Collaborative Workspace. The only big change, though, was a large table where you could choose to sit, she said.
"One of the leaders in the space of creative alternative workplaces has been Cisco," said Frank Jesse, a Bay Area architect. Located in San Jose, Cisco has a few notable Silicon Valley neighbors that have also gained press for their enticing work environments: Facebook and Google.
From the start, Google has been trying to develop a new work environment, said a spokesperson for the company. This extends into many areas of social behavior, too. Employees are allowed to bring their dogs to work, for example. Walking meetings are frequently scheduled, and there are several biking trails throughout the Mountain View campus.
The company tries to listen closely to its employees and is open to changing the work environment, which varies by geographic location, the spokesperson said. At Google's Tokyo office, the lunch tables are low to the ground and employees take off their shoes before entering the space. In Dublin, gondolas are used as more private office spaces, though the idea of transparency remains.
But there may be more to the changing landscape than a desire to keep workers happy. According to Jeffrey Pfeffer, professor of organizational behavior in the Graduate School of Business at Stanford University, there are practical factors at play in the growing popularity of shared-space communities.
"Much of the new office space arrangements are more designed to save on real estate costs than to encourage new ways of working, I'm afraid," he said.
The ideas share similarities with another practice: hoteling. Hoteling is a term used for offices that give space to employees on an as-needed basis, rather than the typical, permanent state. Essentially, that desk isn't yours, but you can use it until the next, reserved shift shows up.
That practice gained popularity for many reasons, Pfeffer said. For one, it is more efficient both in space utilization and expenses. It costs less to operate a few desks at capacity than an empty office floor with a sea of cubicles — each of which may have a powered-on computer monitor forgotten by the employee who just walked out the door.
Also important is the increased capabilities of communication, Pfeffer said. Employees can and do work away from the office now, and sometimes they don't have to come in at all.
Living in the Valley is good, so long as you're a member.