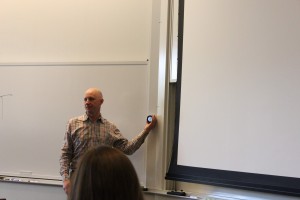 On Oct. 25, 2011 — the day Nest Labs launched – "a lot of people woke up and realized they hated their thermostat," said Scott McGaraghan, a member of the Palo Alto-based company's business development team. McGaraghan spoke Monday at an event kicking off Stanford's 2012 Entrepreneurship-Week.
Nest Labs' $250 thermostat sold out on its first day. 
The problem: Household thermostats control the majority of energy use inside the home, but most people don't pay any attention to them. To warm up their houses, they set the thermostat at, perhaps, 75 degrees, then leave it on even when it gets warm outside.
The solution: A "smart" thermostat which programs itself to follow occupants' usage patterns and minimize energy use. 
Nest Labs' so-called "learning thermostat" knows your zip code, understands the weather patterns for that location and lets you know if your temperature setting is too high. It also can program it from your iPhone or iPod. You can turn it off using your phone when you are out.  
It develops a program based off of daily use and has motion sensors to determine when users may be away at work or on vacation. "Even if a thermostat is programmable, 92 percent of thermostats in American homes aren't programmed," McGaraghan said. "It's a hassle, this isn't."
The thermostat features a green leaf logo that lights up when the system is optimized for energy use, an easy-to-track way for consumers to know whether they are overconsuming.  
Nest Labs' approach differs from the usual thermostat process in that the company decided early on not to seek out Energy Star certification because McGaraghan said the guidelines for certification were too "restrictive for innovation."
McGaraghan said the company hopes to increase energy savings by increasing its product base, going directly to consumers. While many energy-minded consumers gravitated to the Energy Star program and products, Nest Labs thinks it can gain better traction going it alone because it's product is so "cool."
 "Though Energy Star certification may require greater savings per product, we want greater savings through market saturation," said McGaraghan, a Stanford business school graduate.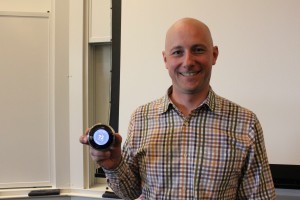 Indeed, Nest Labs believes its small, round, wall device gained popularity from buyers because of how quickly it was able to enter the market, McGaraghan said.
"If you go to a utility company, you work on a prototype for three to six months, develop a pilot, have a year of testing, and then, maybe four years later, you sell to the general public," McGaraghan said. That wasn't going to work, he added.
To be sure, not many people may think of a thermostat as "cool."
But, "Twenty years ago," McGaraghan said, "no one would have said they loved their phone, but that's changed. What if we can do that for the thermostat?"
Clearly, Nest Labs hopes the four-cornered, off-white, plastic rectangle usually stuck flat against a dining room or living room wall will get more attention.
"We want people to love their thermostat," McGarghan said.
Stanford Entrepreneurship Week 2012 takes place February 27 through March 7. This collection of over 30 events is hosted by the Stanford Entrepreneurship Network (SEN), a federation of programs, student groups and organizations supporting entrepreneurship in the Stanford community. For a complete listing of events check: https://sen.stanford.edu/e-week/calendardu/e-week/calendar