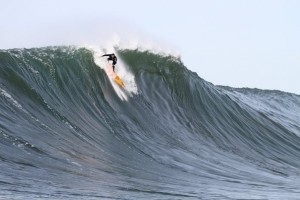 Ben Wilkinson has been on alert for weeks, waiting for a phone call. When it comes — if it comes — he will throw down his carpenter tools and head straight for the airport.
Wilkinson is a big-wave surfer scheduled to compete in this year's Mavericks Invitational off Half Moon Bay. He and two dozen other contestants will only be given 24-hours notice to get to the competition, and if they're late, alternates step in to claim the coveted spots.
"You have to drop everything," said Wilkinson, an Australian now living in Hawaii. "There's a lot of background organization, and I ask for help from family and friends at times."
Competing in Mavericks is an honor most big-wave surfers only dream about. But it's also expensive. Surfers cover all of their transportation, travel and lodging expenses — not cheap when flights are booked with less than a day's notice.
Some will travel from as far away as South Africa and Brazil. A spokeswoman for the contest said it's unclear how many of the surfers currently reside in the other countries and U.S. states listed on the Mavericks website. But many of them live and surf in California, which makes getting to the competition on short notice a little easier. Eleven-time world surf champion Kelly Slater, for instance, is listed as being from Florida yet lives in Santa Barbara.
Contest Director Jeff Clark and his team are in charge of deciding when Mavericks will be held each winter. They look for weather conditions that will produce huge waves of up to 60 feet.  The call "is a perfect blend of art, science and experience" that involves tracking waves, wind, tides, and swell direction and duration, according to the Mavericks website.
It's not something that can be done accurately far in advance.
Last year, the waves were never deemed large enough — typically 30 to 40 feet, at least — during the contest window, and no competition was held. The window to hold the contest this year opened on Jan. 1 and extends through March 31.
"There's a little communication between officials and surfers," Wilkinson said. "They try to give you a yellow flag, so you have a little more time. And you can look at the swells yourself and start to make preparations."
Chasing massive swells around the world is something big-wave surfers grow accustomed to quickly, Wilkinson said. He has chased waves to Chile with 24-hours notice, and he'll also be following them to Oregon as part of the Big Wave World Tour, a competition that takes big-name surfers around the globe to some of the world's best surf spots.
"The 24-hour window is common, and I haven't had a problem getting to events so far," Wilkinson said. "It can be difficult, though. You might not make it if you miss your flight, or a connecting flight."
The surfers plan ahead as much as possible. Wilkinson keeps a couple of boards in Southern California, and he's prepared to drop whatever carpenter job he is working on when he hears from competition organizers. When the surfers get the call, though, they have to be prepared to take surprises in stride.
"When it comes down to it, you've just got to go," Wilkinson said. "Once they call it on, it's on."