Killed in a car crash. Died in her sleep. Cancer. Drug overdose. Undetermined.
Rosanna Marks reads through the stack of applications to The Compassionate Friends, a support group for families coping with the death of a child or sibling. She lights a lopsided candle on the upper-left stove burner in her Burlingame home before starting a pot of coffee. This happens pretty much every morning.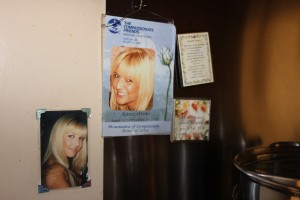 "Oh, let me fix this for her," Marks says, glancing at a small photo affixed to the wall as she stands the candle upright. From the image, Rebecca Marks smiles. Four years ago, Rebecca died of a drug overdose in New York.
Rosanna runs the Mid Peninsula, San Francisco chapter of The Compassionate Friends. She writes the newsletter. She promotes the group. She collects donations. She makes house calls. She picks up the phone in the middle of the night.
After Rebecca's death, Rosanna felt there was nowhere to turn for support. She first looked to her religion and was referred to a rabbi in San Francisco. She remembers picking up the phone and saying into the receiver, "Hello, my name is Rosanna Marks, my 19-year-old daughter just died, and I need some support."
"You'll have to make an appointment after Passover finishes. Please call back after the holiday," the rabbi told her.
"Make an appointment?"
"Yes. When you call back we can discuss payment."
"Payment? How much?"
"It's on a curve. If you can't afford it, we can discuss it later."
"Later? You're discussing it with me now."
Rosanna hung up the phone. She never made an appointment.
'I'll never accept it'
"I'm not supposed to smoke. My family hates it," Rosanna says on a cold morning in early May as she lights a cigarette. Wind blows across the headstones at Mount Hebron Cemetery in Flushing, N.Y., putting out her lighter repeatedly. Once lit, she places the cigarette on her daughter's headstone. "Rebecca Alessandra Marks," it reads.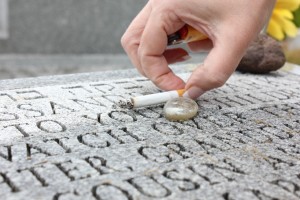 Rebecca died on March 27, 2008 of complications after a heroin overdose. She had been a fashion merchandising student at the Academy of Art and was living with her father, Ron, on Long Island.
That day, Rosanna was in Napa for a weekend getaway with her youngest daughter, Rachel. Around 3 a.m., Rosanna felt uneasy for some reason and began pacing in her hotel room. When the phone rang, she was awake. Her ex-husband's number appeared on the screen. "I thought it was Ronny calling me before work, telling me good morning or something," Rosanna recalls. "He just screamed."
Rosanna and Rachel rushed to an airport and were in New York within nine hours.
"The five stages of death, they're real," Rosanna says, "but they don't come in order. One day I'm angry and the next I'm depressed. I'll never accept it, though. I can never accept Rebecca's death. She's my daughter, it's never okay for her to be dead."
On this visit to the cemetery, the cigarette above Rebecca's headstone burns for a minute before Rosanna picks it up again. "She used to smoke. I like to share one with her when I visit," Rosanna says, putting the cigarette out.
A groundskeeper walks by and looks at her suspiciously.  "I know what he's thinking," she says, "He's thinking 'I know you, you always come and smoke with your daughter.'"
Driving away from the cemetery, Rosanna says she wants to move Rebecca's body to California. "Oh, I know, it's just bones, but at the same time it just gives a little part of the physical world that we're so attached to," she says, her voicing getting softer.
Rosanna separated from Ron in 1998 after 14 years of marriage. For three years after the separation, she ran a successful restaurant in New York. But after Ron remarried, the family dynamics grew tense, and Rosanna moved to Burlingame with her two daughters. "She packed up the kids and flew outta here," Ron says.
Before his daughters moved in with him, Ron visited Burlingame often, and Rosanna was a frequent flier to New York. Rosanna still tries to visit when she can, but much of her time is spent in Burlingame, where she focuses on The Compassionate Friends.
Entering the circle
Rosanna sets out a tray of cookies alongside Styrofoam cups and 2-liter bottles of soda. A dozen name tags rest in a small basket. On a recent evening, people slowly file in to the library tucked away in the back of Burlingame United Methodist Church. A few take their name tags, but almost everyone knows each other by now.
This meeting is larger than usual. Rosanna goes out into the hall and collects enough chairs to accommodate everyone.
"Come into the circle," she says, pulling a reluctant woman inwards.
The Compassionate Friends supports families going through loss. The organization is one of many of its kind for grief counseling. The nonprofit organization Kara offers counseling through structured classes. Many religious organizations provide support as well, which is the path Rosanna first tried. Open to Hope, founded by grief counselor Gloria Horsley, is the largest online grief counseling resource in the world. Horsley also served as chapter leader of The Compassionate Friends before Rosanna took over.
Members of The Compassionate Friends can attend as many meetings as they wish; attendance is voluntary and donations are the only revenue source. "I've been to every meeting for almost three years now," says Terrilee O'Rourke, whose son, Christopher O'Rourke-Marque, died in a motorcycle accident. Each week focuses on a different theme and members speak up as they feel comfortable.
Rosanna joined the Mid-Peninsula, San Francisco chapter in May 2008, shortly after Rebecca's death. She was watching a television program about a group of women who wrote a book about dealing with the death of their children. Her interest piqued. "If it wasn't for The Compassionate Friends, we don't think we'd be here," the women said on television.
Rosanna looked up the organization, found Horsley's phone number and was invited to a meeting in Palo Alto.
"Gloria told me, 'You will laugh again. You will smile.' That was what I needed. I found so much hope in her." She asked Gloria if she was running The Compassionate Friends alone. "We could use a little help," Gloria told her.
Rosanna first offered to write articles for the newsletter. Eventually she took charge of it entirely. As Gloria's other responsibilities increased — she was busy with a radio show for Open to Hope — Rosanna moved into a stronger role with The Compassionate Friends. Gloria appreciated all she was doing but worried that, less than a year after Rebecca's death, Rosanna was moving too fast. They decided to try it out.
"The best part about Rosanna is that she isn't talking from a distance," says Maureen Murphy, a member of The Compassionate Friends. Maureen says Rosanna leads as she learns, which builds a strong connection with the group.
"Rosanna is always ahead of me by about six months," O'Rourke says, explaining that their respective children died half a year apart.
A Surprise Encounter
The sun has broken through the clouds since Rosanna left the cemetery. Walking down Mulberry Street in New York's Little Italy, she pulls a young waiter by the side of one arm. His eyes widen, confused.
"Do you see that woman in the back?" Rosanna asks.
"No. Wait, who?"
"The one that looks like me."
"No," he looks, making sure.
"Oh, come on, the old one in the back."
"Ah, you mean Lunella? Of course. Why?"
"That's my aunt. If she sees me smoking she'll—"
Lunella Russo, owner of Lunella Ristorante Italiano, turns around immediately. She makes eye contact with Rosanna, who spits out her cigarette and stomps on it as she walks into the restaurant. "Looks like I've been caught," Rosanna says.
Before she can make it more than halfway into the restaurant, a voice calls out. "Rosanna!" She turns around and sees her uncle, Tony Russo, Lunella's husband.
Lunella moves towards an open table as a waiter clears it off, replacing the tablecloth. "How are the two of you?" Rosanna asks as a glass is placed in front of Lunella. Another waiter fills it up as the first brings out a plate of fresh oysters, a jar of garlic and Tapatío brand hot sauce.
Rosanna doesn't wait to hear an answer.
"You're going to eat those raw?" she asks in disbelief.
Lunella nods, her mouth already full.
"But, ugh, I can't watch. What about bacteria?"
Lunella finishes her bite. "What bacteria?"
"I was just visiting Rebecca," Rosanna says. Lunella reaches into her jacket pocket and finds nothing, disappointed. "I'm missing it," she says, blaming the dry cleaners on losing her photo of Rebecca. Lunella continues to eat her oysters.
Rosanna can't take her eyes off the oysters. "How long has this been going on?" Rosanna asks Tony, referring to the length of their marriage. He shrugs. "You let her eat that right in front of you and you don't even care!" Rosanna exclaims. "That must be love. Goodness how long have the two of you been married again?"
Lunella has her mouth full.
Rosanna looks to Tony again.
The same shoulder-shrug answers.
"No, really, how long?" Rosanna presses.
"I don't know," Lunella says.
"You have to know, come on."
"I don't."
"Yes you do."
"I don't! I don't!"
Rosanna looks to Tony for the answer.
"Three years," he says.
Lunella smiles.
"Every three years we get a divorce and then we remarry," Tony jokes.
"It keeps the marriage fresh.
"Really, come on, how long?" Rosanna must know.
"We were married in 1965," Tony succumbs.
"1966!" Lunella corrects him.
The conversation turns from marriage to family to friends to neighbors. Lunella tells Rosanna about the death of a neighbor. Tony asks if Rosanna heard about the SUV that turned over on the Brooklyn Queens Expressway. Seven people died. Yes, she had.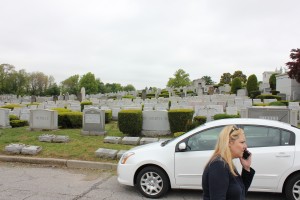 The Compassionate Friends is a full-time commitment for Rosanna. She's owned and managed several restaurants and spent a few of her years in New York as an interior designer. She helps her second husband with his restaurant when she can. But much of her life after Rebecca's death is focused on keeping her alive.
"For me, I need to make sense of death," she explains. "I can't let Rebecca's death mean nothing. I have to turn it into something good."
She acknowledges that The Compassionate Friends is exhausting, that sometimes it becomes too much to want to bear. When she writes the newsletter she has to do it all in two nights, otherwise she becomes too depressed with other members' grief.
"It's good for her. I've seen her at work, making calls, helping people out, and it's really good for her," Ron says. A serious man, private, he's seen death at a young age and says he deals with it differently than most. "I'm not gonna go talking about the people I've seen die," he explains.
But for Rosanna, he understands that she needs the group and the group needs her. He hopes she returns to New York one day, though. "Her family is here. Her mother, aunts, uncles, Rachel, everyone, everyone's here."
Rachel, 19, lives with her father in Long Island while she currently re-enrolls in school. She wants to pursue criminology. But for the time, she is working as a baby sitter for a couple in Manhattan who have two children. Like any 19-year old, she is uncertain about the future, frustrated about her job, and insists that her GPS satellite device in her car is more accurate than her mother's. On the inside of her right forearm, tattooed in roman numerals, is her sister's birthday.
"When people ask me I either say it's an important number or I just tell them straight," she says. "Sometimes people keep the conversation going easily, sometimes they say it's sweet. Sometimes they don't get it though." She looks down at her tattoo.
"I'm happy my mom does it, it just isn't how I deal with it," Rachel says.  "I've been to some of the meetings, and it looks like it helps everyone there. I'm happy she does it, and I'm happy she's helping people."
Leaving Ron's Long Island home, Rosanna talks about "leaving a mark" on the world. "All we want to do is leave a mark, we want to be remembered. We want to at least try to be good. I'm doing that right now. For me and for Rebecca."