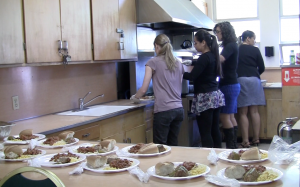 Every Wednesday evening, dozens of families make their way along Bay Road toward St. Francis of Assisi Church in East Palo Alto, by car and on foot. Their symphony of chatter grows progressively loud as they approach the main church hall. The draw is a hot meal, on the house.
A young boy zips past on a scooter one recent Wednesday, his mother chasing behind and shouting in Spanish that he needs to finish his spaghetti. Volunteers in the kitchen are in high spirits as they fill plates, assembly line-style, with spaghetti, bread, corn and stuffed peppers.
"A few years ago, we would see 10 to 20 kids come out on these nights, but now this number has gone up to 100," said Lesia Preston, executive director of the nonprofit Ecumenical Hunger Program, which prepares and serves the meals in partnership with the St. Vincent de Paul Society.
About a mile away at the Ravenswood Family Health Center, Dr. Lisa Chamberlain encounters situations like this almost every day. Doctors at the clinic ask a series of screening questions to assess whether families are able to meet their basic needs. As the Great Recession of 2008 stretched from one year to the next, Chamberlain began to notice a significant rise in the number of people answering "no" to the question "At the end of the month, do you have enough money for food?"
About one in three families at the clinic now screens positive for what's called food insecurity, she said.
"It is important to understand the distinction between food insecurity and hunger," said Chamberlain, a pediatrician based at Stanford University's Lucile Packard Children's Hospital. The latter, she explained, is when family members are hungry and cannot afford the next meal. Insecurity means they constantly stress about having the money to buy food.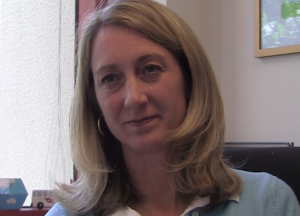 Food insecurity among children is at the highest level recorded in the United States, according to a report published by Feeding America, a nonprofit network of more than 200 food banks. The 2011 report, based on Census data from two years earlier, projects the percentage of children in a state with food insecurity. In California, it was 27.3 percent.
Even before the recession, child hunger in low-income communities always spiked from June to September. That's because the National School Lunch Program, which sponsors up to 10 free or reduced-­price meals a week per child, operates during the normal school year. As of March, an estimated 80 to 90 percent of Ravenswood School District students were enrolled in the lunch programs, according to the state Department of Education.
In East Palo Alto, physicians, education officials and nonprofit leaders have been preparing for what Chamberlain calls "a perfect storm" this summer. The city's unemployment rate hovers above 15 percent, while resources for nonprofits and for state and federal programs are stretched thin.
Over the past eight years, Chamberlain has developed a close relationship with her Ravenswood patients. She has witnessed a disturbing decline in the economic well-being of many families. The doctor recalled an encounter from last fall when a mother, breast-­feeding an infant, shared that she was hungry most of the time. "I had known this family for four years and they hadn't experienced such hardships before," Chamberlain said.
Another family brought in a 5-year-old to see her for a routine exam. When the mother confided that they were struggling to make ends meet, Chamberlain referred them to local nonprofits and handed out farmers market vouchers. A week later they returned, but not for any medical reason. They wanted more vouchers.
"Her children had not had fresh fruit and vegetables in such a long time that they just wolfed them down," Chamberlain said.
Helping hands, stretched thin
Like Chamberlain, Preston is intimately acquainted with the people who knock on her door every week, and sometimes daily, seeking support. 
In addition to providing the Wednesday meals at St. Francis of Assisi Church, the Ecumenical Hunger Program (EHP) maintains a pantry that supplies basic items such as bread, canned peas, cereal and pasta. The pantry is open four days a week.
"We even offer women counseling services because hunger and unemployment are not the only issues families in East Palo Alto struggle with," Preston said.
Thanks to EHP and CalFresh, California's version of the federal Supplementary Nutritional Assistance Program (SNAP), many families are able to secure enough food, though just barely.
Preparing for summer, EHP has started a children's hot lunch program. More recently, the nonprofit partnered with pediatricians at Stanford, including Chamberlain, to promote and provide healthy food for kids to take home over the weekend. A gardening program is part of this effort to promote nutrition. On an acre owned by EHP, children not only learn how to grow fruits and vegetables but also how to cook them.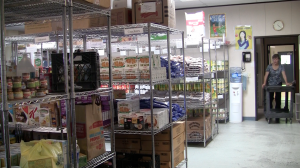 EHP's resources are limited, however. "Sometimes those (pantry) shelves can get very bare," Preston said. When they do, the organization reaches out to churches and other groups to organize food drives. EHP stays in close touch with Second Harvest Food Bank, one of its major suppliers.
"The number of people we serve in San Mateo and Santa Clara (counties) has gone up by 50 percent since 2007," said Janet Leader, director of services at Second Harvest Food Bank.
In recent decades, East Palo Alto has seen both a major demographic shift, from being majority African American to heavily Latino, and an influx of high-end development such as the Four Seasons Hotel overlooking Highway 101. But it remains one of San Mateo County's least economically prosperous cities.
Second Harvest is second only to CalFresh in terms of the amount of food support it offers to residents of the two counties, serving an estimated 250,000 people, Leader said. The food bank works with youth programs, pantries and soup kitchens. It also offers direct help to low-­income families.
One of its programs is Kids NOW, short for "nutrition on weekends," through which children enrolled in after-­school or youth programs receive a weekly bag of fresh groceries.
Another initiative is "Share Your Lunch." Citizens are encouraged to donate money to ensure that children do not go hungry over the summer. Second Harvest says that with each dollar donated, it will provide a child two healthy meals.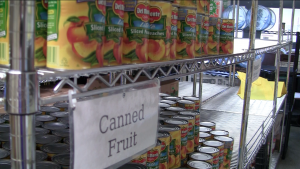 On a larger level, the food bank is working to raise awareness about CalFresh, which requires that residents go through an application process."CalFresh is the greatest food resource for low-income families, but many who are eligible do not apply," Leader said.
California Food Policy Advocates, a group formed to help low-income citizens, released a county-level analysis earlier this year, and San Mateo County ranked 57 out of 58 counties for CalFresh utilization. The advocacy group estimated that if CalFresh reached all income-eligible individuals in the county, families now missing out would receive, in aggregate, an estimated $84.8 million in federal nutrition benefits each year.
"Folks feel comfortable coming to us for help, especially those residents who are undocumented," EHP's Preston said, which explains why a large part of what Second Harvest does is help people apply to CalFresh and debunk some of the myths associated with federal support programs. Non-citizens comprise nearly a third ofEast Palo Alto's population, Census figures show, and a sizeable number are undocumented.
"Raising awareness in the community about who is eligible is key," Leader agreed. For example, many undocumented parents may not be aware that they can legally apply to CalFresh as long as their children are citizens.
Crucial summer months
East Palo Alto is surrounded by some of the nation's wealthiest communities, and Chamberlain believes the contacts in her Rolodex can help feed the city's children. The combined per capita income in San Mateo and Santa Clara counties exceeds the rest of the country's by nearly 60 percent, according to the 2012 Joint Venture Silicon Valley Index.
"After I heard some of the horror stories from EHP this past holiday season, about the number of people that thronged to their doorstep, cold and hungry, I couldn't understand how this could be happening here," Chamberlain said. "The contrast between the incredible wealth and abject poverty is hard to live with."
She has begun to work closely with the Ravenswood School District, which includes kindergarten through eighth grade in East Palo Alto, to identify the families most in need. The district came up with a number: 700.
Chamberlain recently convened an informal meeting at Stanford and invited a cross section of medical experts and community organizers to highlight the problem and organize a summer feeding effort. As of July 6, thanks to successful fund raising, they have distributed 5,500 meals through their summer lunch program.
"I did not understand the term 'jobless recovery' that was always being talked about on NPR, till I saw this data," Chamberlain said at the meeting, pointing to a chart prepared by the Kaiser Family Foundation. It showed that compared with past U.S. recessions, the recovery from this one has lagged dramatically in terms of job creation.
Labor Department statistics released on June 1 highlight this sluggish recovery. The net of jobs in May was 69,000, down from an average gain of 245,000 from the months December through February. The nation's unemployment rate also rose slightly, to 8.2 percent in May.
At the same time, California's projected budget shortfall has ballooned to $16 billion, up from a January estimate of $9.2 billion.
"State budget shortfalls, as a nation, are unprecedented with this recession," Chamberlain said. "So we are stuck in a Catch-22 situation — when people need the most support is when the state is least likely to provide it. The same goes for foundations who fund nonprofits."
Tackling child hunger during summer months is crucial because of the relationship between nutrition and academic performance, she told the group gathered at Stanford.
Inadequate nutrition adversely affects a child's learning, social interaction and productivity, according to Feeding America's report, titled "Map the Meal 2011." The report points to a large body of research — including that done by Children's HealthWatch, a network of pediatricians and public health researchers — that demonstrates how food insecurity dramatically alters a child's brain and how this is linked to poorer school performance among older children.