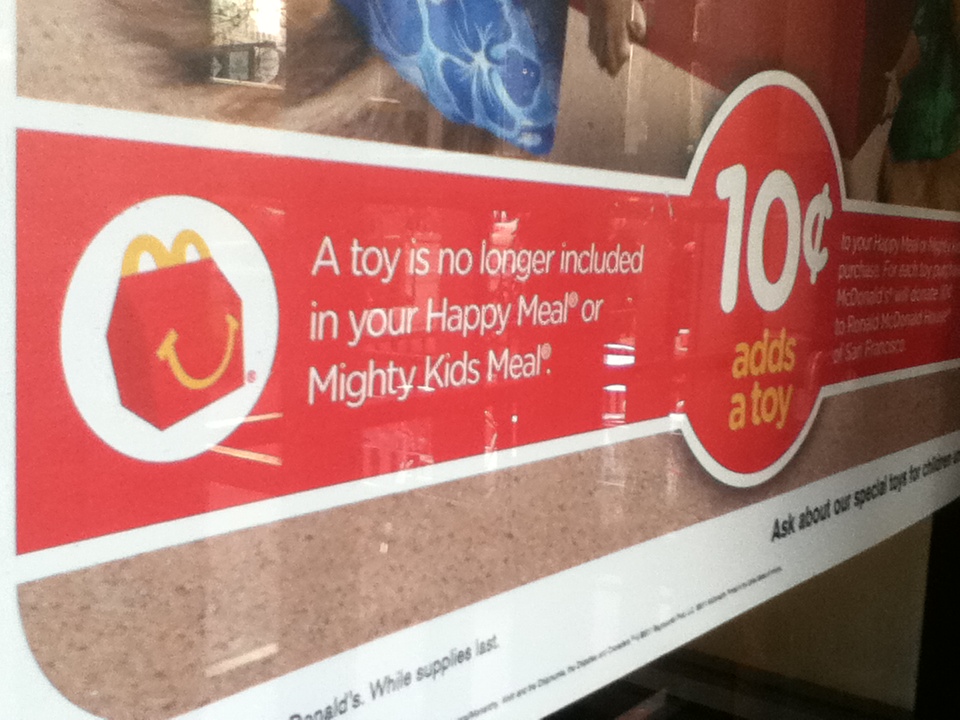 In McDonald's restaurants around San Francisco, the writing is on the wall. "10¢ adds a toy," colorful posters declare.
San Francisco is the first major U.S. city to prohibit fast-food restaurants from using free toys as incentives to get kids to order high-calorie meals. The law took effect Dec. 1., and menu changes are evident: McDonald's and Burger King now serve apple slices, non-fat milk and non-sugar-sweetened juice as part of their children's meals. (The restaurant chains say the changes were not prompted by the city's law.)
But you can still get a toy with a Happy Meal in San Francisco by donating 10 cents to Ronald McDonald House Charities. Burger King offers a toy for a dime as well. Jack in the Box has discontinued its toy incentive nationwide, a decision the company says is unrelated to any ordinance.
A McDonald's spokesperson, Danya Proud, said a large number of parents still wanted a toy included. "While we applaud the (San Francisco) Board of Supervisors for their intentions, we do not believe that the ordinance is a long-term or reasonable solution to childhood obesity," she said. The inclusion of apple slices, which will happen nationwide next year, was part of McDonald's menu changes in the works since last summer, Proud added.
San Francisco Supervisor Eric Mar, who spearheaded the Healthy Meal Incentive law, said he is satisfied with the early results despite pushback from food chains. "McDonald's brought out their top lawyers, executives and nutritionists to try and intimidate us," Mar said. 
Santa Clara County was Northern California's first jurisdiction to tackle what some call the predatory marketing of unhealthy foods. Distribution of free toys with fast-food meals in unincorporated areas of the county has been banned since August 2010.
Christopher D Gardner, co-investigator of a Stanford University School of Medicine study titled "Food Marketing to Children Through Toys," said that denying kids free toys with their fried nuggets will not end the nation's obesity problems. However, he said, it's a piece of a larger puzzle. When you add the laws in San Francisco and Santa Clara County to various national efforts — such as calorie labeling by restaurant chains and First Lady Michelle Obama's "Let's Move" campaign encouraging exercise and healthy eating — the impact is more profound, according to Gardner.
In another possible step, voters in the East Bay city of Richmond will decide next year whether to impose California's first local ban on sugary drinks.
The recently published Stanford study looked at how fast-food restaurants responded to Santa Clara County's ordinance. In the 90 days before it took effect, restaurant companies made positive changes to their marketing strategies by de-linking the distribution of toys from high-calorie meals. At the same time, promotion of healthy menu items increased, the study found.
"The ideal situation would be if they reformulated the contents of their meals and added healthier items to their menu," Gardner said.
The main sponsor of Santa Clara's ordinance, Supervisor Ken Yeagar, said the county succeeded in raising public awareness. He hopes parents will take notice and make smarter decisions for their children.
In San Franciso, Supervisor Mar points to the restaurant industry's "Kids LiveWell" campaign, which features a pledge by 19 restaurant companies to offer more-healthful menu options for children. Because the Santa Clara County ordinance was limited to unincorporated areas, he believes the city's law has been more influential.
While there may not be a definitive study linking toys to obesity, Mar said, there is enough evidence to show the effects of marketing on children's eating patterns.
In a 2010 study, Yale University's Rudd Center found that the average child and adolescent in the U.S. — the age range was 2 to 17 — was exposed to three to five ads per day. In addition, according to the Rudd Center, the 13 McDonald's websites got 365,000 unique child visitors and 294,000 unique teen visitors on average each month in 2009.
About 40 percent of children ages 2 to 11 asked their parents to go to McDonald's at least once a week, the Yale study found, while 15 percent of preschoolers ask to go every day.