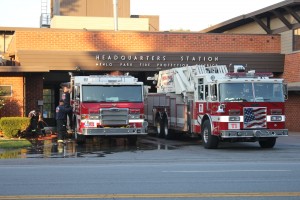 The union representing Menlo Park district firefighters has threatened legal action over plans to reduce employee benefits and change working conditions.
One contentious proposal still under consideration would create a second-tier retirement system for firefighters hired on or after Jan. 1, 2012. Under the plan, new employees would get a less lucrative pension and "defined contribution" program, such as a 401(k), than what current firefighters receive.
Meanwhile, changes recommended by Fire Chief Harold Schapelhouman and unanimously approved by the five-member Fire Protection District board include:
New employees will not be eligible for retirement health benefits.
For current firefighters, retirement health benefits are being phased out. Those already retired see no change.
New hires will not receive any benefits while they are in the Fire Academy or working as trainees.
New firefighters are required to live within a two-hour drive of the district. Current firefighters are subject to the same limits if they move from their current residence.
Firefighters will be expected to start their 48-hour shifts at 7 a.m., instead of 8 a.m., and end the regular workday at 6 p.m., instead of 5 p.m.
Firefighters cannot switch stations and shift assignments for a two-year period, instead of being allowed to change more often.
Holiday pay is being eliminated. In addition, salaries are effectively frozen.
Some of the changes, including those related to vacation time and workplace/shift assignments, took effect last month. Others, such as the residency requirement and work times, are effective in January.
The new policies, as well as the proposed two-tier retirement program, have produced an outcry from the union leaders.
"These changes are far outside the bounds of what is normally seen in our department," John Wurdinger, vice president of the Menlo Park Firefighters Association, said in an interview. He said the union plans to use the state court system to fight what it considers "unlawful and unjust" labor practices.
Chief Schapelhouman said the changes are needed to gain efficiencies and reduce costs. Board Director Peter Carpenter added that funding of firefighters' salaries and retirement benefits has increased to the point where the district cannot afford it.
"The fire district is one of the very few public agencies that does not have a deficit, because we exercise good financial discipline," Carpenter said.
According to the district's annual financial report, there was a surplus totaling nearly $8.7 million for the two-year period from July 1, 2007 to June 30, 2009. Carpenter said revenue growth is expected to slow or drop in the near future due to economic conditions.
The district is funded primarily through property-tax revenue. With an annual budget of about $30 million, it serves the communities of Atherton, Menlo Park, East Palo Alto and some of the surrounding unincorporated areas.
Firefighters earn an average of $125,900 in wages and benefits per year, according to the district. They serve a city with expensive housing: Menlo Park's median household income is $103,702. East Palo Alto's, by contrast, is $49,267.
The district's current pension plan entitles a firefighter who works for 30 years to receive 90 percent of his or her highest salary. This plan cost the district about 39 percent of its payroll in 2009, officials said; the share is projected to increase to nearly 50 percent by the end of this fiscal year.
Union leaders say their members earn less than the average firefighter in the region. A document provided by the union showed that in 2009 the total hourly pay rate of Menlo Park firefighters was $35.56, or 6.32 percent less than the average firefighter at nine similar agencies surveyed.
Randy Kelly, a Menlo Park firefighter and a union representative, said firefighters also are upset by how Schapelhouman and the district board implemented the changes.
"Money doesn't matter the most. My working conditions have changed, but what bothers me more is that they just pushed their way and made the changes," Kelly said. "This shows no respect for us and has created a stressful environment for our employees."
The union understands the city's financial need to reduce retirement benefits, which "could be a reasonable thing to do," Wurdinger said. But the way the district went about it, he said, was "completely unlawful and inappropriate."
The union has filed an unfair practice charge with the state's Public Employee Relations Board (PERB) over the changes in working conditions — the third charge it has filed against the district since 2009.
"It took us two and half years to get through the first charge," Wurdinger said.
In April, 2011, the district imposed a contract on the union that offered no pay raises, but included $750 a month in additional benefits.
The fire board blames the union for failing to accept its invitations to negotiate. Carpenter said the board had to move ahead, even though the union had not agreed to reopen talks. "Their unwillingness to do so doesn't relieve us of the responsibility to effectively manage this district," he said.
Union leaders vow to stay away from the negotiating table until the 2009 unfair practice charge has been resolved. The PERB hearing has been completed, but no decision has been announced.
In response to the changes, Wurdinger said, five of Menlo Park's most senior firefighters have called the Benefits Communication Network Company, which coordinates firefighters' benefits, to inquire about retirement.
[youtube]F_8bh8l39Og[/youtube]