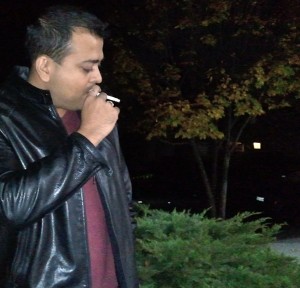 If you like to duck outside for a smoke break at work or enjoy a cigar after an evening meal, Mountain View may not be the place for you.
Already, the city bans smoking inside public buildings and within 30 feet of playgrounds. Now a proposed ordinance seeks to extend those restrictions to outdoor areas within 25 feet of any publicly accessible building, including restaurants and bars.
If approved by the City Council, the ordinance also would prohibit smoking in areas of public parks where food and drinks are served, and it would impose a $50 fine on violators.
The council is expected to vote on the proposal in January. Until then, city officials are gathering citizen's opinions through an online survey.
During a November council meeting when the plan was first presented to the public, nightclub and bar owners were vocal opponents. They argued that some of Mountain View's most popular attractions — its public parks and the commercial strip on Castro Street — would suffer because some smokers would stay away or go elsewhere.
Sara Zigler, whose Zen Lounge is a nightclub on Castro Street, cited a potential loss of business. "I think an exception will have to be made for businesses like mine," Zigler told the council. A consequence of the legislation, she predicted, would be increased smoking in alleys and on the street.
Mountain View is the latest city in Santa Clara County to target smokers. Since November 2010, Sunnyvale, Palo Alto, Gilroy and Cupertino have all passed legislation aimed at reducing second-hand smoke.
In a 2011 Community Health on Tobacco Report Card, Mountain View tied Saratoga for first place with 95 out of 100 points. The report card — sponsored by the Tobacco Free Coalition of Santa Clara County and the county Public Health Department, among others — graded cities on their "tobacco control policies."
Mountain View's latest proposal gained momentum after the county received a $6.9 million federal grant to reduce second-hand smoke exposure of residents. That money has been distributed to cities.
No city in the Bay Area has tougher smoking regulations than Belmont in San Mateo County, which restricts smoking inside some private homes — specifically, those in multi-unit, multi-story residences such as apartment buildings, condominiums and townhouses with shared ceilings or floors.
A similar proposal is not on the table in Santa Clara County, though officials say they are moving gradually toward stricter non-smoking laws on a city-by-city basis.
Kim Castro, Mountain View's youth resource manager. said cracking down on second-hand smoke exposure of outdoor dining patrons is a "priority the City Council wanted to set."