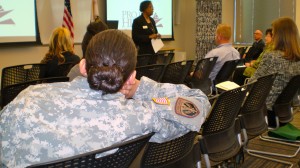 Since the Obama administration pulled the plug on Operations Iraqi and Enduring Freedom and called for nearly all American troops to return home by the end of 2011, veterans have rejoined the job market in droves. Silicon Valley companies are taking note.
Many employers are stepping up to employ veterans, even creating internal military support infrastructures designed specifically to discover and utilize the skill sets of returning servicemen and women.
Palo Alto-based Varian Medical Systems Inc. (NYSE: VAR), a medical device manufacturer of cancer radiation and therapy equipment, has made military recruitment a corporate priority. In 2010, G.I. Jobs Magazine identified the company in its annual list of the top 100 military-friendly employers.
"We honor and welcome America's military men and women and invite them to join in our mission when they've completed their active service to our country," President and CEO Tim Guertin told the magazine after receiving the acknowledgement. "Their fighting spirit is what we need to help win the war against cancer."
The war on cancer is just one of many starting points for employment advantages now available to veterans.
Thanks to initiatives from the Department of Veterans Affairs, the expansion of the Veterans Jobs Corps, the implementation of the 2011 Vow to Hire Veterans Act and the educational workshops offered by the Transition Assistance Program, a workshop designed by the Department of Labor to help soldiers return to civilian life, military veterans are outpacing national job growth rates.
The current overall rate of employment for veteran as of March 2012 is 8.3 percent, better than 8.7 percent as compared to one year ago, and just above the 8.2 percent unemployment rate for all Americans. These latest figures were released by the Obama administration late last month as part of the president's push to cut unemployment rates among veterans.
Though seemingly good news, the hardest hit group still remains young male veterans. A report released by the Bureau of Labor Statistics found that the unemployment rate for younger male veterans who served in Iraq and Afghanistan is 29.1 percent as of March 2012. That is 11.5 percent greater than their nonveteran counterparts who have an unemployment rate of only 17.6 percent.
James Bazemore, who was recently hired as an installation representative for Varian, got a leg up in the job hunt through a friend and former veteran who already worked at the company. After almost a decade of service in the nuclear power division of the U.S. Navy, Bazemore found steady work as an engineer in Silicon Valley until the 2008 recession.
"I was unemployed for two years after that," Bazemore said. After a long job search, he sought out Varian through a veteran friend who previously tried to recruit him in 2004.
"They have a culture that likes veterans," Bazemore said. "I don't know what the company's official reason is, but my personal reasoning is that military people have a work ethic that employers like."
The company's staffing and global mobility manager Eric Bodtker echoed those sentiments, saying former veterans seem to have "a sense of mission" when going into the field and doing their work.
"The urgency to help is there," Bodtker said. "They know lives are in danger and the military training really helps put that into focus and get the job done correctly and quickly in most cases."
Varian has hired almost 700 new employees in the last two years, growing approximately 10 percent yearly in new hires.
"As a medical device technology company, Varian is a lot more stable than regular technology companies," Bazemore said. "Even during the economic downturn, people still get cancer and probably lots of hospitals and clinics get grants to buy machines."
When hiring veterans, Bodtker says he looks mostly for individuals with a background in electronics equipment like radar, sonar, radio frequency and strong IT networking exposure. Varian makes X-ray scanning and imaging technology that the military uses to look for drugs, humans, weapons, dirty bombs and other possible dangers along the border.
Varian has job-training facilities across the world. The most recent opened is in Japan. Stateside, Bazemore is currently working at the company's Las Vegas facility.
"High-tech jobs in the military transition well into high-tech jobs in the civilian world," Bazemore said.
He estimates most of the new hires he works with have military backgrounds in electronics, missile technology, nuclear power and medical equipment.
"It's a hard job," Bazemore said. "Not everyone can do it but, compared to the military, it's easy."
While the technical aspects of the job may not be problematic, emotional distress during military service is a factor that still affects former veterans across the field.
"I think we've had an okay time with that," Bodtker said in regard to Varian's history helping veterans cope with Post Traumatic Stress Disorder and other post-war emotional issues. Varian has a relationship with the organization Project Hired, a local not-for-profit, that works to help veterans find employment.
Palo Alto-based Project Hired has been working since 1978 to help foster open communication and bridge the education gap between employers and employees about mental and physical disabilities in the workplace.
"My son's done four tours, three in Iraq and one in Afghanistan," said Gwen Ford, Project Hired's executive director. "I've always wanted to do more than just sending care packages over."
Ford has worked her entire career in human resource management and climbed the ladder at Project Hired. Her goal is to help veterans with or without disabilities find steady work. The program has placed employees in Silicon Valley, across California, Colorado and Virginia and is now looking to expand on the east coast.
"We not only support the veterans, but we support the employers," Ford said. "So, that when they hire a veteran, we're there to help coach them and train them to make sure they have all the tools they need to retain that individual.
According to a 2010 study released by the U.S. Department of Veterans Affairs, 6.7 percent of all medical benefits linked with service-connected disabilities dealt with mental health issues. Of those, 57.1 percent were categorized as stress disorders, 11.3 percent were major depressive disorders and 5.9 percent were generalized anxiety disorders.
A total of 192,576 military veterans of the approximately two million who served in either Iraq or Afghanistan have been identified as having one of those three mental health issues according to the National Center for PTSD.
"People with disabilities have always been stereotyped and discriminated against," Ford said. "And so the veterans do not want to tell anybody that they have a disability if it's not visible."
Martez Lester, a former veteran and Project Hired employee, says that veterans often hide their disability during job interviews.
Ford said that veterans often believe if their mental disabilities become known that "employers are going to think they will become workplace violence subjects," which she says is untrue.
"It's a misperception," said former veteran and Project Hired employee Michael Magpusao. Magpusao and Lester work at call centers for veterans' hospitals in Palo Alto and Mayther, Calif., respectively.
"Everyone has problems – civilian, veteran, disabled vet," Magpusao said. "It's just, I think, magnified when it's a disabled vet coming back from a war."
Since 9/11, more than two million service members have deployed to either Iraq or Afghanistan, the majority of whom are now part of the civilian population seeking employment.
"That's a huge chunk of our workforce," Bodtker said. "It's important that we address that and those people."