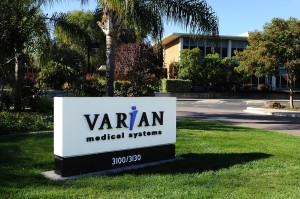 Palo Alto – Varian Medical Systems, Inc. (NYSE: VAR) released its earnings on Jan. 25 for the first fiscal quarter ending Dec. 30 and reported a decline in profit but increase in revenue compared to the same quarter a year ago. Movement was mostly due a slowdown in demand, primarily in Japan where customers reported an overstocking of medical tubes and panels after the earthquake and tsunami ravaged the country in 2011. Varian, based in Palo Alto, designs and manufactures equipment and software used to treat cancer.
The company also produces and sells linear accelerators and digital image detectors and tubes for X-ray machines.
Revenues for the first quarter totaled $625.3 million, up 8 percent from $579.9 million for the same quarter a year ago. The company's upswing trend fell in line with profit increases over the last three quarters and revenue increases over the last four. However, total company revenue did not meet the $633.26 million projected by analysts.
Net earnings were down to $90.2 million, or $0.79 per share, from $96.5 million, or $0.80 per share, in the same quarter a year ago. In spite of the 1 percent slide, the company still beat analyst expectations of $0.75 per share.
Of the company's product lines, Oncology Systems had the best first quarter with revenues totaling $488 million, up 8 percent from the same period a year ago, while X-Ray Products took the biggest hit, rising only one percent to $133 million compared to  the first fiscal quarter  of 2011. On a call with analysts, Chief Executive Tim Guerin noted that the cause of the weakness there was mostly related to the overstocking in Japan. The company's other businesses, Security and Inspection Products, Varian Particle Therapy, and the Ginzton Technology Center, reported $25 million in Q1 revenues, up $9 million compared to  the first quarter last year. Installations of the Scripps proton systems to therapy centers were the driving force there.
"While we met our guidance for net earnings and revenues, this was a challenging quarter for the company in a variety of ways," Guerin said in a statement.
One reason for the profit dive was the company's $10 million acquisition of Calypso Medical Technology, Inc., a cancer therapy and medical device company based in Seattle last October that Guerin said had "dilutive effects."
Inventory backlogs are also shaping up to be a big problem for the company in the short term as it ended the first quarter with a $2.5 billion backlog, up 14 percent from the same quarter a year ago. Some analysts  said that this increase of unprocessed orders  indicates the company has saturated  the North American market,  but not everyone agrees.
"Saturation is a bit of a loaded word, it's a replacement cycle," Les Funtleyder, a former Varian analyst and current portfolio manager for the Miller Tabak Transformation Fund, which invests in Varian said in an interview. "As in terms of new places, yes, there's an issue, but most of these machines have a life span of 10 or 12 years and they need to be replaced," he noted.
The company says it  is banking on the expansion of  its proton therapy system,  an advanced radiation treatment , but this sector accounts for $48 million of the company's backlog.
"I think there is growth in the North America market, but it's in the single digits," Guertin said in a conference call with analysts. "While speeding up the replacement market "would be nice," Guertin is not expecting "stupendous growth." He noted that the most profitably source of growth would be opportunities abroad.
The company saw a 27 percent rise of net orders in the Far East and Europe. Latin America and Australia saw an 18 percent and 37 percent rise, respectively. As these emerging international markets become drivers for Varian's growth globally, the expectations for North America have slowed.
The departure of competitor Siemens Healthcare USA, Inc., the American division of the German medical supply company, from the linear accelerator business in December 2011 has opened a few doors domestically.
"Varian has been selected to replace more than 50 Siemens units within the last fiscal year…and we're now pursuing additional opportunities," Guertin said. "While it represents a growth opportunity for the rest of us, it's too early for anyone to claim that Siemens' decision has resulted in additional business for them."
Looking forward, the company said it is expecting a 12 to 13 percent per-share profit growth in the second fiscal quarter in addition to an 8 percent overall revenue increase by mid-year. For fiscal year 2012, Varian expects a 10 percent increase in annual revenues and a 15 percent rise in earnings per share.
Long-term investors, according to Funtleyder, are much less concerned with quarterly shifts.
"The trading action on any given day doesn't cause us a lot of concern," Funtleyder said. "If someone was to create a pill for cancer or a better machine, those are the kinds of things we look for. Unfortunately, a cure for cancer doesn't seem to be coming in the near future."
At the 4 p.m. close of trading on the New York Stock Exchange on Jan. 25, Varian shares had risen to $69.24 from $68.25 for that day. After earnings were released, shares fell in after hours trading to $66.25. The stock ended Feb. 3 priced at $67.89.