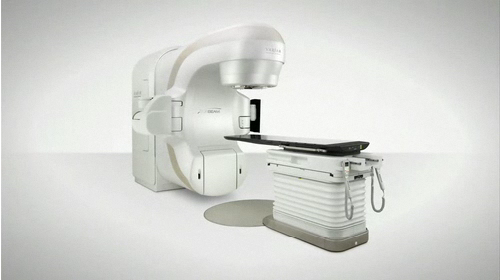 Varian Medical Systems (VAR: NYSE) announced in March that it would acquire InfiMed, Inc., the privately-owned New York-based workstation supplier of X-ray imaging hardware and software, for $15 million cash plus company sales earnings over the next two years. This is the second medical device and software company Varian has acquired in the past six months. In September 2011, the company also bought Seattle-based Calypso Medical Technologies, Inc. for $10 million in cash and potential earnings based on product sales over the next 30 months.
Varian, a medical device and software manufacturer specializing in cancer treatment and X-ray imaging, has developed and is executing a multi-prong approach to the market. Not only has the Palo Alto-based company been purchasing smaller technology companies, but it has also been increasing its presence abroad.
Worldwide, Varian Medical Systems retains corporate bases in 21 countries and nine states. This year Varian signed a $77-million contract with the Saudi Particle Therapy Centre at the King Fahd Medical Center in Riyadh, Saudi Arabia and has committed to at least three contracts with the St. Petersburg Center of Nuclear Medicine in Russia to provide proton therapy equipment for newly built facilities in those countries.
Over the past five years, the company has made a concerted effort to establish itself as a competitive force overseas. Talk of market saturation in North America swirled in January around the time Varian announced its fourth quarter and end-of-year corporate earnings.
The day after its earnings call, Varian announced a $77-million multi-year service contract with the Saudi Particle Therapy Centre at the King Fahd Medical Center in Riyadh, Saudi Arabia to supply its new proton therapy facility with TrueBeam technology, which is a new cancer-treatment platform that utilizes image-guided radiotherapy and radiosurgery to help patients. In late February, the proton therapy center at the St. Petersburg Center for Nuclear Medicine in St. Petersburg, Russia announced a $50-million, three-contract deal with Varian, also for proton therapy equipment. Three more contracts between the center and Varian are said to be on the table.
At the time, Chief Executive Officer Tim Guertin addressed the company's single digit growth in North America over the past year, but skirted around Varian's lack of notable growth in the potentially over-supplied North American region. He called it a "replacement market" and said that, over time, "the major source of growth for the company is going to be outside of North America."
"If we can stimulate the market, we can still see [growth] in the single digits for North America," Guertin told analysts on the call. "It's very important for us to get companies like TrueBeam at high take rates outside of North America."
Guertin's strategy appears to have paid off. The key to Varian's growth abroad is the expansion of its TrueBeam proton therapy system.
While expanding, the company faces uncertainties due to the volatile healthcare reform policies coming out of Washington and a weak capital-spending environment in Europe.
Nevertheless, according to record earnings reports filed with the Securities and Exchange Commission, the company managed to flip a six-percent decline in their international market into a 22-percent gain over the 2011 fiscal year. This performance offset an 11 percent decline in the North American market year-over-year compared to 2010.
The company is not only cutting deals with overseas players to get its equipment into hospitals and healthcare facilities, it is establishing a greater presence in these countries.
In January, Varian announced it would establish a radiotherapy training center and clinical help desk in Tokyo. The contact center will provide phone support for Japanese customers and the center is equipped with a classroom for in-house training.
This is the fourth center of its kind globally and the third in Asia as the company has established similar centers in Mumbai, India; Beijing, China; Zug, Switzerland; and Buc, France. There is also a local training facility located in Las Vegas.
Varian's TrueBeam photon technology is becoming a huge moneymaker for the company. The following timeline illustrates how much the TrueBeam technology, over the past six months, has helped Varian grow its global footprint.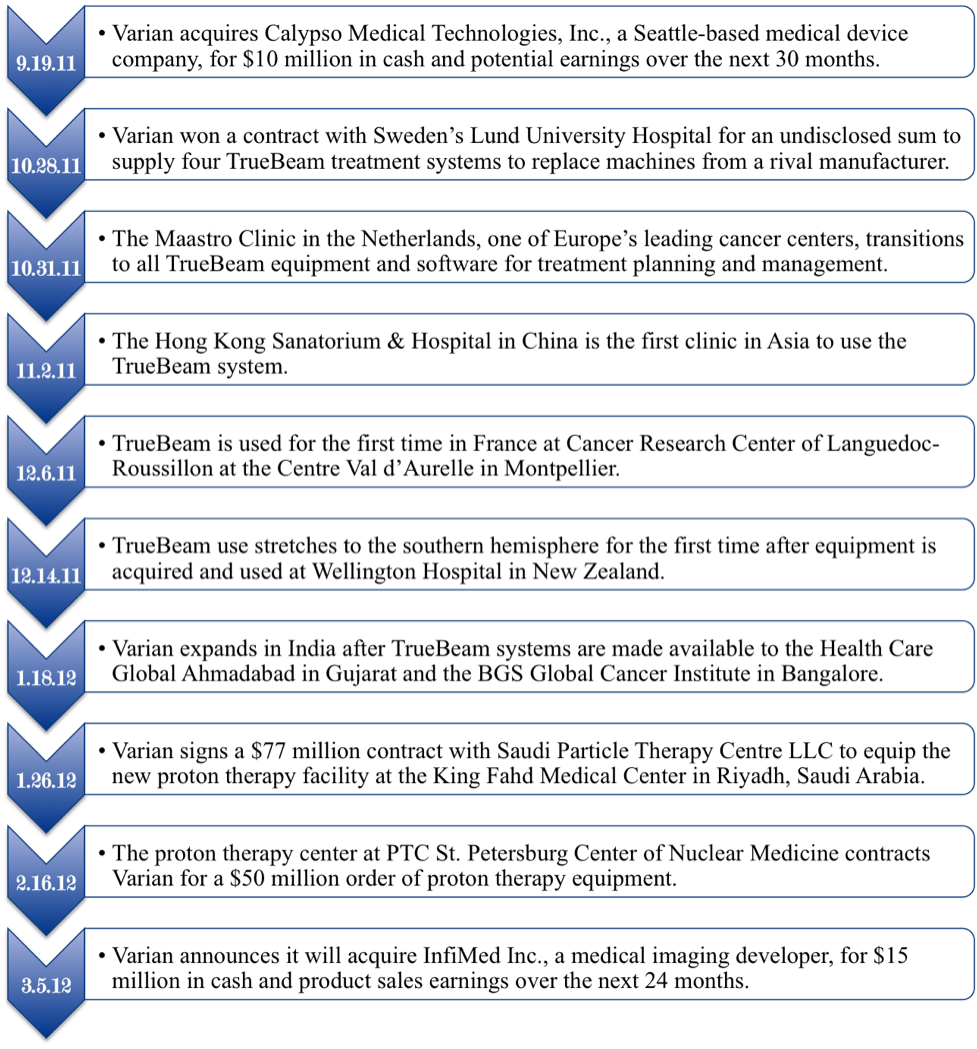 Editor's Note: In a previous version of this story, Tim Guertin's name was incorrectly spelled, "Guerin" and TrueBeam technology was misidentified as a "proton technology" instead of "photon technology."