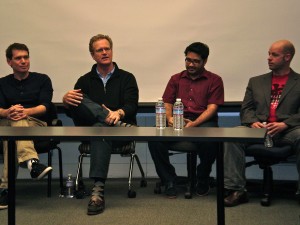 Medical technology entrepreneurs gathered at Stanford Tuesday to share advice and discuss the issues they faced when building their companies in the fields of biotechnology, medical device development and healthcare.
As part of the university's Entrepreneurship Week, StartX, Stanford's student-run startup accelerator program, hosted a panel where former students and company founders now working in the medical technology sector offered insight into all angles of the startup struggle.
All seven speakers agreed that funding problems are the largest roadblock but not wholly detrimental to the creative process.
"Due to the volatility of the FDA, most investors won't invest until the later stage" of development, said Lily Truong, chief executive of ClearEar. The company's total ear-care tool safely and quickly removes severe earwax buildup. "This causes the problem that if investors want late-stage companies, how does a startup get to that stage without help in the beginning?"
The Food and Drug Administration closely regulates all new medical technology ventures to monitor for safety, performance standards and side effects.
"If you're coming into the medical technology space, you really need to understand the FDA regulations around it," said Milt McColl, CEO of Gauss Surgical Inc. The former San Francisco 49ers linebacker is an Entrepreneur-in-Residence at StartX. Having been both a venture capitalist and the founder of five medical technology companies over the last two decades, McColl has seen all sorts of funding issues.
"I've been the bad guy on both sides, so if you can get to market quickly, my advice is take the money and get to profitability," he said.  "That's the best thing about software companies because you don't have to raise the extensive funds on your own."
Pratik Verma is the CEO of Agetak, an input/output communication technology company that compiles medical data about a person from multiple sources while still maintaining individual privacy.
"We haven't taken any venture capitalist money or angel money, we've done it all through grants," Verma said. "If I had to do it all over, I would have pushed for venture capitalist money after a certain point because had I had it, I could have done what I did in five years in, like, two years."
Others still argue against venture capitalist funding, questioning whether immediate cash flow is worth the added pressure of producing revenue quickly.
"You don't always need venture capitalist money," argued Tom Ruby, cofounder of Miret Surgical. His company is developing tools to reduce the size and visibility of surgical scars. "If they give you money, they want your money and they expect 10 times on the investment."
Ruby called this type of money a "burden," and instead advocates for angel funding.
"Angels don't ask much," he said. "They don't expect big returns."
Bell Biosystems CEO Caleb Bell agreed, advising the audience to avoid venture capitalist money if possible.
"There are other ways," Bell said. He cofounded the diagnostic and therapeutic cell-based regenerative medicine and treatment company in 2009 while working on his Ph.D. in Stanford.
"Big pharmaceutical companies are starting early-stage funds. There are grants and other sources," he said. "You'd be amazed at how cheap you could do biotech."
Though most talk turned to financing, the panelists also discussed team building.
McColl equated cofounders to spouses.
"You want to date first — trust me," he joked. "I've seen companies implode and mostly it's because internally they can't find a way to work together."
After business mechanics, financing and networking, the most important factor that will determine a company's success, panelists said,  is corporate motivation.
"It's really about the patients," Truong said. "When I was in India, and we saw people who were deaf because of the earwax buildup, and then they use our product and they can hear again —that's impactful. You have the ability to take an idea and scale it and help so many others and that's so motivational."
Stanford Entrepreneurship Week 2012 takes place February 27 through March 7. This collection of over 30 events is hosted by the Stanford Entrepreneurship Network (SEN), a federation of programs, student groups and organizations supporting entrepreneurship in the Stanford community. For a complete listing of events check: https://sen.stanford.edu/e-week/calendardu/e-week/calendar