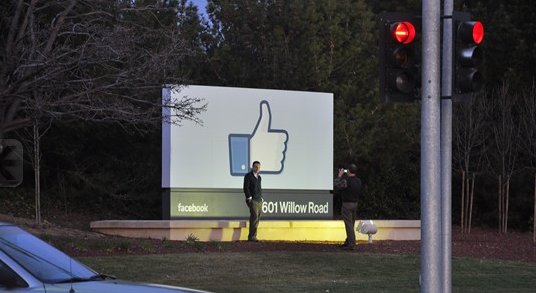 Like so many Silicon Valley technology companies before it, Facebook – now filing for an initial public offering – is rich with stories of winners.
There's founder Mark Zuckerberg, worth at least $16 billion. There's Chief Operating Officer Sheryl Sandberg, who earned $30.9 million in 2011. And there's co-founder Dustin Moskovitz, with a 7.6 percent stake.
Then there's Shi Shi Chen.
The 23-year-old worked as a Facebook intern from June through November. When the internship ended, Chen said, she had the option of staying on as an employee. Instead, she returned to Stanford in January to complete a master's degree in computer science.
"I don't think I knew it was happening so soon," Chen said of the IPO. "Most people seemed to think early this year was unlikely."
Her story sounded familiar yesterday to some on Stanford's campus, where a number of talented students have walked away from start-ups before they literally saw a return on their intellectual investment. Like many of those students, Chen — while perhaps disappointed in the short term — believes another opportunity is right around the bend.
Some other current Stanford students and recent graduates said they shied away from Facebook because they perceive the company as being too large for individual employees to have an impact. "They seem to buy lots of the little guys," said Jan Overgoor, a Stanford graduate student in Symbolic Systems. Overgoor, a native of the Netherlands, said he thinks a lot of the Valley's best talent is diverted away to smaller companies and start-ups.
While some pundits speculate that by going public Facebook may lose its innovative culture, a few Stanford students question whether the company had "innovation mojo" to begin with. "I think of Facebook as more of a 'Harvard company' than a 'Stanford company,'" said Stanford senior David Pitt, a native of New Jersey. "Google is a 'Stanford company.' Both Google and Stanford seem to have an engineers-first culture, and pride themselves on innovation."
In his view, Facebook is more geared towards business and branding. "I get the sense of Stanford culture being more subversive, disruptive," Pitt added. "Facebook almost seems old school" — one of the last things any company in Silicon Valley wants to be called.
Elizabeth Mattis, a sophomore from Iowa said, "I think they bank on the fact that they're so established that users won't leave if their desires aren't met."
The company is not unaware of such criticism. Yesterday, in its offering filing,  Zuckerberg wrote about the company's culture, which he dubbed "The Hacker Way." He described it as "an approach to building that involves continuous improvement and iteration. Hackers believe that something can always be better, and that nothing is ever complete."
Despite pockets of critics, Stanford is the university best represented among Facebook employees, according to LinkedIn. For many of these young people, their choice of employer paid off yesterday in a very big way. Of the company's 3,000 employees, a third are expected to become millionaires, at least on paper.
Related News: