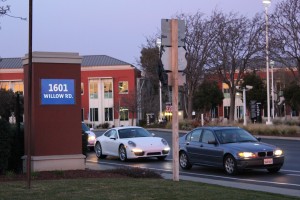 The excitement was practically palpable yesterday after Facebook filed offering documents for its projected $5 billion IPO. Now the so-called "Facebook Effect" is expected to hit the Valley full force.
The "Facebook Effect" is the trickle down of the enormous wealth the company is expected to bring to the area. With approximately a third of Facebook's roughly 3,000 employees becoming millionaires overnight, thousands of new "millionerds" will have vast amounts of disposable income, and the local economy hopes to reap the benefits. Real estate companies, restaurants, wealth managers, car dealers, other retailers – and charities – all stand to profit.
"The payout to Facebook investors and employees will spur spending and contribute to state and local tax receipts," Stephen Levy, director of the Center for Continuing Study of the California Economy, said in an email.
Some vendors are already experiencing the "Facebook Effect." Two brand-new Porsches, price tags still stuck to windows, were seen leaving the Facebook campus yesterday by Peninsula Press reporters.
"Obviously there have been some early shoppers," said Doug Rubi, a sales consultant at the Carlsen Porsche dealership in Redwood City, not far from Facebook's Menlo Park campus. Rubi said he expects to see sales rise more aggressively in the next two to three months, in anticipation of Facebook's live trading, expected in May.
"We just hope we have enough inventory," he said. During Google's IPO the dealership ran out of stock.
The Carlsen Porsche dealership saw sales jump during the dot-com boom of the 1990s. The difference between then and now, Rubi said, is that today's newest Silicon Valley millionaires are a bit more conservative. Some delay buying all the fun toys they want. "Eventually, they buy cars. For so many of them, owning a Porsche was a dream from when they were little," Rubi said.
Beltramo's Fine Wines and Spirits in Menlo Park also is expecting to benefit. Although there was no upswing in business yesterday, Matt Silsby, the assistant operations manager, is confident the store will profit from the new wealth.
"Down the road, of course we will see more business," Silsby said. "People will eat out more and buy fancier wines, we'll get business from more catered parties. "
He explained that when an IPO goes really well, his company is often involved. "The VCs up on Sand Hill Road order champagne and wine for the lawyers. The lawyers then call us and order something sent back. We spend all day driving between the offices," he said. Something similar may be in order for those involved with the Facebook deal, he expects.
Economist Levy said he does not expect this to be the last time such an effect occurs. Facebook's success has inspired confidence in other companies, he said.
"The Facebook IPO reminds us that substantial payoffs from innovation and risk taking are still possible," he said in an email. "New office space is being built in downtown Palo Alto and around the Valley filled with start ups hoping to be the next Facebook. The tech sector is alive again."
Related News: